Entertainment
Raise-a-Reader: Rick Scott sees connection between music and literacy
Last year, funds raised through Raise-a-Reader helped bring literacy programs to 66,000 children and their caregivers through 10,934 program sessions.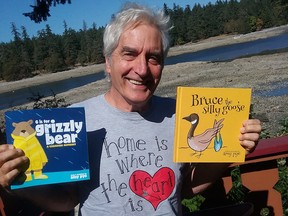 Article content
As a performer who often plays in front of children, Rick Scott sees the link between music, stories and reading.
"A song is words and music," said the musician/storyteller. "And it's a story. It's got all the qualities of a good book — if it's a good song — and it has a melody on top of everything. That's a bonus, that you get to sing it rather than to speak it. And the other thing about a good song, especially for children, is there's a repetition in it. Through repetition you get the big picture, you hold onto that information."
Article content
Earlier this year, the Sunshine Coast-based Scott played two family concerts at the Roberts Creek Community Hall. The shows were made possible through donations from Vancouver Sun readers to the annual Raise-a-Reader campaign.
Last year, funds raised through Raise-a-Reader helped bring literacy programs to 66,000 children and their caregivers through 10,934 program sessions.
Besides his music for kids, Scott is known as a pioneering West Coast folky for his work with the trio Pied Pumkin. He has played 11 countries and released 18 albums, eight for kids, and received three Juno nominations.
When it comes to music for children, he considers Winnipeg transplant Fred Penner "the king of them all" when it comes to kids' songs.
"He has to sing The Cat Came Back and about three or four songs that, if he does not sing them, there will be a riot."
One of Scott's favourites among his own repertoire is Spike McCool. The song came out of a workshop with a group of children at Carnarvon Elementary in Vancouver.
"The kids decided they wanted to write a song about a dog, but they wanted the dog to be the coolest dog in the world."
Article content
The kids decided that the dog had to have a rainbow-coloured Mohawk haircut, wear wraparound shades and a studded leather motorcycle jacket. They named their canine Spike McCool
"The kids were getting so excited by the ideas that were coming up and Valley (Hennell, Scott's wife) was writing them down as fast as she could. And suddenly one of the girls just jumped up and went, 'Is that a cool mutt or what?' And that became the chorus of the song."
That was in 1989.
"And to this day, whenever I do a concert, that's the most requested song."
He's also received hundreds of drawings of what kids imagine Spike to look like.
"They hear the music and they see this dog in their minds, and they draw pictures of him. I think that's the connection between the music and the literacy of the story."
Something he likes to do is encourage audience members to write him letters. The musician answers back and, sometimes, a correspondence is struck up. Recently, after a concert, a young woman introduced herself and he realized that she was one of the young fans that he had corresponded with. Not only that, but she had written two kids books.
Article content
"I almost fell on the floor," Scott said. "Here was this grown woman out in the world, beautiful, intelligent, and it was this little girl that I wrote to who I never met until this moment. And she is now the author of these two books."
The author is Victoria-based Amy Pye. The books, published in 2020 and 2021, are G is for Grizzly Bear, a Canadian-themed alphabet book, and Bruce the Silly Goose. The latter is about a goose that doesn't see the point in washing hands or wearing a mask.
"Rick Scott and his music had an enormous influence on my love for storytelling," Pye said in an email when told of this story. "Being exposed to his music at a young age paved the way for magical adventures in the realms of wonder and creativity. I am thrilled to now share his music and stories with my own daughter."
Later this year, Pye will release a new book, An Alphabetical Astronomical (sorta musical) Adventure. All of her books are available at artbyamy.ca.
When not reading books by fans, Scott says he's "all over the map." On his reading table at the moment is The Music Hunter, a 1969 book by ethnomusicologist Laura Boulton about music made by cultures in remote, isolated areas.
Article content
"But I'm also reading a book about breathing right now."
Donations to Postmedia News's Raise-a-Reader campaign can be made at raiseareader.com, 604-681-4199, and by cheque, payable to Vancouver Sun Raise-a-Reader, 1125 Howe St., No. 980, Vancouver, B.C., V6Z 2K8. Find us on Facebook @RaiseaReaderVan and on Twitter/X @RARVancouver #RARVan.
Raise-a-Reader: Luke Schenn's sons get a kick out of a hockey series aimed at young readers

Raise-a-Reader campaign gets a $500,000 boost from provincial government
---
Bookmark our website and support our journalism: Don't miss the news you need to know — add VancouverSun.com and TheProvince.com to your bookmarks and sign up for our newsletters here.
You can also support our journalism by becoming a digital subscriber: For just $14 a month, you can get unlimited, ad-lite get unlimited, ad-lite access to The Vancouver Sun, The Province, National Post and 13 other Canadian news sites. Support us by subscribing today: The Vancouver Sun | The Province.