News
'How is it possible?': Eby wants review of stabbing suspect's release
Blair Evan Donnelly has been charged with three counts of aggravated assault and is in custody after Sunday's attack at the Light Up Chinatown festival, which left three people with severe wounds.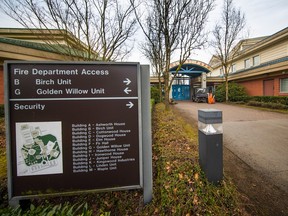 Article content
Premier David Eby is calling for an independent review into how the suspect in this weekend's triple stabbing in Vancouver's Chinatown was able to get an unescorted day release from a psychiatric facility, saying the decision left him "white hot angry."
"We will ensure that an independent person looks into the specifics of this case, the decision-making process, how we arrived at this awful place, for Chinatown, for the community, for the people who were attacked. And we'll make sure there's nobody else that's on a day pass that's in a similar situation to ensure the community is safe," Eby said on Tuesday.
Article content
Blair Evan Donnelly is in custody and charged with three counts of aggravated assault after Sunday's attack at the Light Up Chinatown festival, which left three people with severe wounds.
In 2008, Donnelly was found not criminally responsible on account of a mental disorder for stabbing his teenage daughter to death in 2006, and was sent to the Forensic Psychiatric Hospital in Coquitlam. Three months later, he qualified for what is called escorted community access.
In 2009, he was granted the chance to have unsupervised community visits for up to 28 days in length. While out on one of these visits in October 2009, he stabbed a friend while in a psychotic state. He was held criminally responsible for his actions, according to B.C. Review Board documents.
"I cannot fathom how someone who murdered his daughter was released in 2009, went out and stabbed somebody else, would then be released again, unaccompanied, somehow be able to go out and buy a knife, go to Chinatown, and stab three people. How is that possible?" Eby said Tuesday.
The Forensic Psychiatric Hospital in Coquitlam is a 190-bed secure facility that specifically treats people who have been found not criminally responsible for a crime, or who are unfit to stand trial due to a mental disorder.
Article content
Patients receive an annual hearing of their case by the B.C. Review Board, an independent tribunal, which receives oral testimony and written submissions from B.C. Mental Health and Substance Use Services forensic psychiatric experts, according to information posted online.
The board either decides a patient will remain in treatment for the next year or grants a conditional discharge, which allows the patient to live outside, but with ongoing monitoring and treatment.
A full discharge means the individual is no longer subject to the review board. If the patient has to remain or is given a conditional discharge, the board also determines if they are eligible for community outings.
A treatment team at the hospital considers a variety of factors, including a patient's progress and mental status, and there is a process, which requires the approval of the B.C. Review Board and its Program and Privileges committee, according to Blaine Bray, the provincial executive-director for Forensic Psychiatric Services.
Rehabilitation and treatment at the Forensic Psychiatric Hospital includes medication, treatment with a psychiatrist, group therapy, recreational therapy, physical therapy, treatment for a substance use disorder, and more, according to its website.
Article content
The hospital site says that, "later, when patients are ready and pose a low risk to the public, they practice the life and social skills they learn at the hospital with a carefully considered community outing — first supervised, and later unsupervised if possible."
It also says that "early community outings are always escorted. As some clients and patients progress in the treatment and get well, they may be permitted short unescorted community visits."
Several staff, who are mental health professionals trained to manage people who may become disruptive, may escort a patient on a community visit, depending on their needs.
The website said the "level of monitoring depends on the person. Very low-risk patients may receive day leaves to attend community-based programs on their own, and processes are in place to confirm their attendance. They must return at a predetermined time."
Public statistics from the review board show that the total number of accused under the board's jurisdiction has declined over the last four years and sat at 256 people in 2021-22. There are slightly more accused in custody at the Forensic Psychiatric Hospital than under supervision in the community.
Article content
On Tuesday, B.C. United leader Kevin Falcon said the premier must order a full investigation into why someone with such a violent history was given a day pass.
"The government needs to do a full review on what basis that decision was made, whether they need to re-examine, obviously, whether they're making the right decisions — clearly, in this case, they were not," said Falcon during a news conference in Vancouver where he announced the party's new public safety platform, which would include a promise to hire hundreds of new police officers and equip all officers with body cameras.
Read more: 11 people who have been found not criminally responsible by a court
— with files from Canadian Press 
---
Bookmark our website and support our journalism: Don't miss the news you need to know — add VancouverSun.com and TheProvince.com to your bookmarks and sign up for our newsletters here.
You can also support our journalism by becoming a digital subscriber: For just $14 a month, you can get unlimited, ad-lite get unlimited, ad-lite access to The Vancouver Sun, The Province, National Post and 13 other Canadian news sites. Support us by subscribing today: The Vancouver Sun | The Province.
Chinatown stabbing suspect killed daughter in 2006, was out on day pass from psychiatric facility

Two more accused in 2019 drug-related murder in Surrey plead guilty