Entertainment
Janelle Monáe brings The Age of Pleasure to Vancouver on Aug. 31
Multi-hyphenate artist brings The Age of Pleasure to Vancouver on Aug. 31.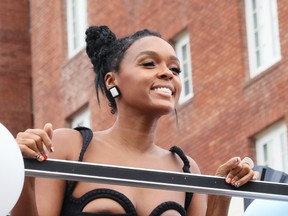 Reviews and recommendations are unbiased and products are independently selected. Postmedia may earn an affiliate commission from purchases made through links on this page.
Article content
Janelle Monáe – The Age of Pleasure
When: Aug. 31, 8 p.m.
Article content
Where: Doug Mitchell Thunderbird Sports Centre, UBC
Tickets/info: From $56 at ticketmaster.ca
---
With the release of the Age of Pleasure, Janelle Monáe reboots the dystopian future of the Archandroid, The Electric Lady and Dirty Computer.
The tense robotic grooves of those distinctive, ahead-of-their-time releases is replaced by the free-flowing Afrobeat-horns of Float or undulating R&B of Water Slide. Then there is Lipstick Lover.
Article content
With its reggae-flow and booty-forward film clip, the track is a shoo-in for song of the summer. And, in 2023, it appears that the future is so bright you gotta wear, well, very little.
The first album from the multi-hyphenate marvel since 2018s Dirty Computer is a total celebration of shedding inhibitions and finding community and comfort in living life by your own set of rules. All of it lit up by songs that herald the joys of playing in the sunshine — and, well, into the evening, too. Age of Pleasure may well be one of the sexiest slices of music to make love to since Marvin Gaye's Let's Get It On.
Trading in the Afro-futurism of earlier work for something altogether organic and vibe-heavy is yet another example of how impossible this Atlanta musician/actor/author is to pigeonhole. Since the ridiculously addictive Tightrope first broke their music to a larger audience with its lockstep beats and avant-garde production, Monáe has challenged audience expectations of what the next creative move would be.
Few recall that their voice graced Fun's 2012 smash We Are Young because it just blew past as one more example of this artist's chameleon creativity.
Article content
When Monáe landed at the Centre for the Performing Arts in June of 2012, it was a complicated high-tech production complete with the crowd being given the Ten Droid Commandments upon entry and then having their cortexes fried by "fierce funk, wacky stage painting, killer backing band and high energy that made it click."
Small wonder the show made it onto this writer's Top 10 concerts of the decade.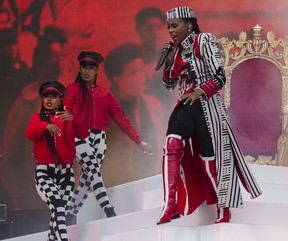 Then came a string of spectacular turns on the silver screen.
With a presence the camera just loves, Monáe blew up in film in 2016. A standout role in director Barry Jenkins' 2016 Oscar-winning Moonlight was followed by Theodore Melfi's feel-good ensemble story of the team of African-American female mathematicians involved in the NASA space program titled Hidden Figures.
The 2018 "emotion picture" accompaniment to the album, Janelle Monáe: Dirty Computer, didn't get nearly enough exposure for its prescient look into a totalitarian and homophobic future in a country that resembled the U.S. Perhaps, once again, the artist was too far in front of the pack.
Article content
Most recently, Monáe owned the screen as Andi Brand in the goofy mystery Glass Onion. It wouldn't be a surprise if they never went back to making music.
But, luckily, they did.
Once again, the Age of Pleasure production looks to be nothing short of a conceptual concert experience from start to finish. Live footage on YouTube showcases a big time dance and costume change spectacular backed by a hot septet, including horns.
Article content
Toss in constantly shifting background projections, and you've got the kind of aural and visual experience that was delivered on the ArchAndroid tour way back in 2012. Naturally, the stage sets are super stylish, as well.
Save the date: Janelle Monáe plays Vancouver on Aug. 31

Stuart Derdeyn's top 10 concerts of the past decade
---
Summer subscription sale: Our in-depth journalism is possible thanks to the support of our subscribers. For a limited time, you can get full online access to the Vancouver Sun and The Province, along with the National Post and 13 other Canadian news sites, for just $40 for one year or $1 a week for 52 weeks. Support our journalism by subscribing today: The Vancouver Sun | The Province.