Entertainment
Jillian Harris, Tori Wesszer cook up another edition of Fraiche Foods
Fraiche Food, Fuller Hearts sees B.C. influencers, entrepreneurs compile 135 "joyful" recipes.
Get the latest from Aleesha Harris straight to your inbox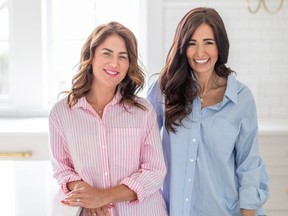 Reviews and recommendations are unbiased and products are independently selected. Postmedia may earn an affiliate commission from purchases made through links on this page.
Article content
Fraiche Foods, Fuller Hearts: Wholesome Everyday Recipes Made With Love
By Jillian Harris and Tori Wesszer | Penguin Canada
Article content
368 pages | $45
A lot has changed since co-authors and cousins Jillian Harris and Tori Wesszer released their first cookbook in 2019.
"From a global pandemic to shifting economies, and growing families in the midst of it all," Wesszer explains.
Article content
Couple this with the recent wildfires that ravaged communities across Canada, including West Kelowna near where both Harris and Wesszer live, and, as Harris puts it, the last few years have been "an absolute roller-coaster."
"It hasn't been easy for so many," Harris says. 
But it was the turbulence of the times that led the duo to agree to do another cookbook. After much deliberation — "Jillian and I both vowed to never write another cookbook after we handed over the final manuscript for the last one, but here we are," Wesszer shares — the busy moms and entrepreneurs signed on for a second edition. 
"The need to help people eat better at home has never been so important," Wesszer, who is also a registered dietitian, says. "Creating a cookbook that inspires others to cook great food to share with their loved ones simply seemed right."
Togetherness has been a dominant theme for the cousins.
"The last few weeks of August were devastating for our little Okanagan community," Harris says. "The firefighters — specifically many of whom lost their homes while saving ours — first responders, pilots, volunteers and those running the fantastic organizations that are still working tirelessly around the clock to help those who have been evacuated has brought tears to my eyes …
Article content
"(It) makes you realize it's the 'simple things' that are the most important in life. And, at the end of the day, human connection is everything."
The authors point to a sense of connection as the primary takeaway that Harris and Wesszer hope people take away from their new book, Fraiche Foods, Fuller Hearts: Wholesome Everyday Recipes Made With Love, which includes 135 recipes ranging from breakfast dishes to desserts. 
"Our first cookbook was more centred around the dishes that filled, and still fill, our tables for special occasions through the year," Wesszer says. "This cookbook weaves in more recipes that we have evolved through the years, both iterations of recipes that graced our childhood family's tables along with those that we have created for our growing families now that we have children of our own."
"The 135 recipes that fill this cookbook are a mix of our childhood, travels and a few new favourites," Harris summarizes.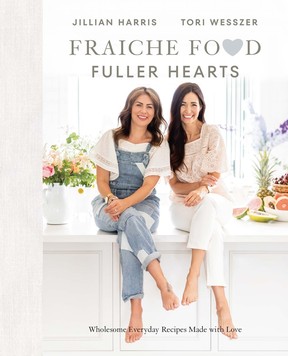 The recipes contained within the hardcover book's pages are, they underscore, simple to recreate.
"Eating together with those you love doesn't have to be complicated, and cooking your own food at home can be simple — regardless of your skill level," Wesszer assures.
Article content
In order to suit ever-evolving dietary preferences, the cookbook features recipe adaptations and ingredient swaps for vegetarian and vegan diets.
"It is about sharing our love of cooking, about easy adaptations and hacks to make your life simpler, and about leaving more time for you to pamper yourself and spend time with the ones you love," Harris says of the food flexibility.
When prompted to pick their favourite recipes in the cookbook, Wesszer, who is an avid baker, pointed to the Magic Dough — "There's almost nothing it can't transform into," she says — along with the Rhubarb Yogurt Coffee Cake.
Harris's picks skewed much more toward the savoury.
"I could eat bowl after bowl of the Coconut Seafood Chowder and never get sick of it," Harris says. "Another go-to for my family is the Broccoli Cheeze Soup; if you are trying to eat more plant-based and reduce waste, this is a great recipe.
"And last, but certainly not least, is the Ginger 'Beef,' which was inspired by one of our favourite local restaurants to eat at while growing up. And I think we nailed the vegan version."
Article content
---
Butternut Squash Gyros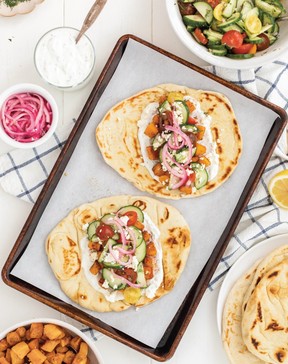 Finding wholesome, hearty plant-based meals that are approved by everyone isn't always easy.
One day Jillian tried a vegan spin on gyros, a Greek dish traditionally made with roasted meat served in a folded pita. Rather than filling them with the traditional meat, Jillian decided to fill hers with roasted butternut squash, and they were an instant hit with her family. Both the kids and Justin loved these squash gyros, and they have since earned a permanent slot in their dinner rotation.
For serving
4 large Greek pitas
Olive oil, for toasting the pita
Quick Pickled Red Onions
Feta cheese or vegan feta cheese, crumbled (optional)
Fresh dill
Butternut squash filling
1 medium butternut squash (2 1/2 lbs/1.125 kg), peeled and cut into 1/2-inch (1 cm) cubes (6½ cups/1.625 mL)
3 tbsp (45 mL) avocado oil or vegetable oil
1 tsp (5 mL) ground coriander
1 tsp (5 mL) ground cumin
1 tsp (5 mL) garlic powder
1 tsp (5 mL) sweet paprika
1/2 tsp (2 mL) salt
1/4 tsp (1 mL) pepper
Preheat the oven to 425 F (220 C) and line a baking sheet with parchment paper. In a large bowl, combine the squash, avocado oil, coriander, cumin, garlic powder, paprika, salt and pepper. Toss to mix well. Spread the squash mixture evenly on the prepared baking sheet. Roast until the squash is golden brown and tender, about 30 minutes, tossing halfway through.
Article content
Salad
1 English cucumber, diced
2 tomatoes, diced
2 tbsp (30 mL) finely diced red onion
1 clove garlic, minced
2 tbsp (30 mL) extra-virgin olive oil
2 tbsp (30 mL) chopped fresh dill, plus more for garnish
1 tbsp (15 mL) pickled red onion brine or white vinegar
Salt
In a medium bowl, mix together the cucumber, tomatoes, red onion, garlic, olive oil, dill and pickled red onion brine. Season with salt.
Garlic Dill Sauce
1 cup (250 mL) plain full-fat Greek yogurt or non-dairy plain yogurt
2 tbsp (30 mL) mayonnaise or vegan mayonnaise
2 tbsp (30 mL) fresh lemon juice
4 cloves garlic, minced
1 tbsp (15 mL) chopped fresh dill
Pinch of salt
In a small bowl, stir together the yogurt, mayonnaise, lemon juice, garlic, dill and salt.
Assembly
Heat a dry medium non-stick frying pan over medium-high heat. Working with 1 pita at a time, drizzle a little olive oil on each side and heat in the pan until lightly toasted, about 1 minute per side. In the centre of each pita, layer the roasted butternut squash, salad, Garlic Dill Sauce, Pickled Red Onions and a sprinkle of feta, if using. Garnish with the dill and fold the sides together.
Article content
Serves 4. 
Quick Pickled Red Onions
1/3 cup (75 mL) unseasoned rice vinegar
1 tbsp (15 mL) sugar
1 1/2 tsp (7 mL) salt
2 cups (500 mL) thinly sliced red onion
In a medium non-reactive bowl (stainless steel, plastic or glass), combine the vinegar, sugar and salt. Whisk until the sugar and salt are dissolved. Add the red onions, stir to combine, and let sit at room temperature for 30 minutes, tossing occasionally. Transfer the red onions and the pickling juice to a Mason jar. Seal with the lid and store in the fridge for up to 3 weeks.
Makes 1 cup. 
Excerpted from Fraiche Food Fuller Hearts, by Jillian Harris and Tori Wesszer. Copyright © 2023 Jillian Harris and Tori Wesszer. Photography by Rachelle Beatty. Published by Penguin, an imprint of Penguin Canada, a division of Penguin Random House Canada Ltd. Reproduced by arrangement with the Publisher. All rights reserved.
Fair With A Flair: Creamy seafood chowder inspired by trip to Ireland

Kasey Wilson: Quick and simple burgers or hotdogs with delicious toppings
---
Bookmark our website and support our journalism: Don't miss the news you need to know — add VancouverSun.com and TheProvince.com to your bookmarks and sign up for our newsletters here.
You can also support our journalism by becoming a digital subscriber: For just $14 a month, you can get unlimited, ad-lite get unlimited, ad-lite access to The Vancouver Sun, The Province, National Post and 13 other Canadian news sites. Support us by subscribing today: The Vancouver Sun | The Province.