Entertainment
Jimmy Buffett's cause of death revealed: 'He lived his life like a song'
According to an obituary, the singer had been battling Merkel Cell Skin Cancer for four years.
Get the latest from Mark Daniell straight to your inbox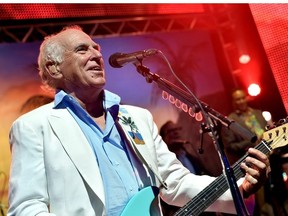 Article content
Jimmy Buffet's cause of death has been revealed as Merkel Cell Skin Cancer.
According to an obituary posted to his website, the music icon had been battling the disease "for four years" before he passed on Sept. 1.
Article content
Buffett died at his home in Sag Harbor, New York, at age 76 on Friday "surrounded by his family, friends, music and dogs."
"He lived his life like a song till the very last breath and will be missed beyond measure by so many," a statement released by his family read. "He credited early years playing and singing in the streets and bars of New Orleans with shaping his dedication to connecting with his audience and giving the customers a good show … He liked to say that the job of singing for a living was descended from the profession of court jester."
Article content
According to the Mayo Clinic, "Merkel cell carcinoma is a rare type of skin cancer that usually appears as a flesh-coloured or bluish-red nodule, often on your face, head or neck."
Buffett continued to perform while receiving treatment, but the Margaritaville singer was forced to cancel a string of concerts earlier this year. His last show was a surprise appearance in Rhode Island, in early July.
The two-time Grammy nominee is survived by his wife of 46 years, Jane; his daughters Savannah and Sarah; his son Cameron; his grandson Marley Ray and devoted pack of dogs; Lola, Kingston, Pepper, Rosie, Ajax and Kody.
Article content
His legion of celebrity pals and fans, who called themselves "Parrot Heads," posted tributes to the singer-songwriter on social media after the news of his death.
Paul McCartney hailed Buffett as "one of the most kindest and generous people."
"He had a most amazing lust for life and a beautiful sense of humour," McCartney posted. "When we swapped tales about the past his were so exotic and lush and involved sailing trips and surfing and so many exciting stories that it was hard for me to keep up with him. … So many of us will miss Jimmy and his tremendous personality. His love for us all, and for mankind as a whole."
Article content
Elton John called him "a unique and treasured entertainer."
"His fans adored him and he never let them down," John said in an Instagram story. "This is the saddest of news."
Country star Kenny Chesney, who collaborated with Buffett on several tracks, posted a video of himself singing Jimmy's A Pirate Looks at Forty on Instagram. "So goodbye Jimmy," Chesney wrote. "Thanks for your friendship and the songs I will carry in my heart forever. Sail On Sailor."
U.S. President Joe Biden called Buffett "an American music icon" and a "poet of paradise."
"We had the honour to meet and get to know Jimmy over the years, and he was in life as he was performing on stage – full of goodwill and joy, using his gift to bring people together," Biden wrote in a post on X, formerly Twitter.
On Facebook, David Letterman shared a clip of Buffett recounting how he was down and out just before he hit it big with Come Monday in 1974.
"It hit and I paid the rent and got my dog out of the pound … and the rest is history," Buffett said.
Although he was best known for upbeat party songs (including Cheeseburger in Paradise and Fins) and a business empire that included a restaurant franchise, a hotel chain, Land Shark beer, a retirement community and more, Buffett was keenly aware of the passage of time.
"I've had a couple close calls and I'm still here," Buffett told USA Today in 2020, when he released his 30th studio album, Life on the Flipside. He said the song Live Like It's Your Last Day was inspired by his brush with death in a 1994 plane crash and a 2011 stage fall.
"So I think I've been living like it could be my last day for a long time."
Jimmy Buffett, who turned beach bum life into an empire, dead at 76

Jimmy Buffett's laid-back party vibe created adoring Parrotheads and success