Business
Metro Vancouver industrial land shortage squeezing out opportunities
A Greater Vancouver Board of Trade report quantifies businesses bypassed Metro Vancouver to take up five million square feet of space to create 6,300 jobs in Calgary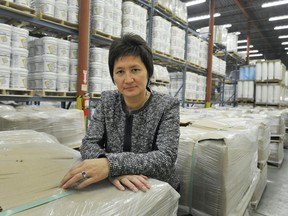 Article content
When Vancouver-headquartered Kryton International, a manufacturer of waterproofing additives for concrete, bought a Calgary-based maker of corrosion-resistance additives in 2017, it had thoughts of bringing the company's factory to Metro Vancouver.
"Our first plan was, 'Hey, let's build a factory in Vancouver,'" said Kryton CEO Kari Yuers. "We need to build a new factory in any case, whether it's in Calgary or Vancouver or somewhere else."
Article content
Their acquisition, Cementec Industries, mostly sold products in Western Canada, but Yuers knew they had potential for export to markets such as Asia. So it made sense to build close to the Port of Vancouver — until Kryton started shopping for a possible site.
The price in Metro Vancouver's notoriously constrained industrial real estate sector was simply going to be too high — north of $1.5 million per acre before even building anything on it — versus less than half that in Calgary.
"It's not like, 'Oh, you pay a 20-per-cent premium for me to not have to travel to Calgary,'" Yuers said.
That is a calculation that is increasingly the case for businesses in Metro Vancouver, according to a new report commissioned by the Greater Vancouver Board of Trade.
With an industrial vacancy rate below one per cent and a shrinking inventory of prime, large sites close to transportation, the report, co-sponsored by the Vancouver chapter of the National Association of Industrial and Office Parks, estimates that thousands of jobs have been squeezed out of the region.
The report's authors tracked companies that bypassed Metro Vancouver over the past 4.5 years, taking up an estimated five million square feet of space in Calgary, establishing 6,300 direct jobs that pay some $477 million in wages, and contributing $500 million to national gross domestic product.
Article content
For Kryton, it meant buying an already-built building in Calgary for $5 million, to which it added another $20 million in investment to stay in Calgary, instead of coming to Metro Vancouver.
And the Greater Vancouver Board of Trade report found other Metro Vancouver businesses moving in the opposite direction, or bypassing the region, to the tune of thousands of jobs over the last five years.
"When we saw the data, then it became significant where we could actually see the crux of the problem," said Bridgitte Anderson, CEO of the Board of Trade.
Local governments and business groups have been hashing out how to cope with Metro Vancouver's ever-shrinking industrial land base and low industrial vacancy rate for decades.
However, Anderson argues "when we pair (the industrial land shortage) with the kind of crisis we're seeing in rental housing, it becomes really clear that people not only need a place to call home, they need a place to work."
"Employers need a place to grow their businesses, and if we don't have either side of that equation, our community is in real trouble," she added.
Article content
The issue hasn't been lost on the Metro Vancouver Regional District, which has developed a regional industrial lands strategy aimed at shoring up the region's industrial-land inventory to meet its needs out to 2040.
Metro's remaining industrial land can be difficult to make use of, though, according to Jason Kiselbach, a director for Vancouver's branch of the National Association of Industrial and Office Parks.
"There's an issue in terms of just the overall availability of supply on the timeline that they need," said Kiselbach, who also has a role with commercial realtor CBRE. "If they're a company that's looking to grow, they're saying, 'If it's already that low of supply, how am I going to continue to expand?'"
Anderson said conditions are becoming "more dire" due to overall population growth in Metro Vancouver, which increases the competition for other uses of the region's rare industrial land.
The board of trade and National Association of Industrial and Office Parks commissioned consultants InterVistas and Urban Systems to conduct the economic impact study. It found that industrially zoned land, which is just four per cent of Metro Vancouver's land base, accounts for 450,000 jobs and more than one-third of the region's overall economy.
Article content
And a one-per-cent increase in industrially zoned land could result in an additional 126,000 jobs and an additional $12.2 billion in the region's gross domestic product.
The recommendations from the report include a call to refocus regional land use planning to prioritize local housing, food and jobs, increase protections on industrial lands and revise Metro Vancouver's regional land-use plan every three years instead of five years.
x.com/derrickpenner
---
Bookmark our website and support our journalism: Don't miss the news you need to know — add VancouverSun.com and TheProvince.com to your bookmarks and sign up for our newsletters here.
You can also support our journalism by becoming a digital subscriber: For just $14 a month, you can get unlimited, ad-lite get unlimited, ad-lite access to The Vancouver Sun, The Province, National Post and 13 other Canadian news sites. Support us by subscribing today: The Vancouver Sun | The Province.