Business
How a small Vancouver Sun ad a quarter century ago changed a life
John Gross, founder and CEO of Peak Products, had a background in piano; today his company makes 21 major lines of home- and outdoor-living products.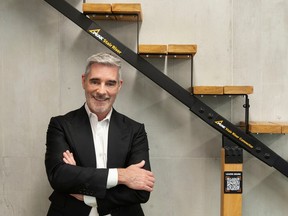 Article content
It was the smallest item on the page, but it caught John Gross' eye.
MANUFACTURING, read the tiny boxed letters in The Vancouver Sun. "Overseas Aluminum or Die Casting."
Article content
It changed his life.
"It was just days after convocation (an MBA from Simon Fraser University) and I was looking for opportunities," Gross said. Evoking childhood memories of his dad settling into an armchair to read The Vancouver Sun, Gross sat down and spread out a copy before him in his small flat in Kits.
Article content
Ten items were on the page, including a promo from a rental-car company for free tickets to an NBA Grizzlies game. His eye, though, was drawn to the middle of the page and the life-altering ad.
"It was a small ad, it was an unusual ad, even melodic in a sense," Gross said. He can still recite the 22-word script, not exactly word for word but very close.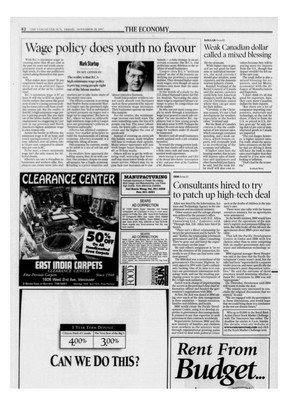 It appeared on page E2 of the Nov. 28, 1997, Vancouver Sun. The old contact phone number — no 604 prefix required — flies off Gross' tongue with no hesitation.
He doesn't recall the opinion piece appearing above the ad, but when told the author's name it cracks him up — it was written by then-president of the Retail Merchants' Association of B.C., Mark Startup.
"Startup?!?"
Seriously.
"Maybe subconsciously those combinations of words, 'Startup' and 'Overseas,' hooked me." He was still laughing.
Today, Gross' company, Peak Products, employs 125 people and celebrates 25 years of business, from a fledgling operation run out of the living room of his two-bedroom apartment to a company with commercial tentacles stretching to three continents.
Article content
Now based in Richmond, Peak began with one product: A metal fence-post base.
The phone number on the ad was for Renlu Wang, an electrical engineer from Beijing who was trying to get new products off the ground.
The two met in Burnaby over coffee. Wang explained the cost advantages of manufacturing in China (Gross' thesis, on a local building products company, he had pooh-poohed overseas manufacturing, citing transportation costs), and they decided that instead of re-inventing the wheel, they'd build a better mousetrap, so to speak.
"It's very hard for even an established business to get a new product off the ground. It's very difficult to do," Gross said. "So we talked about it and decided that instead of trying to find a new product, why don't we look for a product that already has a built-in demand."
Fence-post holders are U-shaped metal saddles that anchor the bottom of a four-by-four wooden fence post, with a rebar spike to stabilize it into the ground.
It so happened the domestic post-holder business was extremely competitive, with margins of a cent or two per item sold. So manufacturers had begun shaving the steel thinner, not applying protective coating, and shortening the rebar spike.
Article content
Gross flew to Suzhou, now an industrial metropolitan area of millions, but a village back then. There was a small rural factory with a dirt floor, one punch press, and a mound of post-holders.
"It was thick steel, it was a long rebar pin, it was beautifully manufactured, and it had a coating on it."
Back home, he set about contacting Home Depot outlets across Canada — there were only 22 of them back then — and driving to hardware stores in 18 U.S. states.
More than a year passed before a Home Depot in Nanaimo got in touch to see if Peak post-holders were better than the ones currently being sold, which did not hold up in the Pacific Northwest weather and were routinely rejected by building inspectors.
"Someone remembered this John guy who had been phoning, being a real pest. Somebody remembered I had a fence-post holder with a coating on it."
From the first sale — a $50 order, $5 profit — Peak Products grew to exclusively supply more than 1,000 product lines for homes and gardens through Home Depots in North America and Bunnings in Australia and New Zealand.
Today, Gross and his wife Rosie's philanthropy includes donations to hospitals, the Vancouver Recital Society, UBC, and Habitat for Humanity.
Article content
His most recent offering was to SFU, where the school just announced the John Gross Start-Up Experience, 10 grants of $25,000 per year for 10 years to budding entrepreneurs, along with one-on-one mentoring.
What is curious about Gross' journey is that before entering SFU's MBA program, his bachelor's degree was in piano performance at the Cleveland School of Music.
Maybe that's why, to this day, Gross does not think of himself as an entrepreneur.
"You couldn't find two things that seem so different, music and business, music and manufacturing," he said. "But actually there is a common denominator and similarity between business and music."
Music expresses emotion, and emotions connect people with each other. For Gross, what Peak does is, in a sense, all about emotion.
"We design and we manufacture and we ship outdoor home products, outdoor living products," he said. "They touch people's lives. They're designed to just give a little tiny bit of, I don't know, happiness, something good.
"There are real emotions involved. (People say), 'Business is just business, not emotion.' I think that's absolutely nonsense."
---
Bookmark our website and support our journalism: Don't miss the news you need to know — add VancouverSun.com and TheProvince.com to your bookmarks and sign up for our newsletters here.
You can also support our journalism by becoming a digital subscriber: For just $14 a month, you can get unlimited, ad-lite get unlimited, ad-lite access to The Vancouver Sun, The Province, National Post and 13 other Canadian news sites. Support us by subscribing today: The Vancouver Sun | The Province.