News
Minimum income to buy a home in Vancouver rises to $246,100: Report
Article content
If you want to buy a home in Vancouver, you'd need to be making almost $250,000 a year, according to a new report.
The minimum annual income required to buy an average $1.2 million home in Vancouver rose to $246,100 over a one-month period from July to August due to a jump in mortgage rates, says Ratehub, an online mortgage brokerage company which looked at housing affordability in 10 cities in Canada.
Article content
Prices dipped $2,300 between July and August in the city — a near-negligible 0.2 per cent decrease — and nowhere near enough to offset increased borrowing costs.
"In Vancouver, despite the average home price decreasing by $2,300, affordability worsened due to the rise in mortgage rates, with $1,480 in additional income required to purchase a home," said James Laird, co-CEO of Ratehub.ca, in a statement.
In July, the Bank of Canada hiked its benchmark interest rate by 25 basis points to five per cent, the central bank's 10th rate hike since March 2022.
Mortgage rates rose 10 basis points from 6.12 per cent in July to 6.22 per cent in August, according to the Ratehub.ca report, which used the average of Canada's big five banks' five-year fixed rates in its analysis.
Victoria, the only other B.C. city included in the report, had home prices go up $100 month-over-month. Homebuyers wanting to cinch a deal in August would require an income of $184,800 a year, an increase of $1,420 compared to July.
Toronto was the second most expensive city in Canada to buy a home, with $233,300 in annual income required in August. But that figure is lower than July's figure by nearly $2,000 due to a significant $19,800 drop in home prices, the largest month-over-month home price decrease.
Article content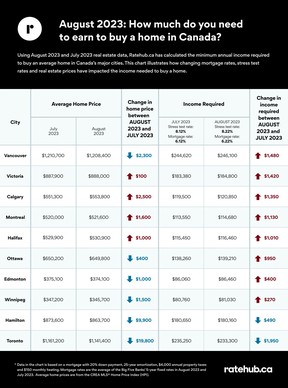 Out of the 10 cities examined in the report, average home prices went up in four cities: Calgary, Montreal, Halifax and Victoria.
Prices went down in six, including Vancouver, Toronto, Hamilton, Winnipeg, Edmonton and Ottawa. The lowered price tag only translated to improved affordability in Toronto and Hamilton.
According to StatsCan, the median income of a one-person household in Vancouver in 2020 was $46,400, while the median income of a two-or-more-person household was $112,000.
x.com/cherylchan
How pricey is Vancouver real estate? Strangers are pooling money to buy houses

Dan Fumano: 'A huge step forward' or not enough? Vancouver approves citywide multiplex plan

Metro Vancouver home prices stabilizing in era of higher mortgage rates: board

Buying a home in Metro Vancouver? New forms provide information about competing bids