News
Questions swirl over Vancouver police shooting that killed 18-year-old
It's been three weeks since an 18-year-old was shot and killed during an encounter with Vancouver police at Clinton Park.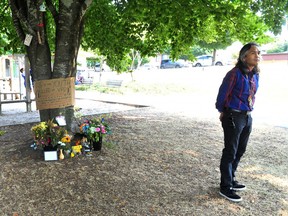 Article content
A Vancouver park that is usually full of children during the summer has now become home to a memorial for an 18-year-old who was fatally shot by police three weeks ago.
Neighbours in the Hastings-Sunrise neighbourhood of East Vancouver are upset with the lack of information released by the Vancouver Police Department about what took place there in the early hours of Aug. 5.
Article content
Under a tree in the northeast corner of Clinton Park, bouquets of flowers and cards mourn the loss of the male teenager, whose identity has not been made public. A large sign above the memorial reads, "Youth deserve care and compassion — not cops!" A smaller note addressed to the teen's mother says, "I'm sorry for the loss of your precious sweetheart."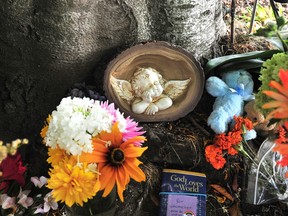 Norm Leech, executive-director of the nearby Frog Hollow Neighbourhood House, recalls visiting the park the morning of the fatal shooting.
"There were markers around all of these bullet holes," he said, pointing to holes in a tree and park bench.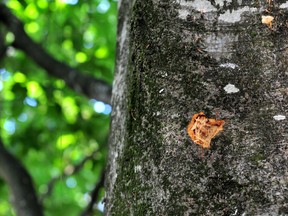 While the community group has repeatedly requested more information from police — including whether there was an altercation between police and the teen, and if the youth was carrying a real firearm — their requests have been met with silence.
"Neighbours have been coming to us shocked. We want to be able to tell them something," said Leech. "But we're finding that the more questions police answer about the incident, the more questions it creates."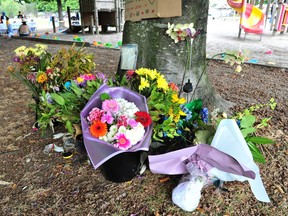 Vancouver police initially said in a statement that several dozen officers responded to a 911 caller reporting "the sound of gunshots being fired near the playground" at around 2:15 a.m. on Aug. 5.
Article content
"When officers arrived, they encountered a man with a firearm. Shots were fired, and the suspect was shot by police. The suspect was taken to hospital, but subsequently died."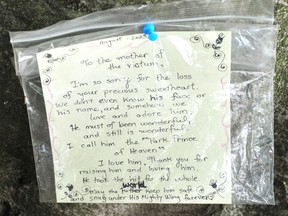 When asked at a news conference later that day whether the deceased teenager had a gun, Vancouver Police Const. Tania Visintin said, "The (Independent Investigations Office of B.C.) will be looking into that — who shot, how many times, what they shot, what type of firearm, if it was real or if it was fake."
Visintin added that investigators do not believe the 18-year-old had links to the Lower Mainland gang conflict. She confirmed in an email that "all officers (involved in the incident) are still on active duty," but would not disclose whether there was an altercation between police and the teen.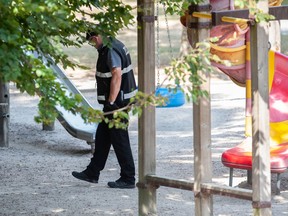 Cody Melnyk woke up to the rattle of gunfire in the wee hours of Aug. 5.
"It was like 'pop, pop, pop,'" the 35-year-old said. "I walked outside of my house to see what was going on. There were cops everywhere."
Melnyk said he was "shocked" by the incident. "This is a family park. I never would have expected to hear gunfire here."
Article content
The case is now in the hands of B.C.'s Independent Investigations Office. A spokesperson said the office had no updates and encouraged anyone with video or audio recordings of the incident to contact the IIO.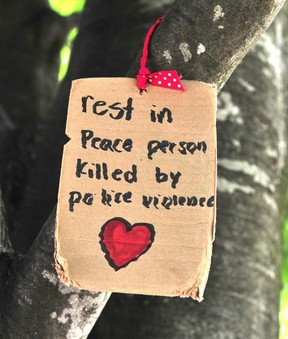 There are several reasons police might remain close-lipped following such an incident, said Rick Parent, a 30-year police veteran and retired associate professor of criminology at Simon Fraser University.
"Firstly, there's a lot of controversy surrounding police gun use in the U.S. and it has spilled to public perception here in Canada, even though the system here has more oversight and results in less civilian deaths."
Parent said a few dozen Canadians die from police use of firearms each year, while in the U.S., that number is up to five times as much.
"The second reason there could be an information vacuum is because our Canadian provincial oversight model — which is relatively new — is flawed. Anytime the IIO is involved, it means, 'Did the cops screw up and make a mistake?'"
In other industries such as aviation, when deaths occur, Ottawa's Transportation Safety Board works to examine larger systemic issues that were at play "instead of solely investigating blame of individual actors," Parent said.
Article content
"The stigma is represented in our system of police oversight, which immediately assumes individual misconduct. Instead, the IIO needs to be looking more objectively at how to fix policing as a whole following deaths."
Finally, the lack of information could be be because "the incident was not typical," Parent said.
"Statistically, most police-involved shootings are clear-cut — there's a suspect who robbed a bank, was stabbing strangers or assaulted his wife, and when police arrived they use their guns to stop him from hurting somebody."
However, in a small per cent of cases, the threat is less clear.
"It could be a person struggling with mental illness who does not listen to police commands," Parent said. "Or the person could be wielding an imitation gun and start a confrontation with police in an attempt to commit suicide."
In most of Canada's police-involved shootings, Parent said officers are exonerated for their actions following a lengthy review process.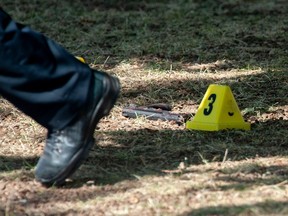 Leech, who stood in front of the Clinton Park memorial, said the 18-year-old's death feels much like "a missed opportunity."
Article content
He is among those in the neighbourhood calling for more restorative justice programs to divert less serious calls for service away from police agencies.
"If we had been able to respond earlier, such as being able to find and engage this teen with services or activities, this might not have happened."
Teenager shot and killed by police in East Vancouver park early Saturday

When it comes to charges against B.C. police, it's often a long wait for grieving families, data shows

B.C. police among Canada's deadliest, figures suggest
---
Summer subscription sale: Our in-depth journalism is possible thanks to the support of our subscribers. For a limited time, you can get full online access to the Vancouver Sun and The Province, along with the National Post and 13 other Canadian news sites, for just $40 for one year or $1 a week for 52 weeks. Support our journalism by subscribing today: The Vancouver Sun | The Province.