Entertainment
Mother of soap star Billy Miller reveals son's cause of death: 'He surrendered his life'
'Desperately trying to deal with our loss'
Get the latest from Mark Daniell straight to your inbox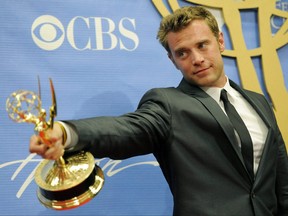 Article content
The mother of All My Children, The Young and the Restless and General Hospital star Billy Miller has revealed that her son died by suicide.
"He fought a long hard valiant battle with bipolar depression for years. He did everything he could to control the disease," Patricia Miller shared in a statement with Soap Opera Digest, adding that her son "surrendered his life."
Article content
"He loved his family, his friends, and his fans but in the end, the disease won the fight," Patricia continued thanking Miller's "many fans and personal friends for the overwhelming amount of love, prayers and condolences sent to me and my family."
Article content
Patricia responded to speculation about how her son died, saying, "The other causes of death being told are not true. I wish they were but they just aren't."
She went on to add that the family is "desperately trying to deal with our loss" and said she had "nothing further to say" following her son's death.
Miller's manager Marnie Sparer confirmed the news of his death at age 43 to Variety on Sunday, which would have marked the three-time Emmy winner's 44th birthday. "The actor was struggling with manic depression when he died," her statement read.
Miller got his start in daytime television back in 2007, when he was cast as Richie Novak on All My Children.
The actor subsequently starred in The Young and the Restless between 2008 and 2014, earning three Daytime Emmy Awards for his portrayal of Billy Abbot.
Following that, he played the roles of Jason Morgan and Drew Cain in ABC's General Hospital before he left the show in 2019.
Miller's other acting credits included roles in Meghan Markle-led Suits, NCIS, Truth Be Told, CSI: Crime Scene Investigation, and Enormous.
"My parents didn't go to college and it was hard enough for them to swallow that I'd gone from trying to get a real degree [in business] to film," Miller told Soap Opera Digest in 2008 of pursuing an acting career. "My dad had a mini-heart attack but came around — and now he's a big Texas guy who watches daytime TV!"
Article content
Chrishell Stause, who co-starred with Miller on All My Children, paid tribute to him on Instagram, writing, "Too many feelings, but you are gone way too soon and I'm so happy I got to work with you all those years, but also call you a friend. I hope you are at peace now."
Fellow Y&R star Eric Braeden called Miller a "gifted actor."
"BILLY BOY was not only a damn good actor, but a nice man! May he rest in peace and meet up with KRISTOFF [St. John] in the BEYOND, 'the undiscovered country from whose bourn no Traveller returns' and tell each other jokes! They were both loved by their colleagues!"
Sarah Michelle Gellar also paid tribute to Miller, with whom she starred with in Ringer. "Rest in Peace Billy," she wrote in an Instagram message. "It was an honour to work with you but more of an honour to know you."
Suits creator Aaron Korsh called Miller "a funny, smart, kind, gentle man."
"Very sad news for the entire Suits family," Korsh wrote on X. "Billy Miller passed away. I flew home once with Billy. We had a great time, bonding over the five-hour flight, which seemed like it was over in a minute."
Miller is survived by his mother, sister and a niece and nephew.
If you are struggling with depression or thoughts of suicide, you can reach out to Talk Suicide online at talksuicide.ca or by calling 1-833-456-4566
'General Hospital' actor Billy Miller dead at 43

The Young and the Restless star Eric Braeden buries Eva Longoria for dissing 'daytime actors'