World
Municipal firefighters aiding BC wildfire battle bring experience home
Chief Brian Hutchinson: "Firefighters from across this province who (fight wildfires) go sleep in a tent on the ground, work 12-hour shifts — that's very noble."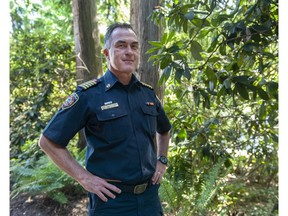 Article content
District of North Vancouver firefighters are helping combat wilderness blazes around the province while picking up vital experience for the increasing number of North Shore wildfires, district Chief Brian Hutchinson says.
Nine DNV firefighters, including Hutchinson, returned from 10 days at Burns Lake last week, with one of those firefighters getting into a truck the next morning to head to Cranbrook and offer a hand.
Article content
"For us, one of the great benefits of being able to deploy our personnel out into the field is they go out and they gain amazing experience," Hutchinson said. "That type of field experience in a wild-land environment isn't something that they're getting (on the North Shore) on a regular basis.
"Anybody who's really been paying attention for the past 10 to 15 years should not be surprised that we've had three fires on the North Shore already this year, and we will continue to have them occurring on the North Shore."
Since 2018, 52 district firefighters have been gone across B.C. on 148 individual missions.
"To have individuals who can deploy, who can work alongside firefighters from across the province, who can pick up on best practices, who can pick up on how our programs can be better, these individuals come back and we make improvements. It just sets us up so well to be able to respond in a really effective and efficient way when we do have something on the North Shore," Hutchinson said
B.C. municipal firefighters are called upon to help out by the B.C. Wildfire Service when buildings or infrastructure are at risk, sending fire engines, water-tenders and task-force leaders.
Article content
For Burns Lake, five North Van firefighters crewed what's called a structural-protection crew, which operates a sprinkler trailer with the equipment to shower up to 40 homes at a time.
"That helps create a humidity bubble," Hutchinson said. "It's not about wetting everything down, it's about creating this humidity bubble so in the event the fire does start to impinge on that built area, it will drop (the fire) down in terms of intensity so you can actually conduct firefighting operations.
"Or, in a lot of instances, the fire will pass by that area because of the amount of humidity that you've created."
North Van also provided Burns Lake a three-person wild-land fire engine that's sort of an off-road hybrid.
"It's a fire engine, but it's a fire engine built specifically to meet the standards for wild-land operations," the chief said. "Like an F-550, kind of, with a pump and all that on it as well."
The wild-land engine is one of three the DNV fire department owns.
"That keeps our reserves adequate," Hutchinson, who served as a division supervisor, said.
It's been tough mentally as well as physically on the people fighting wildfires in Canada this summer, and fatal for three people.
Article content
Devyn Gale, a 19-year-old, third year nursing student from Revelstoke, died outside her hometown on July 13 while fighting a wildfire.
Mounties said her team lost contact with her before finding her pinned under a fallen tree. They immediately gave her first aid, but she succumbed to her injuries after being airlifted to a hospital in Revelstoke.
Adam Yeadon, 25, died fighting a fire near his home in Fort Liard, N.W.T., and a 41-year-old helicopter pilot from Whitecourt, Alberta, — Mounties didn't release his name — died in a crash fighting a fire in B.C.'s northwest.
Hutchinson can't speak on behalf of B.C. Wildfire Services but said that from his experience the service takes a proactive, people-centred approach to mental health and wellness.
"It's not easy because any line-of-duty death has a significant impact on others," he said. "There's a level of hazard whether it's municipal or wild-land, whether (firefighters are) seasonal or paid-on-call or full-time department, it doesn't matter, you're facing the same hazards.
"When it does happen, it has an impact. And for us it's not only about memorializing the individuals, but ensuring that their families understand that they're still part of our family and we need to then do whatever we can to support them and engage them and help them remember … and honour their loved ones who have lost their lives."
Article content
Those firefighters who put their hand up to take time away from family and friends, and sometimes another job, are special folks, the chief said.
"Firefighters from across this province who do that go sleep in a tent on the ground, work 12-hour shifts. That's very noble and it's an honour for me to be able to work with them."
How firefighters from five countries are working together to battle B.C. wildfires

B.C. Wildfire Map 2023: Updates on fire locations, evacuation alerts/orders
---
Support our journalism: Our in-depth journalism is possible thanks to the support of our subscribers. For just $3.50 per week, you can get unlimited, ad-lite access to The Vancouver Sun, The Province, National Post and 13 other Canadian news sites. Support us by subscribing today: The Vancouver Sun | The Province.