Entertainment
New exhibit asks us to consider impact of climate crises on animals
New exhibit asks us to consider the impact of the current climate crises on animals.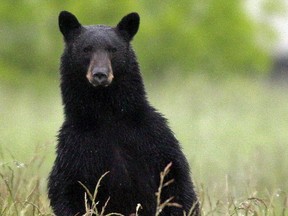 Reviews and recommendations are unbiased and products are independently selected. Postmedia may earn an affiliate commission from purchases made through links on this page.
Article content
Precipice: Changing the Course of the Extinction Crisis in B.C.
When: Sept. 15-23, 3-6 p.m. weekdays and 10 a.m.-2 p.m. weekends
Article content
Where: Alternatives Gallery, 1659 Venables St., Vancouver
Info: ontheprecipice.ca
While we watch the current climate crisis summer unfold, our attention is focused on the impact of extreme weather events on our fellow humans. But a new exhibit asks us to consider animals as well.
"We wanted to create something to educate people about the diversity or extinction crisis," said Tori Ball, Terrestrial Conservation Officer at Canadian Parks and Wilderness Society (CPAWS-BC). The 45-year-old non-profit is dedicated to protecting wilderness in B.C. and the ocean.
"It interlinks with the climate crisis, but it's much less talked about. We wanted to increase awareness about it in a space that also provides community, a dialogue, and to build hope. It's been an incredibly bad summer for natural disasters and seeing evidence of the climate crisis. I think it's really a time for people to come together and talk about taking action. And education through art naturally evokes emotion as opposed to an academic style of learning."
Article content
Precipice: Changing the Course of the Extinction Crisis in B.C. features the work of seven B.C.-based visual artists, including Nell Burns, Adea Chung, Grace Lee, and Jessie Recalma. All the art is focused on the natural world.
One of the artists, Sarah Ronald, has been inspired by animals since she "was very little. When I was, I think Grade 5, I ran this rogue poster thing about the circus that was coming to town. I made these anti-circus posters and stuck them up at local businesses in the Okanagan, where I grew up. I got in trouble from some business owners. But I was just a kid and trying to tell people to stop buying tickets to the circus."
Precipice curator Rachael Ashe asked her to recreate an installation from a 2021 show called The Transference of Landsharks.
"It's basically work on paper. I'm primarily a drawer, but I use the medium loosely. It's a drawing of a landscape with animal forms cut out of it."
Ronald's conversations with the North Shore Black Bear Society about wildlife relocation inspired the piece.
"A lot of times what happens is that the place where the wildlife ends up is not good for them. In the case of bears, they often try to get back to their home territory and almost all of them don't make it." Ronald has also worked with The Fur-Bearers. She created a video for a 2023 campaign against the wolf cull for the North Vancouver wildlife charity.
Article content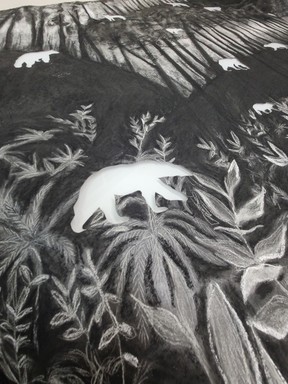 "The bears end up on roadways, desperately running through traffic trying to get back to what they know is home. This really resonates with me, even in terms of this summer with all these people losing their homes and this feeling of loss and fear of what's next. I see this on the human level but also with wildlife."
Along with the exhibit, Precipice is hosting two panel events. On Sept. 19, Turning the Tide on B.C.'s Marine Pollution Crisis features speakers addressing the impacts of marine pollution. On Sept. 21, in Paths Forward: Empowering Conservation Beyond 30×30, Indigenous knowledge holders, biologists, and nature advocates look at supporting Indigenous conservation and stewardship efforts.
Other events include an opening night celebration, with conservation experts answering questions on a Natural Wonders Day, a Family Fun Day with drag storytelling and wildlife chats, and art workshops with Cherry Archer and Clare Wilkening. All events are free.
"My hope is that people will come in to contemplate the work, and in some small way, next time they run into a raccoon or coyote or bear or whatever in their neighbourhood, they might behave differently," Ronald said.
"Ultimately, it's about incrementally, or maybe vastly, change our behaviour and attitude toward wildlife so that we're more compassionate when we are face-to-face with these animals."
Cannes Jury Prize winner Fallen Leaves set to open 2023 Vancouver International Film Festival

The Summer Canada Burned: Postmedia to publish book on 2023 wildfires
---
Bookmark our website and support our journalism: Don't miss the news you need to know — add VancouverSun.com and TheProvince.com to your bookmarks and sign up for our newsletters here.