Business
Oakridge project 'active' EllisDon says, despite dispute with Westbank
Vancouver-based Westbank Corp. has become one of Canada's best-known property developers with a portfolio of architecturally striking buildings.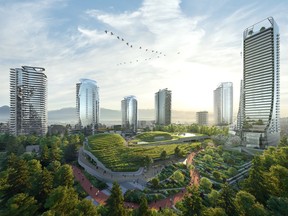 Article content
Canadian construction giant EllisDon continues to operate at the Oakridge Park mega-project despite having recently vacated a development site in Ontario and initiating court action against its same development partner, Vancouver's Westbank Corp., alleging payment delinquencies.
"I can confirm we are still active at Oakridge, but cannot comment on our relationship with Westbank, given the state of it being before the courts," said EllisDon spokesperson Dustin Luchka in an email.
Article content
Asked specifically if Westbank has been or is delinquent on any payments at Oakridge, Luchka declined to comment.
Westbank and QuadReal, a global real estate investment, operating and development company, are described as joint-venture partners at the Oakridge project that is redeveloping a massive 28-acre site on Vancouver's west side, targeting homes for 6,000 residents living in 3,500 units in more than a dozen high-rise towers.
Westbank has become one of Canada's best-known developers with a portfolio of striking buildings where units are marketed both domestically and internationally, including to buyers in major cities such as Hong Kong and Singapore. QuadReal has more than $73 billion in assets under management, and is wholly owned by the B.C. Investment Management Corp., one of Canada's largest institutional investors.
This week, The Globe and Mail reported that four construction and sub-trade companies in Ontario, including EllisDon, are suing Westbank for more than $25 million in unpaid work at Mirvish Village, a sprawling development in Toronto with nearly 900 rental homes.
Article content
According to documents filed in Ontario courts by EllisDon, payment delinquencies by Westbank began in 2022 and continued into 2023. EllisDon is seeking repayment of $8.7 million and has left the site, but the company declined to comment to The Globe, saying the matter is before the courts.
Oakridge will include some 450,000 square feet of office space along with new amenities such as a community centre and library. Bloomberg News reported in 2019 that Oakridge was estimated to cost $5 billion and was "set to be as big as New York's Hudson Yards, the largest private real estate development in North America."
The project is of keen interest to the local market not only for its size, but also its sales.

Westbank sold $1 billion worth of units at Oakridge in less than a year, which was more than the combined pre-sales of all downtown Vancouver developments during the same period, Bloomberg reported in 2019. This was happening in the years after policies and taxes aimed at dampening foreign investment had prompted a slowdown in luxury condo sales.
Postmedia asked Michael Buchan, director of QuadReal development, for an update on the situation at Oakridge. He declined to comment and directed queries to QuadReal's communications department, which did not reply.
Article content
In the case of Mirvish Village in Toronto, the construction and sub-trade companies that have initiated court action against Westbank tried to secure their claims first by filing builder's liens on the project's land title, The Globe reported. Such liens can make it difficult for a developer to refinance or sell a property, including presale units.
Another high-profile project involving Westbank in Vancouver, Alberni by Kengo Kuma, is also the subject of ongoing litigation involving construction companies alleging they are owed money. The 43-storey luxury condo tower, designed by the notable Japanese architect Kuma, is one of the most dramatic structures in the area with two massive concave glass and aluminum shapes that rise bending away from each other over Cardero and Alberni streets below.
Property records show that in June and July of this year, a series of five builders' liens were filed in connection with the Alberni Street project, with construction companies alleging they were each owed amounts between $220,877 and $2.82 million for their work there.
Article content

Four of those five disputes have since been resolved and the liens cancelled. Development and legal professionals say such disputes are not uncommon on projects of such size and complexity.
One of those disputes was still ongoing as of this week. Graham Construction and Engineering filed a claim of lien in July, saying the developer owed them $2.82 million for construction management services. That matter is now before the courts.
Another earlier dispute in connection with the Alberni project is also still unresolved. Graham Infrastructure filed a claim of lien in 2021, and that matter is still before B.C. Supreme Court, with Graham Infrastructure alleging in court filings they were owed $4.46 million.
Lawyers for the developer have responded in court, disputing the construction companies' claims.
In an emailed statement this week, a Westbank spokesperson said: "We cannot comment on Graham as this matter is ongoing, though we fully expect to reach resolution."
Postmedia asked Westbank about the reporting on construction companies' lawsuits involving its Mirvish Project in Toronto, and whether the company had any information to add to EllisDon's comments that it remains active at Oakridge in Vancouver. Westbank's representatives did not reply.
Article content
A representative for Peterson Group, a Vancouver-based firm that is partnered with Westbank at both the Mirvish and Alberni projects, did not reply to emails.
Presale contracts for units in the Alberni building were sold starting in the spring of 2017 at over $1 million for a studio apartment, and the project was described by the developers as being "super prime."
This past spring, the most expensive condo listed for sale on the MLS listing service across B.C. was a presale unit at the Alberni, with a 4,400-square-foot, two-bedroom penthouse unit with a private, glass-bottom pool and 270-degree views of the city, and an asking price of $31.8 million.
— with research by Carolyn Soltau
Related Stories
None

None

Douglas Todd: Why you shouldn't always believe what you see in architectural renderings

Here's how Vancouver is planning to spend millions from a one-time infrastructure grant
---
Bookmark our website and support our journalism: Don't miss the news you need to know — add VancouverSun.com and TheProvince.com to your bookmarks and sign up for our newsletters here.
You can also support our journalism by becoming a digital subscriber: For just $14 a month, you can get unlimited, ad-lite access to The Vancouver Sun, The Province, National Post and 13 other Canadian news sites. Support us by subscribing today: The Vancouver Sun | The Province.