Entertainment
Show commemorates groundbreaking exhibition of Black women artists
Current exhibit at Emily Carr University offers up works from nine artists from the original Diasporic African Women's Art collective show.
Reviews and recommendations are unbiased and products are independently selected. Postmedia may earn an affiliate commission from purchases made through links on this page.
Article content
The Practice as Ritual art show at the Libby Leshgold Gallery at Emily Carr University (ECU) is a celebration and commemoration of a groundbreaking Canadian show that gave voice to Black women artists over three decades ago.
The 1989 show was called Black Wimmin: When and Where We Enter. It was produced by Grace Channer and Buseje Baily who founded the collective called DAWA (Diasporic African Women's Art). The exhibition, which toured the country, marked the first time in Canadian history that an exhibition addressed the exclusion of Black women artists in this country.
Article content
Practice as Ritual, co-curated by Nya Lewis and Andrea Fatona, will be at the ECU until Nov. 5 and features paintings, photography, text, installation, video and sculpture. Artists featured in Practice as Ritual include: Bailey, Marie Booker, Claire Carew, DZI..AN, Khadejha McCall, Mosa McNeilly, Chloe Onari, Barbara Prézeau Stephenson and Winsom Winsom.
"This landmark exhibit re-centres the voices of Black women artists whose practices and cultural networks collectively shaped (and continue to shape) cultural discourse concerning place-making and the institutional histories of Black women and exhibition making," said Lewis, director/curator at Vancouver's Artspeak Gallery, in a statement.
Practice as Ritual includes works from all but two (Channer and Sulih Williams) of the artists who were in that original show.
"Now here we are 30 years later. How has our work evolved? What are the themes we are still addressing?" artist McNeilly said over the phone from her home in Hamilton.
Already showing in Toronto and Montreal, Practice as Ritual has stops next year in Ottawa and Hamilton.
Article content
"Our voices, they can't ignore. In most recent times we have had this kind of awakening that has happened in the institutions suddenly after the murder of George Floyd. All of a sudden, everybody finally realizes that anti-Black racism really is a thing," said McNeilly when asked about the show's impact.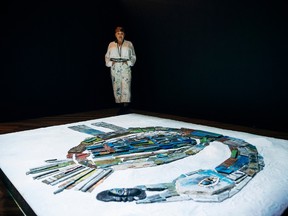 McNeilly's work on display in Practice as Ritual is her 2022 piece titled Bones/Meditations on Middle Passage Memory. It's a large assemblage piece that utilizes digital projections on found objects that form the shape of the Sankofa bird.
Sankofa is a word in the Twi language of Ghana meaning "to retrieve" and it also refers to the Bono Adinkra symbol represented by a bird with its head turned backward while its feet face forward carrying an egg in its mouth.
"This symbol is a very popular symbol in the Black diaspora, especially the Black Atlantic, North American, Caribbean. We have had this experience of the middle passage. Where our ancestors travelled across the Atlantic Ocean in that period of forced migration over those 400 years," said McNeilly. "It has been taken up so passionately by Black diasporic folks because it is interpreted as this cultural reclamation, we're going back to reclaim our connection to Africa. To reclaim our African roots and origins, traditions and knowledges, and spiritual practices and names."
Article content
When talking about her piece, McNeilly explained that the stones used in it are meant to represent bones.
"It is not even a metaphor. It's an actual fact that there are African bones on the Atlantic Ocean floor," said McNeilly. "That's the image in my mind that has been compelling me for years. For decades, I have been haunted by this image of this path of bones on the ocean floor.
"So, what I am hoping is my piece is a kind of a portal where you go in and you can sit there and experience the soothing rhythm of the ocean, the sound of the ocean. The beautiful imagery dancing across the assemblage," added McNeilly. "I want people to give themselves a moment to contemplate that history. It's like going to a cemetery and sitting at the grave and just contemplating the life of the person who has passed away and mourn. Have a little moment of grief and mourning. I think that is something we need to do, is to memorialize this history."
Related Stories
Tips to build your own art collection

Haida Modern captures beauty in work and life of great artist
---
Bookmark our website and support our journalism: Don't miss the news you need to know — add VancouverSun.com and TheProvince.com to your bookmarks and sign up for our newsletters here.
You can also support our journalism by becoming a digital subscriber: For just $14 a month, you can get unlimited, ad-lite get unlimited, ad-lite access to The Vancouver Sun, The Province, National Post and 13 other Canadian news sites. Support us by subscribing today: The Vancouver Sun | The Province.