News
Shuswap conflicts raise pressure on province for 'stay and defend'
History shows not everyone will leave in a wildfire evacuation. So can the province enact policies that allow for people to 'stay and defend' properties safely?
Article content
Neighbours in the sparsely populated area south of Francois Lake in B.C.'s central Interior watched warily as the 2023 forest fire season opened early and actively unfolded.
"Our first fire may have been in April, for sure in May, we had lots of fires in May," said Risé Johansen, who, with husband David, owns and operates the Takysie Lake Resort, about 53 kilometres south of Burns Lake, including a three-kilometre ferry ride.
Article content
While controversy swirls around the defiance of residents in North Shuswap Lake communities this week as they disobeyed evacuation orders and stay to fight forest fires in their region, the Francois Lake folks offer something of a test case for what it takes for property owners to responsibly stay and defend their homes and livelihoods.
The Johansens lived that reality in August of 2018, staying behind to protect their resort and their neighbours' after the region was ordered evacuated, setting up pumps, running their own water tanker, and dealing with RCMP pressuring them to leave.
"No one here was going to risk their life, or their farm, or their store, or whatever," said Risé. "But I think exercising the good common sense — the knowledge that they have and the skills they have — has been what saved what (residents) have."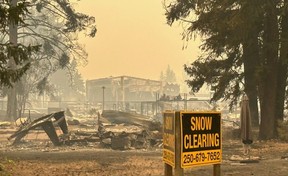 Johansen led the creation of a community group, the Chinook Emergency Response Society. That entity has formalized communication amongst themselves and authorities, organized basic wildfire training courses, and on occasion put out spot fires when they see them.
Article content
Emergency Management B.C. and the B.C. Wildfire Service have the responsibility of protecting lives first and foremost in the event of wildfire disasters, with their authority to do so, including by ordering and enforcing evacuation zones, clearly outlined in emergency management legislation.
However, the Regional District of Bulkley-Nechako, which includes Francois Lake, is among the municipalities pushing the province to acknowledge that rural residents, such as the Johansens, can be assets in wildfire situations, not burdens, and formally recognize that people have the right to stay and defend their properties.
The district proposed a resolution in 2019 that was adopted by the Union of B.C. Municipalities calling on the province to work with local authorities on policies and best practices, acknowledging that wildfire seasons are becoming longer and more intense.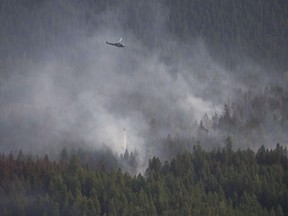 In 2018, evacuation orders in the region lasted for two months, recalled regional district chair Mark Parker. That left farmers and ranchers in a difficult position trying to look after herds and protect agricultural operations while technically not being allowed to travel.
Article content
"Most of the time, it's shelter in place because that's their only option," Parker said. "And if that's the only option, then you need to have something in place that allows people to come out, get fuel, get supplies, and be able to re-enter and take care of their place."
It is also important to acknowledge that, despite potential risks, there will always be people who remain behind after wildfire evacuations are ordered, said researcher Amy Christianson.
"What's more rare is for, you know, 100 per cent of people to follow an evacuation order," said Christianson, who has studied the history of such orders across Canada since 1980.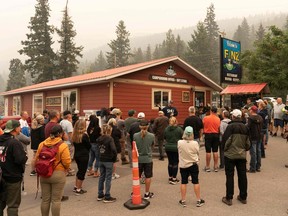 Sometimes it is a matter of not trusting that authorities will be able to protect their property or understanding that the resources of agencies, such as the B.C. Wildfire Service, are stretched too thin to do so.
"It's not as simple as load up and walk away (in an evacuation)," she said. "Then what happens for them? The loss of an uninsured home that they've put their life into can have huge implications."
So the response is a matter of accepting "the reality that there's always people who are going to make that decision to stay on their property during a wildfire," she said.
Article content
"And what we want to do is make sure that those people who choose to stay behind can do it in the safest way possible, both for themselves, but also for other first responders."
As B.C. residents evacuate their homes, they're reminded of 'so many good people' who came to their aid

'In my blood to fight': Shuswap residents tell why they defy fire evacuation

Kelowna wildfire: RCMP help with evacuation efforts as crews battle blaze
There is a growing list of examples of First Nations communities defying evacuation orders in favour of mounting their own defences, Christianson said. But they are doing so only after marshalling resources and training personnel to work in conjunction with provincial agencies.
The B.C. Wildfire Service has recognized the need to work formally with First Nations and rural communities, and in 2022, it established an initiative called the co-operative community wildfire response program to tackle the task.
No one from the wildfire service was available to talk about progress on the program, but Christianson said the basis of "stay and defend" decisions needs to be rooted in clear, early decision-making and proper preparation.
Article content
"The real important thing is that you will be prepared and that you will have a defensible space around your home to stay and defend," Christianson said. Property owners need to have their own equipment — pumps, hoses and other tools, and not just a garden hose and a shovel.
Around Francois Lake, Johansen said her family and neighbours have taken that to heart.
They have procured more pumps and tankers, she said. And almost everyone with a pickup truck, for example, has a 1,000-litre water tank with pump and hoses to use if necessary.
x.com/derrickpenner
---
Summer subscription sale: Our in-depth journalism is possible thanks to the support of our subscribers. For a limited time, you can get full online access to the Vancouver Sun and The Province, along with the National Post and 13 other Canadian news sites, for just $40 for one year or $1 a week for 52 weeks. Support our journalism by subscribing today: The Vancouver Sun | The Province.