News
Surrey Schools cancels Khalistan voting event due to promotional poster
Article content
The Surrey school district has cancelled a pro-Khalistan event that was set to be held at Tamanawis Secondary School this Sunday.
According to a statement, the cancellation was due to a promotional poster that showed an AK-47 assault rifle being stabbed by a Kirpan below an image of the school in Newton.
Article content
The poster for the Sept. 10 event also had the faces of Talwinder Singh Parmar — who was accused by Canada of orchestrating the 1985 Air India bombing — and Hardip Singh Nijjar, the former leader of Surrey's Guru Nanak Sikh Gurdwara who was murdered outside the temple in June.
Article content
"Earlier today, our district cancelled a community rental of one of our schools due to a violation of our rental agreement. Promotional materials for the event featured images of our school, alongside images of a weapon," said a school district statement on Tuesday.
"Despite repeated attempts to address the issue, the event organizers failed to remove these concerning images, and materials continued to be posted throughout Surrey and on social media."
"As a school district, our primary mission is to provide quality education and support to our students and ensure a safe environment for our school communities. Our agreements, policies and guidelines, including those for rentals, support our district in creating a safe environment for our community. Anyone renting our facilities must adhere to this."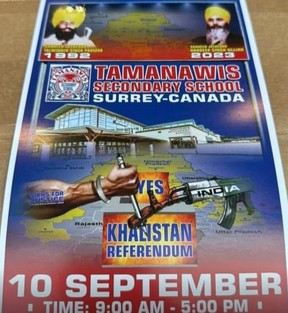 The district said its decision was not political and that Sikhs For Justice, which is organizing the event, would receive a refund. The Khalistan movement seeks to establish a sovereign state in the northern region of India.
Earlier, The Concerned Residents of Surrey group had asked the district to rescind permission to use the school for the vote, while Mayor Brenda Locke told Surrey Talk Radio that the city had not endorsed the Khalistani movement. Locke was also critical of the use of images of a gun and knife on the poster.