Sports
Team USA shocked in FIBA World Cup semifinal, losing to Germany
Andreas Obst scored 24 points, Franz Wagner added 22 and Germany shredded the U.S. defense for much of the way in its first win over the Americans — 113-111 in the World Cup semifinals on Friday night.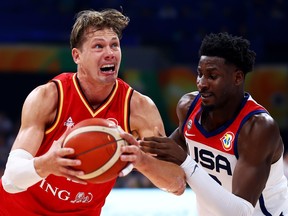 Article content
There will be no gold medal for the U.S. at this World Cup. And for the second consecutive time in FIBA's biggest tournament, there might not be any medal at all for the Americans.
Instead, it's Germany on the cusp of a world title.
Article content
Andreas Obst scored 24 points, Franz Wagner added 22 and Germany scored more points than any team ever has against a USA Basketball team featuring NBA players — earning a 113-111 win in the World Cup semifinals on Friday night.
Article content
"This team is very worthy of winning a championship," U.S. coach Steve Kerr said. "And we just didn't get it done."
No, it didn't, and now questions will fly once again. USA Basketball has been talking for years about how the continuity of top international teams has closed what was once a sizable gap between the Americans and the rest of the world. The U.S. has won the last four Olympic titles, but now it's two straight World Cups with no gold for the winningest program on the planet.
"Terrible," U.S. guard and captain Jalen Brunson said. "Plain and simple."
Germany — the last unbeaten team left in the tournament at 7-0 _ will play Serbia on Sunday (8:40 a.m. EDT) for the World Cup title. Serbia beat Canada in the first semifinal, getting to its second World Cup final in the last three tournaments; it lost 129-92 to the U.S. in the 2014 championship game.
Canada will play the U.S. for bronze Sunday (4:40 a.m. EDT).
Obst hit the shot of the night, a 3-pointer with 1:15 left to put Germany up by four and just about snuff out a last-ditch U.S. rally. Germany led for 30 of the game's 40 minutes, the U.S. led for about 4 1/2, and there was little question who was controlling play much of the way.
Article content
"It's a special group," Germany coach Gordie Herbert said after his team made the World Cup final for the first time. "The way we played, the way we played together, we stuck together when things got tough and we had players who made some huge plays. One more to go."
The U.S., down by 10 midway through the fourth, nearly pulled off a comeback, getting within one point on two separate occasions in the final minutes. But the Americans never got the lead, and it was the Germans jumping and hugging as time expired.
"We knew the task at hand, and that was to go win," U.S. guard Austin Reaves said. "And we didn't do that."
Anthony Edwards scored 23 points for the U.S. (5-2), which got 21 from Reaves, 17 from Mikal Bridges and 15 from Brunson. The Americans shot 58% — but let Germany shoot 58% as well, and that was the ultimate undoing.
"If you give up 113 points in a 40-minute game, you're not going to win many of those," Reaves said.
The previous high for points allowed by a U.S. men's team in the Olympics or World Cup in the era when NBA players could be used _ going back to 1992 — was 110. And that was earlier in this tournament, against Lithuania, which also was a U.S. loss. That loss didn't doom the Americans' gold-medal hopes. This one did.
Article content
"We weren't ever able to make them feel us defensively," Kerr said.
Germany had been 0-6 entering Friday against the Americans in World Cup or Olympic competition, usually getting blown out in those games.
Not this time. Once again, even bringing the only roster filled with all NBA players wasn't enough for the U.S. at the World Cup. The Americans finished seventh at the 2019 World Cup in China; this finish — third or fourth — will technically be better, but nothing other than gold was going to be satisfactory for USA Basketball.
Daniel Theis had 21 points for Germany. Theis has scored 21 or more points six times in his NBA career — and picked Friday for one of the games of his life.
"Obviously, a historic win for Germany," Franz Wagner said. "We've got one more to go."
Canada's FIBA World Cup run to a title comes to end against Serbia

Canada ready to 'whatever it takes' in historic game against Serbia at FIBA World Cup
A 35-24 third quarter was basically the difference for Germany, which this time finished the job that it couldn't pull off when meeting the Americans in Abu Dhabi for an exhibition earlier this summer. Germany led that game by 16 in the second half, then an 18-0 run by the Americans down the stretch led to a 99-91 U.S. win.
It needed similar heroics this time. They almost got there. Key word: almost. This time, Germany finished it off. And when it was over, Reaves couldn't help but see Schroder — his former teammate with the Los Angeles Lakers — revel in a huge moment for German basketball.
"Tip your hat to him," Reaves said. "I know how special this moment is for him."