Business
U.S. trial that sank B.C. funeral empire made into Amazon Prime movie
The Mississippi court case against the Loewen Group is portrayed as a David and Goliath fight in film starring Jamie Foxx and Tommy Lee Jones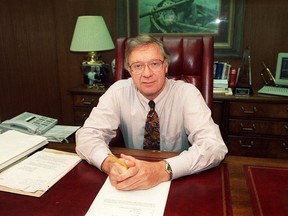 Reviews and recommendations are unbiased and products are independently selected. Postmedia may earn an affiliate commission from purchases made through links on this page.
Article content
At its height in the 1990s, the Loewen Group funeral empire in Burnaby operated more than 1,100 funeral homes and 500 cemeteries in Canada, the U.S. and the United Kingdom. It was the second-largest funeral home operator in North America.
But it all came crashing down after a Mississippi court slapped the company with a stunning US$500-million judgment in a breach-of-contract lawsuit in 1995.
Article content
Loewen eventually settled the case for about US$175 million, but the company never fully recovered from what founder Ray Loewen dubbed "the Mississippi tragedy" and went bankrupt.
The court case is now the subject of a new movie, The Burial, that's streaming on Amazon Prime.
Jamie Foxx stars as Willie Gary, the flamboyant Black lawyer who wins the case for the small funeral home operator Jerry O'Keefe (played by Tommy Lee Jones) against the giant Loewen Group, with Bill Camp playing Ray Loewen.
It's a David and Goliath story, with Loewen as Goliath. The movie was based on a 1999 New Yorker article by Jonathan Harr and was directed by Maggie Betts.
It's getting favourable reviews, including from Time magazine, which called it a "crowd-pleasing courtroom drama."
Article content
Loewen vanished from the public eye after he resigned from the company in 1998. The last time he was in the news was in 2008, when he put his palatial 14,611-square-foot mansion in Burnaby up for sale for $25 million. It wound up selling for $9.948 million in 2012.
Loewen's family went into the funeral business in the 1930s in his native Steinbach, Manitoba. Ray Loewen could be a tough businessman. According to a 1996 New York Times story, he liked "to tell investors that his first management decision was to fire his brothers from their parents' small Mennonite funeral home in Manitoba."
Elbert Toews was one of the founders of the Birchwood Funeral Chapel co-op in Steinbach, which was founded in 1998 after funeral costs went up after the corporate takeovers in the industry.
"We ran it as a co-op because the only way we could take on what was happening in the funeral industry," said Toews, 88, who was a school principal before he retired.
"We were able to continue reasonable pricing — that had been (put) in place by the Loewen Group, by the way — in Steinbach for many years. They operated a very good business, but this young fellow, one of the sons, went sort of hairy on it and decided to go big.
Article content
"His brother (Bob) by the way did not go with it, and was very much in favour of what we were doing as a co-op."
Ray Loewen moved to B.C. in 1969. In 1975, he successfully ran for Social Credit in the B.C. election, but never made it into cabinet and left politics after three years.
Loewen founded the Loewen Group in 1985 and started buying up funeral homes. By 1986, it operated 45 funeral homes across Canada. It grew exponentially in the late 80s and early 90s, part of a consolidation in the funeral business that critics said turned it into the "death care" industry.
After losing the Mississippi trial Loewen took his company on more expansion, but it didn't pay off and he was forced out of his own company.
But he won a moral victory in 2003 when a NAFTA tribunal found the Mississippi trial and its verdict "were clearly improper and discreditable and cannot be squared with minimum standards of international law and fair and equitable treatment."
"By any standard of measurement, the trial involving O'Keefe and Loewen was a disgrace," said the tribunal. "By any standard of review, the tactics of O'Keefe's lawyers, particularly Mr. (Willie) Gary, were impermissible. By any standard of evaluation, the trial judge failed to afford Loewen the process that was due."
Article content
But Loewen didn't get any money, partly because the tribunal said he had sold his shares to U.S investors, thereby breaking the "chain of nationality" which is required under NAFTA.
With files from Bruce Constantineau and David Baines
Related Stories
Training to be streamlined for B.C. funeral industry apprentices

Funeral home horrors put spotlight on spotty US regulations

---
Bookmark our website and support our journalism: Don't miss the news you need to know — add VancouverSun.com and TheProvince.com to your bookmarks and sign up for our newsletters here.
You can also support our journalism by becoming a digital subscriber: For just $14 a month, you can get unlimited, ad-lite access to The Vancouver Sun, The Province, National Post and 13 other Canadian news sites. Support us by subscribing today: The Vancouver Sun | The Province.