World
Upzone everything, suggests developer who changed Vancouver forever
Opinion: Stanley Kwok, the key figure behind Vancouver's massive Expo lands highrise project, has a radical idea for more.
Get the latest from Douglas Todd straight to your inbox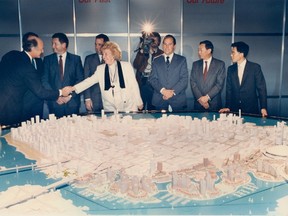 Article content
One of the most powerful men in Vancouver's history has no misgivings about how he has forever changed the city.
Stanley Kwok, 96, was the key figure in developing the former Expo '86 lands into a swath of highrises, parks and a seawall.
Article content
He would like to see all of Metro Vancouver upzoned, so it could potentially become a metropolis of towers.
The single-family home, he says, is virtually dead in Metro Vancouver.
Article content
"Why stick to the past?" says Kwok, who describes himself as "an architect who understands money." The region's population growth cannot be slowed, he says. Housing affordability, which is long gone in Metro Vancouver, basically lies in living in smaller spaces.
I talked with Kwok over lunch at his elegant seniors' residence on West King Edward, east of Cambie.
While his wife, Eva, a businesswoman, remains in their Olympic Village home, affable Kwok has enjoyed independent living at The Opal for three years. He calls it "a cruise ship on land." Robots play the role of busboys, dropping by with plates of quality Chinese or Western food.
Born in China, Kwok feels fortunate to have made it into Hong Kong after he graduated in 1948 from Shanghai's prestigious St. John's University, which the Communists soon closed. He moved to Vancouver in 1968.

Although Kwok is responsible for giant projects at Whistler, Victoria's Inner Harbour, Burnaby's Metrotown and an entire waterfront in Dubai, his renown comes from being the master developer of Vancouver's former Expo lands, which has been called the largest private urban land project in North America.
Article content
In 1984, the Social Credit government appointed Kwok president of B.C. Place Ltd., which was responsible for the development of the north shore of False Creek after the Expo '86 fair. The original idea, Kwok said, was to slowly sell off its almost square kilometre of land in parcels.
But in 1987, newly elected premier Bill Vander Zalm and cabinet minister Grace McCarthy decided to sell the total site in an international bidding process. When Hong Kong's richest man, Li Ka-Shing, approached Kwok to represent him in negotiations, Kwok stepped down from BC Place Ltd to run Concord Pacific. 
Concord Pacific paid $320 million for the one-time industrial property, which made up one-sixth of downtown Vancouver. But the real price is judged to be about $145 million, because the province paid the huge cost of remediating the contaminated soil.
Countless observers have said it would have been far more beneficial for taxpayers if the prime land had been sold in stages. And many wonder why local developers were not given a chance. They also say Li did not pay nearly enough for the land, on which Kwok, as head of Concord, began designing highrise apartments for tens of thousands of people.
Article content
Today, 36 years later, Kwok explained why he thinks the Hong-Kong billionaire paid a fair price for the Expo lands, even while Li considered the development "a very small potato" in his empire. Most of Kwok's argument hinges on how the Expo property was "raw," with Concord needing to build the roads, sewers and amenities.
Unlike his former business partner, John D'Eathe, with whom he co-founded Canadian Freehold Properties in 1970, Kwok has no qualms about the way vast amounts of trans-national wealth has transformed Vancouver, Toronto and other Canadian cities, including with the construction of large amounts of luxury housing for investors, domestic and foreign.
D'Eathe, who spent decades developing property in East Asia and Canada and who admires Kwok for his ability and modesty, went so far this year as to write a crime novel, Laundering the Dragon: Black Renmimbi, which he calls a fictional account of the widespread money-laundering, cheating and corruption he worries is infiltrating Canada through global real-estate development.
Kwok expresses no similar compunctions, saying his old friend and partner's book "is just making fun of the whole thing."
Article content
Although Kwok said he is not free to reveal everything he knows, he is adamant that what can and cannot be done in the world of housing development and affordability all depends on money.
Now Kwok is mostly worried that mayors and councillors across Metro Vancouver are not thinking about about how the region will become much more dense in the next 50 years. Most of his four children and seven grandchildren do not live in B.C., but, still, he asks, "How will our grandchildren find living in Vancouver?"
When Metro Vancouver politicians try to accommodate millions of more people in the future, "the only way you can do that is to build higher. And what happens when you go higher?" Kwok asks.
The era of single-family housing in Metro is "more and more difficult" to maintain, he said. "So you start living in apartments. Other cities have grown up that way. It's just a different way of living. Why do we have to stick to the past?"

Kwok believes there is no way to slow down the rapid population growth that is significantly responsible for creating strong housing demand and higher prices.
Article content
In that way he is unlike B.C. Premier David Eby, Housing Minister Ravi Kahlon, the Business Council of B.C. and most housing analysts, who believe Ottawa's record high immigration targets must be adapted to the availability of housing.
Asked about ways Metro Vancouver could make housing more affordable, Kwok put forward a contentious way to stop the "jacking up" of land prices.
"I think the city should upzone everything. Then the prices cannot go up, because it would overflow the market. It would flood the market with housing supply. Then prices can't go up."
Kwok does not believe the key to affordability lies in social housing, mostly because most of "the money that goes into it is, in fact, taxpayers money. Nothing is free."
He believes Canadian governments come up with unrealistically high standards for social housing, especially compared to Hong Kong, for which he has designed more than 200 buildings.
"When Hong Kong talks about affordable housing, what they consider is providing a certain amount of square footage per person. That's all they're concerned about. They don't care what it is. They're very small. But here it's different. Here they say the standard has to be this or that. They say, 'To house a family not only do you have to have a bedroom for the parents, you also have to have a bedroom for each kid. That makes it more expensive. And somebody has to pay for that."
Article content
Now considering himself long retired from the urban development field, Kwok reads voraciously. Newspapers, history, astrophysics: "anything." He just finished Philip Snow's The Fall of Hong Kong, a one-time home he flew back to four times a year before semi-retiring about two decades ago.
He is more than happy to be in Vancouver, now. He appreciates Canada embraced him.
Even though some ethnic Chinese people he has worked with think differently, Kwok says, "I don't believe Canada is a racist place."
With a small chuckle, he says, "I came here from Hong Kong. My face is not white. Yet the B.C. government accepted me to run B.C. Place Crown Corporation. B.C. Hydro accepted me as a director. The Bank of Montreal accepted me as a director. My first employer was Grosvener International (a British developer). I really don't think there is a race issue. It's all about whether you can deliver. If you can deliver, race has nothing to do with it."
Related Stories
Douglas Todd: Major Canadian developer fears 'the bad guys are winning'

Douglas Todd: Housing crisis as seen by one of Vancouver's biggest developers

Deal of the Century: Expo 86 land purchase changed Vancouver
---
Bookmark our website and support our journalism: Don't miss the news you need to know — add VancouverSun.com and TheProvince.com to your bookmarks and sign up for our newsletters here.
You can also support our journalism by becoming a digital subscriber: For just $14 a month, you can get unlimited, ad-lite access to The Vancouver Sun, The Province, National Post and 13 other Canadian news sites. Support us by subscribing today: The Vancouver Sun | The Province.