Business
Vancouver condo complex resembles a hotel during morning Airbnb rush
Tourists had positive reviews after their stay in a downtown Vancouver strata complex where about 150 condos — roughly a third of the total — are listed on Airbnb. One resident said living there is "hell"
Get the latest from Dan Fumano straight to your inbox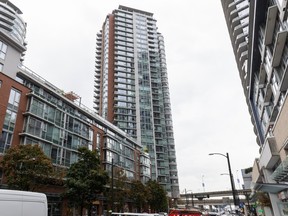 Article content
A steady stream of people rolled their suitcases out of a downtown Vancouver condo complex and into taxis on Tuesday morning.
Wearing travel neck-pillows and backpacks, carrying shopping bags and water bottles, groups of out-of-towners swapped stories about two major concerts the night before at nearby venues: Guns N' Roses at B.C. Place and a Rogers Arena show with Wu-Tang Clan, Nas, and De La Soul sharing a bill.
Article content
A family of four who flew in from Denver for the Guns N' Roses show said they had a lovely stay in a condo they booked through Airbnb. They had looked at hotels in Vancouver and, with two teenagers in tow, they figured two rooms at a budget hotel would have cost them three times as much as the nice two-bedroom condo through Airbnb.
"This was a perfect location too," the family's mother said, shortly before heading to the airport. "We're close to Chinatown, which we wanted to see, and Gastown, and Granville Island and B.C. Place."
A couple visiting from Victoria for Guns N' Roses said they had an "awesome" stay at an Airbnb unit in the same building. They've stayed in Vancouver hotels on previous visits, the couple said, but those rooms seem to have become significantly more expensive recently.
"One night in a hotel was the same price as three nights here, and that was for a cheaper hotel," the visitor said.

A woman who works on the block commented that she regularly sees people with suitcases coming and going from the condo building. It's constant week-in-and-week-out, and especially hectic in the summer.
Article content
"It is a constant rotating door of Airbnbs," she said. "It's ridiculous."
"It's just crowds of people outside of here waiting to get their taxis or Ubers, everyone's got their suitcases," she said. "Which is fine, tourism is great. … But it's a housing crisis. That's what gets me."
This strata complex, called Firenze, was the subject of a recent letter circulating both inside and outside the buildings this month. A group of residents, concerned about the explosion of short-term rentals, wrote and delivered a letter this month by mail to every owner in their strata corporation. The letter, which has since been shared outside of the strata corporation, outlines a litany of worries around the "overwhelming" volume of guests every day.
The "daily issues," including crowds coming and going, piles of garbage left behind in the building's common areas, and noise disturbances, "are causing turmoil for those living in Firenze," the letter says.
One of the concerned residents behind the letter spoke to Postmedia News, on condition of anonymity out of fear of reprisal from the strata council. The owner said: "We're living in a hotel without rules that's absolute hell."
Article content
The resident said most owners, including both owner-residents and investors who rent units to long-term tenants, seem to support restricting short-term rentals. But some strata owners are vehemently opposed, the resident said, sharing one expletive-filled email urging them to move out of the building.
The Firenze strata complex has 457 condos in three buildings in Vancouver's Crosstown neighbourhood. The letter says 150 condos — roughly a third of all Firenze units — have Airbnb licenses.
Firenze's property manager, who also spoke on the condition that his name would not be used, confirmed those numbers. He said he has no way of knowing how many units are only rented out a few nights or many weeks a year, and how many might be rented out more frequently. But the number of guests passing through the complex this summer, he says, was "crazy."
The manager said he hopes to broker peace between the different factions of owners, and the strata will try to have a special meeting next month to discuss the letter.
This comes just as the B.C. government has unveiled new rules aimed at regulating this sector. The province's new rules will mean that, in municipalities with more than 10,000 residents, property owners can only provide short-term rentals in their own principal residence.
Article content
This means that if you live in a condo most of the time, but will be travelling for two months of the year, you could rent the condo through Airbnb or a similar platform while you're out of town. The idea is that this would not take a home out of the housing market.
Under the province's rules, strata corporations can create their own bylaws to limit or ban short-term rentals completely. But those bylaws must be created by a three-quarters vote of strata owners.
And in a complex where a third of owners have Airbnb licenses, it's hard to imagine three-quarters of them voting to limit or ban short-term rentals, said the property manager.
The manager said he understands "the economic aspect" at play here. Considering the scarcity and high price of hotels in Vancouver, if short-term rentals were banned completely and tourists just cancelled trips, it could cost the local economy billions in forgone revenue, he said.
Still, he said that as he anticipated this week's new rules from the province, he had hoped there might just be an outright ban on short-term rentals in downtown Vancouver.
Article content
"It would make my life easier."
Related Stories
Dan Fumano: Vancouver developers seek deadline extensions on major downtown highrises

Dan Fumano: Vancouver to explore pre-fab daycares with staff housing on public land
---
Bookmark our website and support our journalism: Don't miss the news you need to know — add VancouverSun.com and TheProvince.com to your bookmarks and sign up for our newsletters here.
You can also support our journalism by becoming a digital subscriber: For just $14 a month, you can get unlimited, ad-lite access to The Vancouver Sun, The Province, National Post and 13 other Canadian news sites. Support us by subscribing today: The Vancouver Sun | The Province.