Entertainment
Vancouver Drake concert resale ticket purchase a hard lesson for American women
Lizette Tomlinson and six friends bought tickets through a reseller and lost it all after concert postponement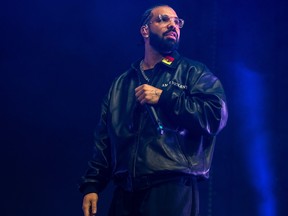 Article content
Lizette Tomlinson and her friends have learned the hard way about the perils of buying event tickets from a reseller.
Tomlinson, who lives in San Francisco, said she attempted to buy tickets to Drake's 'It's All A Blur' Vancouver concert as soon as they became available on Ticketmaster.
Article content
The event was put on by Live Nation, which owns Ticketmaster.
"The day the tickets went on sale three of use were on FaceTime and we all had our windows open. We went into the queue for the wait room, we waited and then within minutes they were fully sold out," she said.
Article content
Then, a pop-up appeared promoting ticket reseller Vivid Tickets.
Tomlinson, who is a nurse and worked overtime shifts to cover the expense of her trip, said she and her friends were able to secure tickets through Vivid.
"We got the worst seats in the house. The tippy, tippy last row of section 300 and we paid $350 a ticket."
Tomlinson said that on Monday night, as her group of girlfriends prepared for the concert, the operator of the Airbnb they were staying in Burnaby contacted them to tell them the concert had been cancelled because of a technical problem at Rogers Arena.
Drake concert in Vancouver postponed due to technical issues

Vancouver restaurant enjoys a visit from Drake
"Minutes later we begin to get emails and texts saying that the concert had been postponed to Wednesday. Complete devastation," she said.
The group then contacted Vivid to ask about their refund policy and learned that unlike Ticketmaster they could not get a refund for a postponed concert, only a cancelled one.
"(Vivid) don't hold themselves to the same standard of refunds even though they are referred by Ticketmaster," Tomlinson said, adding her group could not afford the money or time to stay on in Vancouver for an extra two nights.
Article content
"I am super frustrated I can't be refunded for something I didn't do. I played my part. I made my flight, kept my Airbnb, missed work and my kid's soccer games to attend the Drake concert for the venue to not have the stage ready. Now I am being punished for their mistake.
"Vivid, Rogers Arena and the artists make a ton of money while we are struggling to make ends meet and feed our families, then something like this happens. It makes me not want to support any other artists. I've been to three Drake concerts in my life, I buy his merchandise, I buy his music and this is how I am repaid with spending a ton of money on his concert in Canada. We spent over $1,000 each with no type of reimbursement.
Tomlinson said she had also contacted Rogers Arena but got no response.
Vivid did not return a request for information from Postmedia.
Related
---
Summer subscription sale: Our in-depth journalism is possible thanks to the support of our subscribers. For a limited time, you can get full online access to the Vancouver Sun and The Province, along with the National Post and 13 other Canadian news sites, for just $40 for one year or $1 a week for 52 weeks. Support our journalism by subscribing today: The Vancouver Sun | The Province.