The venerable Vancouver venue the Cultch turns 50.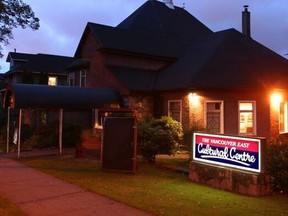 Reviews and recommendations are unbiased and products are independently selected. Postmedia may earn an affiliate commission from purchases made through links on this page.
Article content
Located at the corner of Venables and Victoria Drive, the Cultch turns 50 this year.
From the Pulitzer Prize-winning play Fairview opening on Sept. 27 to this fall's East Van Panto: Beauty and the Beast and much more, the golden anniversary season is packed full of the programming that has made it a fixture on Canada's arts-and-cultural scene.
Article content
There aren't that many performing arts houses in the country that can lay claim to five decades of delivering local, national and international premieres.
Article content
It's a rare case anywhere for a venue to remain vital for this long, let alone still standing. From the Arts Club on Seymour Street and South Hill Candy Shop to the Soft Rock Cafe and Citystage, Vancouver's history is one of beloved performance spaces being demolished to make way for luxury condo towers.
In fact, the church that was converted into the Cultch could have been levelled if not for the efforts of hard-working arts lovers and the progressive values of the 1970s.
Founder and first executive director Chris Wootten recalls how the room was born.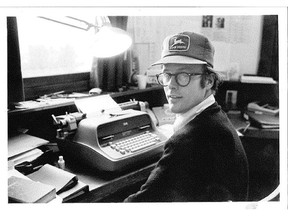 "I had been working in New York in theatre and dance and came home and was trying to get a pulse on the city and soon discovered the Inner City Service Project, which was an umbrella for a number of anti-poverty organizations operating out of the old Grandview United Church in East Van," he said.
"It was a time when there was government money available to design community projects of all kinds, all across the country. And it created many of the theatre groups that are now mainstays from coast-to-coast. At around that time, Inner City was folding and someone suggested that we should take over the church and turn it into a performance space or lose it."
Article content
After meeting with the church authorities who OK'd the idea, Wootten put his Harvard Business School degree to work to apply for grants to renovate the space and received city and provincial matching funds to get things in motion.
With a team including everything from a stained glass refinisher to stage designers and more, the renovation began in earnest in December 1972. In October 1973, the Vancouver East Cultural Centre official opening happened with a performance from the Anna Wyman Dance Theatre.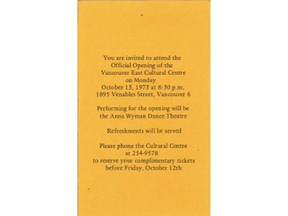 "The name Vancouver East Cultural Centre (VECC) was actually arrived at because the city planning department had OK'd a group called the Vancouver East Recreation Project and we thought, if it sounded similar, maybe they wouldn't look too closely at things like parking and so on," said Wootten. "I intended to change it as soon as we had our permits, but it was such an immediate success that the name stuck, until it was officially changed to the Cultch some years ago."
Dance, theatre, music, multimedia presentations and so much more have been featured at the venue ever since. And the Cultch has provided a launch pad for dancers such as Crystal Pite and Kidd Pivot, playwrights such as Corey Payette, and many more.
Composer Veda Hille has played the room regularly, and is also one of the creators of the seasonal hit East Van Panto. One of her fondest memories was releasing her album Spine at the venue in 1996.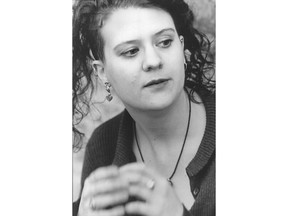 "When I look at how many venues have closed down even in the past five years, I think that it's a huge and wonderful thing that the Cultch is not only still there, but thriving," said Hille. "It's completely intertwined with my career since beginning in the early 1990s, because it is a room that is there to lift up the art the neighbourhood wants to see and not to sell beer. The sense of warmth and welcome and character of the building and seeing all kinds of artists adapt it to their needs is something so special."
Article content
Rumoured to be haunted by a resident ghost with a tendency toward precociousness over spookiness, the Historic Theatre has gained some companions in recent years. A newer addition houses staff offices as well as the smaller black box Vancity Culture Lab in the basement. The Cultch also operates the New York Theatre on Commercial Drive, another building that looked likely to become rubble after years left derelict.
Heather Redfern, executive director of the Vancouver East Cultural Centre (the Cultch), has overseen $28 million in capital improvements to both the expanded original location at 1895 Venables and the York Theatre. Most recently weathering the COVID-19 shutdown, she developed the RE/PLAY online productions digital platform that has grown the venue's audience well outside the traditional Vancouver area.
She first attended a performance at the VECC when she was still a student at Killarney Secondary.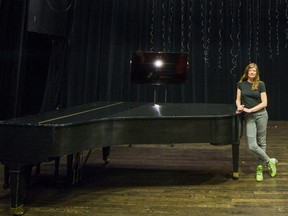 "I actually went to kindergarten at the building next door, which now houses Green Thumb Theatre, and remember when things like the utopian Vancouver Free University operated out of the space," she said. "Now I'm entering my 16th year after starting in January of 2007. I started the very same day that the project manager on the construction project started."
Article content
Redfern laughs remembering how concerned community members were about developing the original site, noting that "even though the roof is falling in and the bathrooms don't work, everyone was so worried it might change."
If anything, it improved in both the public experience and expanded possibilities for mounting productions. Plus, the toilets flush.
"I think that sense of this being a gathering place, a hub for community all the way back to its days as a church is in its DNA," she said. "That sense is really at the core of the room and you do feel all the special people that have been there before you when you are in the space. Also, if you consider performance facilities in East Vancouver, the Firehall Arts Centre is one of the only other ones and it came after us."
She looks forward to another 50 years of having a place "with integrity for work that sits outside of the mainstream from lesser-known artists that is exploring new ways of form and content."
So does the venue's devoted audience.
Amanda Sum presents New Age Attitudes at the Cultch

COVID-19: Struggling arts industry hit hard by two-week ban on live performances
---
Bookmark our website and support our journalism: Don't miss the news you need to know — add VancouverSun.com and TheProvince.com to your bookmarks and sign up for our newsletters here.
You can also support our journalism by becoming a digital subscriber: For just $14 a month, you can get unlimited, ad-lite get unlimited, ad-lite access to The Vancouver Sun, The Province, National Post and 13 other Canadian news sites. Support us by subscribing today: The Vancouver Sun | The Province.