Politics
Vancouver integrity commissioner raps councillor's online comments
Christine Boyle wrote that Harrison Fleming was "one of Jason Kenney's top internet bullies, harassing opponents of the government," in an Aug. 23 email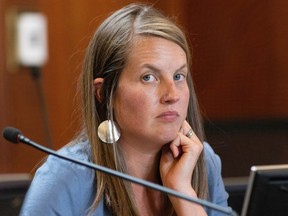 Article content
Vancouver's integrity commissioner has ruled councillor Christine Boyle breached the city's code of conduct with comments she made about the mayor's new communications director, Harrison Fleming.
The finding is a result of a complaint made by Mayor Ken Sim — who leads the ABC Party majority — against the only OneCity representative on council.
Article content
Boyle wrote that Fleming was "one of Jason Kenney's top internet bullies, harassing opponents of the government," in an Aug. 23 email she sent to an unknown number of recipients.
Article content
The report by the commissioner, Lisa Southern, dated Oct. 3, said that "while much of what Boyle wrote falls within permissible speech. … I find that making these comments are problematic as they were personally directed and stated as fact versus opinion, and as such, constitute disrespectful conduct."
Sim's complaint, which was submitted to the commissioner two days after Boyle's email, alleged Boyle accused Fleming of "past bullying" and "implying that he has advanced and is complicit in anti-LGBTQ+ government policies."
Sim also took issue with the councillor's reposting of a tweet, which he alleges said Fleming is "personally under investigation by the RCMP in connection to a corruption scandal in Ontario."
Boyle had reposted a tweet that stated Fleming had worked for a government "that is in the middle of an $8 billion corruption scandal and is being investigated by the RCMP."
The councillor has retracted her comments, pinning a public apology to a social media post she made about Fleming, and offering to make amends in person.
"Upon reflection, I understand that some of my comments crossed a line, and I would like to convey my regret and apologies," wrote Boyle.
Article content
Southern did not impose any sanctions on Boyle — given that she apologized to Fleming and retracted some of her comments publicly.
This isn't the first time Sim has made a code of conduct complaint against his fellow councillor.
On May 7, the mayor lodged a complaint against Boyle for publicly revealing her vote against the city's decision to end its living wage program, a decision in a closed-door meeting that effectively cut the pay of some of the city's lowest-paid employees and contractors.
In that case, the integrity commissioner ruled Boyle did not breach the policy, despite Sim claiming that Boyle had improperly disclosed confidential information from a private January council meeting.
Southern's final report, released Sept. 29, stated that the city had been "unclear and inconsistent" about whether councillors should be permitted to go public about votes they made in private. Southern recommended the city adopt a clear policy on the matter.
Boyle previously told Postmedia News that she paid about $7,000 for out-of-pocket legal advice to deal with Sim's first complaint. She remains unclear on whether she will be reimbursed for the costs.
Article content
— With files from Dan Fumano
Related Stories
Dan Fumano: Vancouver mayor's complaint against council colleague goes nowhere

Dan Fumano: Vancouver to explore pre-fab daycares with staff housing on public land

Dan Fumano: Major Vancouver labour group changes direction, throws support behind one party
---
Bookmark our website and support our journalism: Don't miss the news you need to know — add VancouverSun.com and TheProvince.com to your bookmarks and sign up for our newsletters here.
You can also support our journalism by becoming a digital subscriber: For just $14 a month, you can get unlimited, ad-lite access to The Vancouver Sun, The Province, National Post and 13 other Canadian news sites. Support us by subscribing today: The Vancouver Sun | The Province.