Politics
Doug Todd: Why politicians don't really want house prices to fall
Opinion: Most politicians believe, possibly mistakenly, voters will punish them if house prices fell. There is also a strong likelihood they're failing to transcend their own self-interests.
Get the latest from Douglas Todd straight to your inbox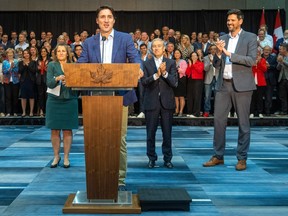 Article content
Most Canadians, according to polls, are willing to see house prices to drop so people squeezed out of ownership, particularly young adults, can obtain some shelter security.
But, despite politicians' endless rhetoric about fighting for "affordable" housing, they don't really want home values to drop. There are several reasons why this is the case.
Article content
Last week, Prime Minister Justin Trudeau admitted, for the first time in eight years in power, and in the midst of plummeting poll numbers, that house prices have climbed "far too high".
Article content
His comments, although painfully obvious, amount to an abrupt change in Liberal communications strategy — since, earlier this year, Trudeau's housing minister refused to acknowledge the country is in a "housing crisis".
House prices have virtually doubled during the Liberals' time in charge, and unaffordability, the ratio of house prices to average wages, is now among the worst in the world, especially in Metro Vancouver and Toronto.
The Liberals' former parliamentary secretary on housing, Toronto MP Adam Vaughn, has been more revealing about what the Liberals have really been thinking all along.
Even though Vaughn recognized prospective owners want prices to decline, he has explained his party doesn't want them to fall — even by one-tenth.
"Hands up if you'd like to see 10 per cent of the equity in your home suddenly disappear overnight," Vaughn said. "We know Canadians rely on home ownership to secure their place in the economy now and also as they retire. We have to be very careful whatever steps we take to protect Canadians' investment in their homes."
Here are eight reasons why most politicians don't really want prices to decrease:
Article content
Politicians, and the Canadian public, have a false belief house prices must rise and rise
"Politicians seem stuck believing that Canadians want home prices to rise forever," says UBC professor Paul Kershaw, founder of Generation Squeeze. "We have long believed there is a cultural addiction to high and rising home prices in Canada, and politicians are leery to disrupt it."
Ron Butler, a mortgage broker, says, "No politician alive wants to be associated with the concept that a voter would buy a home and the politician would want it to be worth less than what the voter paid for it. That would be political suicide."
Canadians love real estate because "they love the wealth, mainly tax free, it has created for the last 20 years," said Butler, even while he firmly believes price reductions are necessary to restore "housing fairness".
Politicians and others hold on to their apparently mistaken beliefs despite poll results from the Angus Reid Institute, Research Co., and a Nanos Research finding last week that suggests a majority of Canadians would be "happy" (40 per cent) or "somewhat happy" (30 per cent) if prices went down. This cohort includes many who already own homes.
Article content
Politicians fear homeowners at election time
Despite such messages from polling, politicians live in fear of older homeowners who have most of their wealth in their residences, say experts.
Most people over age 45 have "internalized their house's appreciation as a significant component of their net wealth," says Don Wright, former head of B.C.'s civil service. "Any significant reduction in house price will make these people 'poorer,' at least on paper. They are likely to be angry about this and punish the politicians they believe are responsible for it."
Members of the 55-plus age group, Wright adds, remain Trudeau's most loyal supporters.
Politicians also fret about the wrath of those who bought in a panic
Younger people who stretched to buy a home, often from fear of missing out, "could go underwater if prices dropped significantly," says Wright. The value of their mortgage would exceed the value of their dwelling. "One would presume a number of them will punish the politicians they feel are responsible for that."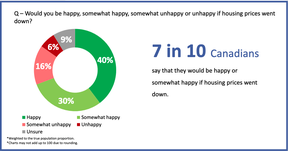 Housing dominates Canada's economy
"Rising home prices have fuelled Canada's economic growth. It has allowed Canadians to borrow against their own homes to spend, and invest in more real estate," says housing analyst John Pasalis, head of Realosophy.
Article content
It's also led to Canada's housing industry, especially in B.C. and Ontario, making up a much higher bulk of the economy than in most nations. "No government will ever want home prices to fall. While it may make housing more affordable, it can mean thousands of families may end up losing their homes."
It could create an economic "meltdown," said Wright, if too many people default on their mortgage and "their houses get dumped on the market." The banking system could then be impacted, as it was in the U.S. during the 2008 recession.
Civic politicians are especially reactive to property prices and taxes
Municipal councillors are among the most sensitive to prices going down, says John D'Eathe, who has overseen $5 billion in property development in Canada and Asia.
"A voting public that sees its property values dropping, but its property taxes progressively increasing, is an unhappy one for local politicians," says D'Eathe. Even though civic politicians can adjust for lower pricetags simply by increasing the mill rate, the amount of tax payable per dollar of property's assessed value, D'Eathe says, "that is looked upon as a political failure."
Article content
Politicians prefer leaving the dirty work to the 'non-political' Bank of Canada
"Politicians keep repeating slogans about tackling affordability by densifying and creating more housing supply, but it doesn't make housing more affordable for locals or immigrants with moderate incomes," says former developer and planner Arny Wise.
"The dirty work, to make home prices fall, is left to the 'non-political' Bank of Canada's relentless mission to tame inflation … particularly in the super-inflated housing market. Higher interest rates are having the desired effect of lowering home prices slowly, by curbing excessive demand and increasing the financing costs of investors."
Developers are massive political donors
Developers like prices to go up during the several years it takes to build new homes, says D'Eathe. If prices or rents go down during the risk-filled construction process, their profit margins can be shot.
And developers, along with affluent homeowners, are the biggest donors to political parties, D'Eathe emphasizes. He notes even ostensibly left-wing Vancouver mayors such as Gregor Robertson and Kennedy Stewart were tremendously dependent on developers' money.
Article content
That also became obvious at a provincial level during the former B.C. Liberal government of Christy Clark, who brought in famed condo marketer Bob Rennie as her chief fundraiser. The B.C. Liberals hauled in millions from developers, including those based offshore.
Can politicians' self-interest muddy their housing goals?
We can never really know what motivates a politician. But it is of genuine concern that thousands of Canadian politicians, at all levels, are in a potential conflict of interest on housing prices because they belong to the landlord class.
Federal and provincial decision makers buy and rent out residential units at roughly twice the rate of ordinary Canadians.
That's not to mention most politicians are homeowners. Ninety per cent of B.C. MLAs, for instance, have title to their own residences. But more than one-third of Canada's general population are tenants.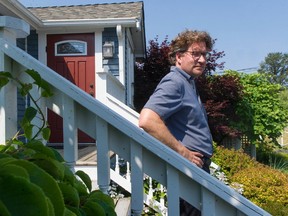 What's the way forward?
It should involve a so-called "safe landing" in the housing market, which would at least mean stalling prices, as well as some business-cycle price reductions.
Article content
"Governments should not be in the business of trying to cause prices to fall. But they should also not be in the business of doing everything possible to drive prices higher and prevent any decline," says Pasalis.
"The latter is the position our federal government takes," Pasalis says, particularly by increasing housing demand by steadily hiking immigration, foreign student and guest-worker targets.
Kershaw, the founder of Generation Squeeze, puts it this way: "Voters need to say they will view politicians as good economic managers when home prices don't rise, even if this slows our GDP for a while."
Douglas Todd: Federal Liberals are directly inflating house prices

Douglas Todd: Canadian real estate market better for foreign investors than locals, admits housing secretary

Douglas Todd: Sky high housing prices causing psychological harm, especially for the young