Entertainment
Vancouver International Film Festival: 10 films for your must-see list
Cannes Jury Prize winner Fallen Leaves opens 42nd VIFF festival on Sept. 28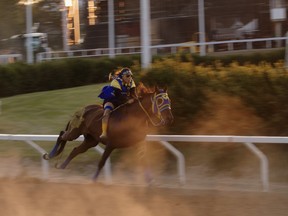 Reviews and recommendations are unbiased and products are independently selected. Postmedia may earn an affiliate commission from purchases made through links on this page.
Article content
As the fall air cools, film screens around Vancouver are heating up with the rich programming offered by the Vancouver International Film Festival (VIFF).
In its 42nd year, VIFF is offering 231 films from 70 countries over the Sept. 28-Oct. 8 run. Of that number, 138 are features with 32 of those coming from Canada and 11 from B.C.
Article content
Local filmmakers have also delivered 18 short films out of the 93 included in the festival. It should also be noted that 45 Canadian works are by female and nonbinary filmmakers.
Article content
A cloud that has been lingering around film festivals this fall is the continuing Hollywood writer's and actor's strikes. Curtis Woloschuk, the director of programming at VIFF, says the strikes have affected the VIFF Talks event. As part of the three days of industry programming, VIFF Talks allows fans of film culture to hear from and connect with people behind the work.
"That's a space where we really had some great representation from writers for episodics and things like this in the past. And we would like to be in a position to have some more of those kinds of knowledge-sharing sessions, be it showrunners or directors for series," said Woloschuk.
"This isn't the year to do it, but it gives us a chance to kind of showcase production designers from Barbie or costume designers from Oppenheimer for the whole 'Barbenheimer' effect and highlight some of those other crafts."
So, with the festival just around the corner you are probably thinking about planning your own viewing schedule. With that in mind, here are 10 titles you might want to circle in your 2023 VIFF program.
1. Fallen Leaves 
Director: Aki Kaurismäki
The Cannes Jury Prize winner is VIFF's opening film. Kaurismäki's comedy follows the story of Ansi (Alma Pöysti) and Holappa (Jussi Vatanen), two lonely people that meet and decide they are soulmates. But the world has another plan.
Showtimes: Sept. 28, 7 p.m. at Park Theatre; Oct. 2, 12:45 p.m., The Playhouse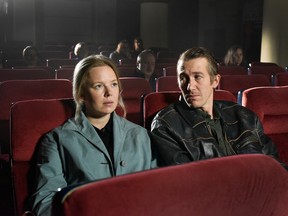 2. Seagrass 
Director: Meredith Hama-Brown
Vancouver writer-director Meredith Hama-Brown delivers an absolutely stunning drama about a family trying to right itself. Set on a remote island off the B.C. coast at a couple's retreat, Seagrass follows parents Judith (Ally Maki) and Steve (Luke Roberts), who let their daughters loose on the island while they focus on their marriage. The nuanced and emotionally captivating performances Hama-Brown has drawn out of Vancouver's Nyha Breitkreuz and Victoria's Remy Marthaller, as 11-year-old Stephanie and 6-year-old Emmy respectively, is well worth being noted.
Showtimes: Sept. 29, 9 p.m., The Rio Theatre; Oct. 1, 9 p.m., SFU Woodward's 
Article content
3. Anatomy of a Fall 
Director: Justine Triet 
It's a given you should add the winner of the Palme d'Or (the Cannes Film Festival's top prize) to your VIFF viewing list. This complex, psychological drama from French director Justine Triet tells the story of Sandra (Sandra Hüller), a successful German writer who lives in the French Alps with her husband Samuel (Samuel Theis) and their visually impaired son Daniel (Milo Machado Graner). When Samuel is discovered dead in the snow outside their remote chalet, Sandra is suspected of his murder and is put on trial.
Showtimes: Sept. 30, 6 p.m., The Playhouse; Oct. 3, 9 p.m., The Playhouse 
4. Mr. Dressup: The Magic of Make-Believe 
Director: Robert McCallum 
Two words: Tickle Trunk. For three decades, kids all over Canada sat down in front of their TV sets and waited to see what costume Mr. Dressup (a.k.a. Ernie Coombs) was going to pull out of his Tickle Trunk. Over the course of some 4,000 episodes, the soft-spoken gentleman and his pals, Casey and his dog Finnegan, entertained and taught kids to be good people. This documentary offers the kind of sweet, heartwarming nostalgia we could all use a shot of right now.
Article content
Showtimes: Sept. 30, 12:15 p.m., Vancouver Playhouse; Oct. 5, 6:15 p.m., Park Theatre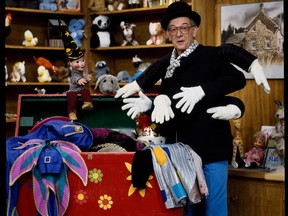 5. Union Street 
Director: Jamila Pomeroy 
The documentary from Vancouver's Jamila Pomeroy dives into the history of the former Black neighbourhood of Hogan's Alley that was destroyed in the 1970s with the construction of the Georgia viaduct. New interviews and archival footage combine to shine a light on the erasure of Black History in Canada and the rise of hate groups. This beautifully filmed portrait of a community conjures important discussions about the past and the present.
Showtimes: Oct. 2, 8:45 p.m., SFU Woodward's; Oct. 7, 3:30 p.m., The Rio Theatre 
6. The Royal Hotel 
Director: Kitty Green 
Director Kitty Green and actor Julia Garner (The Assistant) reunite in this thriller about two friends (Garner and Jessica Henwick) who run out of cash while backpacking in Australia and take jobs in a pub in a rough mining town that has a big problem with male aggression. The pub owner, played by the awesome Hugo Weaving, tries to keep the rowdy regulars in check. But he is also well soaked in booze, and any efforts to dampen the drunken misogyny fail.
Article content
Showtimes: Sept. 28, 9:15 p.m., Park Theatre; Oct. 5, 6 p.m., The Rio Theatre 
7. Aitamaako'tamisskapi Natosi: Before the Sun 
Director: Banchi Hanuse 
"Horses are my home," says Logan Red Crow is the stunning film from Nuxalk and Bella Coola filmmaker Banchi Hanuse. The documentary follows Red Crow, a young Siksika living on the plains of Blackfoot Territory in Alberta, as she trains and competes in the dangerous and very exciting world of Indian Relay race bareback horse racing. This eye-opening, entertaining slice-of-life film is both visually serene and wildly suspenseful. You try not to hold your breath when Red Crow comes flying toward the camera on a galloping thoroughbred. Alongside the determined and thoughtful Red Crow is her supportive and loving family.
Showtimes: Oct. 5, 4 p.m., International Village #10; Oct. 7, 6:15, International Village #9 
8. WaaPaKe (Tomorrow) 
Director: Jules Arita Koostatchin 
The documentary WaaPaKe from Attawapiskat filmmaker Jules Arita Koostatchin tells the stories of residential school survivors and their families. During this time of Truth and Reconciliation, Koostatchin's interviews with survivors, their family and friends open wide the conversation about intergenerational trauma. The word "Waapake" in swampy Cree means tomorrow and it's used here to highlight the path forward to healing.
Article content
Showtimes: Oct. 1, 6:30 p.m., SFU Woodward's; Oct. 4, 3:45, International Village #9 
9. I'm Just Here for the Riot 
Directors: Kathleen S. Jayme and Asia Youngman
On June 15, 2011, hours after the Vancouver Canucks lost Game 7 of the Stanley Cup Final, bedlam struck Vancouver as throngs of rioters smashed windows, lit cop cars on fire and trashed blocks of the downtown core. Soon after social media itself was ablaze with smartphone photos from the harrowing night. Images of the riot and its perpetrators flooded feeds and fed police information and identifications. In this documentary, Kathleen S. Jayme (The Grizzlie Truth) and Asia Youngman revisit the events of that night.
Showtimes: Oct. 2, 6:30 p.m., The Playhouse; Oct. 5, 8:45, Park Theatre 
10. Close To You
Director: Dominic Savage 
Sam (Elliot Page) finds himself heading home for his father's birthday, and a family he hasn't been around since transitioning four years earlier. While on the train out of Toronto, Sam bumps into Katherine (Hillary Baack), an old friend. Soon it's apparent that there are bigger feelings at play. Once home, Sam is welcomed in as a brother and son, but there's still a lot of stuff bubbling below the surface. This is Page's first feature film role since 2017.
Article content
Showtimes: Sept. 30, 9:15 p.m., Park Theatre; Oct. 2, 8:45 p.m., The Rio Theatre 
Hollywood strikes put multibillion-dollar B.C. industry on hold

Cannes Jury Prize winner Fallen Leaves set to open 2023 Vancouver International Film Festival

Vancouver director's coming of age tale is a VIFF must see
---
Bookmark our website and support our journalism: Don't miss the news you need to know — add VancouverSun.com and TheProvince.com to your bookmarks and sign up for our newsletters here.
You can also support our journalism by becoming a digital subscriber: For just $14 a month, you can get unlimited, ad-lite get unlimited, ad-lite access to The Vancouver Sun, The Province, National Post and 13 other Canadian news sites. Support us by subscribing today: The Vancouver Sun | The Province.