Business
Vancouver owner shocked home has unpaid mortgage from 1963: For $1,900
Woman is asking B.C. court to wipe debt owed by her now-dead parents on family home because the couple they borrowed from have also died.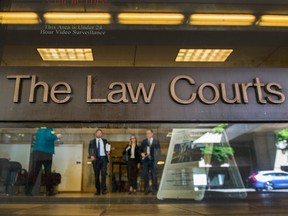 Article content
A woman who has lived in her parents' east Vancouver house since she was a baby was shocked to learn that 60 years later it has an outstanding mortgage.
"It's still unbelievable in my mind that this is actually happening," said Susan Stefanon, a retired Telus worker who is petitioning the B.C. Supreme Court to cancel the $1,900 mortgage or allow her to pay the $122,000 the principal plus interest that it would be worth today.
Article content
Her parents, Marcello Stefanon, a terrazzo tradesman, and Maria Stefanon, bought the house on East 16th Avenue in the Renfrew-Collingwood neighbourhood for $16,000 with an $11,000 mortgage.
They moved in to the tidy bungalow when Stefanon was three months old, on Nov. 22, 1963, the day U.S. President John F. Kennedy was assassinated, something she remembers her mother commenting on later.
But why her parents took out a second mortgage a few weeks later from a couple named John Reginald Oliver, a salesman, and Mary Florence Oliver, "I don't know." She likely never will since her parents and John have died and Mary is likely deceased.
The Olivers are named as joint tenants along with the Stefanons, according to a copy of the mortgage filed with the petition. Stefanon said she never heard her parents speak of the Olivers.
She only found out about the mortgage just before last Christmas when she tried to take out a home equity line of credit and her financial adviser found the debt on title.
Stefanon is asking the court to declare there is no mortgage on her property or to discharge it and bar any claims by the Olivers or their heirs because so much time has passed, the court document said.
Article content
She also would be willing to pay the Olivers or their heirs the $122,049.48 it's worth in 2023 dollars so it is "hereby fully satisfied, related and discharged," the petition said.
The property was valued last year at $1.6 million by B.C. Assessment.
Stefanon in her petition noted her parents paid off their 1963 mortgage on the house in 1971 and it doesn't make sense that they wouldn't have paid the Olivers the $20 a month on the smaller mortgage.
"The Stefanons were diligent with such matters," Stefanon's petition says.
The petition cites as legal basis B.C.'s Limitation Act, which it says precludes a mortgagee from beginning legal action after six years to recover mortgage debt.
When Stefanon's mother died, in 1999, she became a joint owner of the property with her father. When he died, in 2015, the property was transferred to her as sole owner. The mortgage never came up during either of the transfers, she said.
Stefanon hired a skip tracer to search for the Olivers and he found John died in 2001 but could find no death certificate or obituary for Mary, who the petition estimates would be 111 today if she were alive. They had a son who lives in Surrey, but no grant of probate for either of his parent's estates were found nor was a power of attorney listed for the mortgage payments.
Article content
Stefanon said in her affidavit that she would like one day to sell the property "but am unable to do so because I am unable to provide clear title to a willing buyer" without discharging the mortgage.
She said she she has been telling friends about the mortgage because "how many others are there out there?"
As she waits for the court to hear her petition, she said she's "hoping for a positive outcome."
Owner of Coquitlam Halloween haunted house faces two lawsuits worth more than $645,000

Surrey woman destroys neighbour's cedar hedge, court hits her for $150K in damages

Man bequeathed expensive Vancouver property loses lawsuit against realtor for lost profits
---
Bookmark our website and support our journalism: Don't miss the news you need to know — add VancouverSun.com and TheProvince.com to your bookmarks and sign up for our newsletters here.
You can also support our journalism by becoming a digital subscriber: For just $14 a month, you can get unlimited ad-lite access to The Vancouver Sun, The Province, National Post and 13 other Canadian news sites. Support us by subscribing today: The Vancouver Sun | The Province.