Politics
Vaughn Palmer: John Rustad now 'kind of happy' he was fired
Opinion: It's been a good year for the former B.C. Liberal as he rejuvenates the B.C. Conservatives
Get the latest from Vaughn Palmer straight to your inbox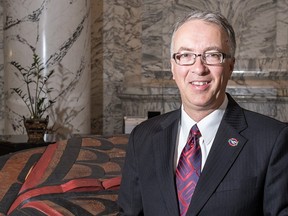 Article content
VICTORIA — It has been a year since Opposition leader Kevin Falcon made a decision that may yet prove to be the most fateful of his political career.
"Politics is a team sport and British Columbians expect their elected officials to work co-operatively on the important issues of our province," said Falcon on Aug. 18, 2022.
Article content
"Following a pattern of behaviour that was not supportive of our caucus team and the principles of mutual respect and trust, I have removed John Rustad from the B.C. Liberal caucus, effective immediately."
Article content
The immediate provocation for Falcon's firing of the five-term B.C. Liberal MLA and former cabinet minister was a Rustad posting on social media that challenged the science on global warming and climate change.
"The B.C. Liberals are strongly committed to substantive climate action and restoring B.C.'s place as a world leader in climate policy," said Falcon.
He was determined to demonstrate decisive action on a matter of party discipline. His predecessor, Andrew Wilkinson, was slow to act in a couple of cases during his tenure.
"Climate change is real," said Rustad. "I'm not saying it isn't."
Rather he was opposed to the federal government threat to curb the use of nitrogen-based fertilizer and other measures, promoted by "environmental elitists that are hurting people."
"I hold no animosity toward Kevin Falcon and the B.C. Liberal party," he maintained.
He soon added: "Sadly, I can no longer support the B.C. Liberal party. They are more concerned with appeasing radical environmental activists and the corporate elite than they are with helping everyday people."
Article content
Later he would say he was "kind of happy" that Falcon had fired him, "because it has freed me up to be able to speak openly."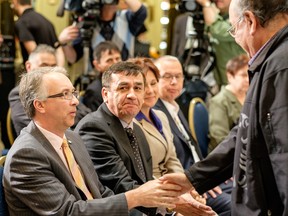 Rustad found his stride doing just that, declaring himself to be the only member of the B.C. legislature who was "proudly pro-freedom and pro-trucker."
John Rustad in defence of health-care workers who were fired for refusing to get vaccinated: "Hire back our health care heroes."
On the NDP's blocking Surrey's attempt to restore the RCMP as the provider of policing services: "A very authoritarian move by this government."
On the decision to scrap letter grades in the schools: "Woke nonsense."
After a brief turn as an independent, Rustad joined the B.C. Conservatives. When party leader Trevor Bolin resigned, Rustad, being the only candidate to replace him, was acclaimed his successor effective March 31.
It takes two MLAs to gain official recognition as a party in the legislature. But even as a one-man party, Rustad has managed to put the Conservatives on the political map.
The party raised almost $100,000 in the first two quarters of 2023, well short of the take by the three recognized parties in the house, but more than the Conservatives had managed in years.
Article content
The Rustad-led party also scored a breakthrough of sorts in a June byelection in Langford-Juan de Fuca, where New Democrat Ravi Parmar was elected to succeed the departing John Horgan.
The Conservatives finished second with 20 per cent of the vote, double the showing by Rustad's former party, fielding a candidate its first byelection as B.C. United.
Falcon sounded as if he'd been working up an excuse for several weeks.
"When we changed our party name just two months ago, we knew that it would take time for voters to learn who we were and that we'd likely pay a price for having a relatively unknown brand."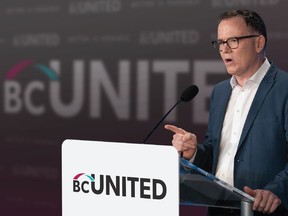 Still, the result exposed a potential flaw in Falcon's rationalization for the name change.
He maintained it was necessary to dispel voter "confusion" over the provincial party sharing the name "Liberal" with the federal party led by Justin Trudeau.
Confusion? Between 1996 and 2020, the B.C. Liberals did well enough to win the most votes in six of seven elections, the most seats in all but two.
Yet in Langford, voters not inclined to vote NDP or Green were presented with a name (B.C. United) that had never appeared on provincial ballots and another (Conservative) that echoed a choice that many were used to supporting in federal elections.
Article content
Though the federal and B.C. Conservatives are separate parties (as were the federal and B.C. Liberals), Rustad likely benefits from a populist spillover with federal Opposition leader Pierre Poilievre.
Granted, the B.C. Conservatives were on a similar track a decade ago. The party briefly climbed in the opinion polls under then leader John Cummins and seemed poised for a breakthrough.
However, come the 2013 election, the party faltered, winning less than five per cent of the vote as the Christy Clark-led B.C. Liberals won a surprising victory.
There were differences between then and now: the B.C. Liberals weren't rebranding themselves and the federal Conservatives (including then Prime Minister Stephen Harper) endorsed Clark as the best way to defeat the NDP.
In any event, the next provincial election is still a year away, according to Premier David Eby.
For now, with the Langford result, the party leadership, and a good start in the fundraising sweepstakes, Rustad can rightly claim to have made the most of the year since Falcon fired him.
Article content
Vaughn Palmer: Site C hits a milestone, but B.C. NDP not cheering

Vaughn Palmer: NDP ditch election promise on Hwy. 1 widening

Vaughn Palmer: B.C. should go it alone with a truly independent review of COVID response Opinion: A national review is unlikely. The provincial review last year was made toothless by NDP fears of criticism
---
Summer subscription sale: Our in-depth journalism is possible thanks to the support of our subscribers. For a limited time, you can get full online access to the Vancouver Sun and The Province, along with the National Post and 13 other Canadian news sites, for just $40 for one year or $1 a week for 52 weeks. Support our journalism by subscribing today: The Vancouver Sun | The Province.