News
Weekly climate news roundup to Sept. 17, 2023
Here's your weekly roundup of local and international climate change news for the week of Sept. 11 to Sept 17, 2023.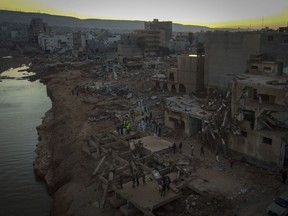 Article content
This week, B.C. Premier David Eby announced the creation of a task force to focus on natural emergencies, including wildfires, droughts and floods, as deadly floods ravaged Greece and Libya. Brazil plans to restore strict climate goals and thousands of people marched in the street in Vancouver to demand stronger climate action.
Article content
Here's all the latest news concerning the climate crisis, biodiversity loss, and the steps leaders are taking to address these issues.
Article content
In climate news this week:
• Cyclone devastates Libya
• B.C. ends state of emergency as wildfire risk winds down
• Thousands march in Vancouver to demand stronger climate action
• Catastrophic flooding in Greece to cost billions
• Brazil restores stricter climate goals
Since the 1800s, human activities have been the main driver of climate change, mainly because of burning of fossil fuels like coal, oil and gas, which produces heat-trapping gases.
The UN's Intergovernmental Panel on Climate Change has warned for decades that wildfires and severe weather, such as B.C.'s deadly heat dome and catastrophic flooding in 2021, would become more frequent and more intense because of the climate emergency.
The panel has issued a "code red" for humanity and last year it said the window to stop global warming from exceeding 1.5 C was closing. In April 2022, it released a report with solutions for how to drive down greenhouse gas emissions, mainly by transitioning away from fossil fuels.
Research shows that the warmer, drier conditions are leading to increased drought, which exacerbates the wildfire situation. Whether the cause is human or lightning, many of the planet's tinder-dry forests are igniting earlier in the season because of global heating.
Check back here every Saturday for a roundup of the latest climate and environmental stories. You can also get up to date B.C.-focused news delivered to your inbox by 7 a.m. by subscribing to our newsletter here.
---
Climate change quick facts:
The Earth is now about 1.2 C warmer than it was in the 1800s.
Globally, 2022 was the fifth hottest year on record, while 2016 was the hottest.
Human activities have raised atmospheric concentrations of CO2 by nearly 49 per cent above pre-industrial levels starting in 1850.
The world is not on track to meet the Paris Agreement target to keep global temperature from exceeding 1.5 C above pre-industrial levels, the upper limit to avoid the worst fallout from climate change.
On the current path of carbon dioxide emissions, the temperature could increase by as much as 4.4 C by the end of the century.
In April, 2022 greenhouse gas concentrations reached record new highs and show no sign of slowing.
Emissions must drop 7.6 per cent per year from 2020 to 2030 to keep temperatures from exceeding 1.5 C and 2.7 per cent per year to stay below 2 C.
97 per ent of climate scientists agree that the climate is warming and that human beings are the cause.
(Source: United Nations IPCC, World Meteorological Organization, UNEP, Nasa, climatedata.ca)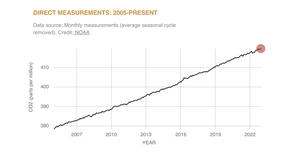 Article content
---
LATEST CLIMATE NEWS
B.C. to end state of emergency as wildfire risk winds down
British Columbia's state of emergency ended Thursday just under four weeks after ferocious wildfires ripped through several communities, burning homes and businesses and forcing thousands to escape.
Bowinn Ma, the minister of emergency management, said while the provincial state of emergency is no longer required, the wildfire season isn't over, and many communities still have local states of emergency.
Ma said in a statement the expiration of the emergency declaration doesn't affect wildfire-fighting resources or their ability to continue to provide emergency supports to communities.
"In particular, conditions continue to be very challenging in northern B.C., with 125 active fires in the Prince George Fire Centre, and the province will continue to surge resources into the North as required."
The wildfire season began very early in the north, where the massive Donnie Creek wildfire was discovered on May 12 and it remains out of control.
Read the full story here.
—The Canadian Press
Thousands march in Vancouver to demand climate action: report
Thousands of students and residents marched in Vancouver Friday afternoon to call for stronger climate action, according to the CBC. 
The CBC reports that the march started outside Vancouver City Hall and made its way across the Cambie Street Bridge toward the Vancouver Art Gallery, which was the same route of the 2019 climate march attended by nearly 100,000 people.
This year's march was co-ordinated by several grassroots organizations, including Climate Convergence, For Our Kids, Doctors for Planetary Health and many others, according to the report.
Article content
Cyclone that devastated Libya is latest extreme event with some hallmarks of climate change
The Mediterranean storm that dumped torrential rain on the Libyan coast, setting off flooding that's believed to have killed thousands of people, is the latest extreme weather event to carry some of the hallmarks of climate change, scientists say.
Daniel — dubbed a "medicane" for its hurricane-like characteristics — drew enormous energy from extremely warm sea water. And a warmer atmosphere holds more water vapor that can fall as rain, experts said.
It's difficult to attribute a single weather event to climate change, "but we know there are factors that could be at play" with storms like Daniel that make it more likely, said Kristen Corbosiero, an atmospheric scientist at the University at Albany.
Medicanes form once or twice a year in the Mediterranean, and are most common from September to January. They're not generally true hurricanes, but can reach hurricane strength on rare occasions, said Simon Mason, chief climate scientist at the Columbia Climate School's International Research Institute for Climate and Society.
Read the full story here.
—The Associated Press
'We already know what we have to do': B.C.'s new expert task force for natural emergencies taken to task by critics
Critics have slammed a new task force on natural emergencies announced by B.C.'s premier on Monday, saying experts have already laid out road maps on how to manage wildfires but they've been largely ignored.
Ahead of his tour of fire-ravaged areas in Salmon Arm on Monday, Premier David Eby announced the creation of a task force to focus on natural emergencies, including wildfires, droughts and floods.
It comes on the heels of the province's worst wildfire season, which claimed the lives of two wildfire fighters, destroyed hundreds of homes and structures, and scorched 161,000 square kilometres of land.
Amid a "near-constant series of emergencies caused by climate change," Eby said the task force will focus on how to better support those on the front-lines and better prepare for the next emergency.
Robert Gray, a wildfire ecologist with decades of experience in B.C., said he's disappointed to hear of yet another expert review when the province has failed to act on the wildfire prevention and mitigation recommendations made 20 years ago in the seminal report Firestorm 2003, sparked by that year's devastating wildfire season.
Read the full story here.
—Katie DeRosa
The cost of damage from the record floods in Greece's breadbasket is estimated to be in the billions
The apples were almost ripe for harvesting when the worst storms in more than a century struck Greece's breadbasket in Thessaly.
Now, farmers on the forested slopes of Mount Pilion, which overlooks the plain of Thessaly, say they face millions of euros in damage from the flooding that began earlier this month. They will be lucky to salvage a third of their crop — and that will only happen if wrecked road access to their orchards is patched up in time.
As bad as the damage suffered by the Pilion farmers was, their peers in the plain were hit by even greater devastation from last week's disastrous floods that left 16 people dead, days after wildfires killed 20 people in northeastern Greece.
The storms flooded 720 square kilometers (280 square miles), mostly prime farmland, totally destroying crops. They also swamped hundreds of buildings, broke the country's railway backbone, savaged rural roads and bridges and killed tens of thousands of livestock.
Read the full story here.
—The Associated Press
Climate change could bring more monster storms like Hurricane Lee to New England
When it comes to hurricanes, New England can't compete with Florida or the Caribbean.
But scientists said Friday the arrival of storms like Hurricane Lee this weekend could become more common in the region as the planet warms, including in places such as the Gulf of Maine.
Lee remained a Category 1 hurricane late Friday night with sustained winds of 80 mph (128 kph). The storm was forecast to brush the New England coast before making landfall later Saturday in the Canadian province of Nova Scotia. States of emergency were declared for Massachusetts and Maine.
One recent study found climate change could result in hurricanes expanding their reach more often into mid-latitude regions, which include New York, Boston and even Beijing.
The study says the factors include warmer sea surface temperatures in these regions and the shifting and weakening of the jet streams, which are the strong bands of air currents encircling the planet in both hemispheres.
Read the full story here.
—The Associated Press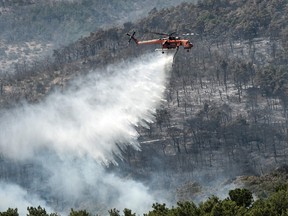 Article content
B.C.'s wildfire season nearing end but not over yet, officials say
More residents are returning home after wildfires swept through their neighbourhoods in B.C., however hundreds are struggling with the devastating loss of their homes.
"For some, the only photographs and images they had of friends and loved ones lost from this world have also now been lost in those fires," said Bowinn Ma, minister of Emergency Management and Climate Readiness, at a news conference Wednesday.
For those who have lost their homes, B.C. is working with local authorities to set up community resiliency centres, billed as a one-stop shop to assist people and businesses as they begin the transition from response to recovery.
Ma said the centres will bring together different resources into one place to provide support and information from a variety of government and non-government agencies, such as insurance agencies and mental-health experts.
She said about 1,200 residences remain on evacuation order and 34,000 are on evacuation alert.
Although B.C. is nearing the end of the fire season, the province isn't in the clear, said Ma. There are still hundreds of wildfires burning throughout B.C. and it continues to be a challenging season, especially in the north.
In that region, severe drought, which is expected to continue into the fall, and the high amount of combustible fuel called the buildup index combine for a very risky wildfire situation, say fire officials.
Read the full story here.
—Tiffany Crawford
Earth is outside its 'safe operating space for humanity' on most key measurements, study says
Earth is exceeding its "safe operating space for humanity" in six of nine key measurements of its health, and two of the remaining three are headed in the wrong direction, a new study said.
Earth's climate, biodiversity, land, freshwater, nutrient pollution and "novel" chemicals (human-made compounds like microplastics and nuclear waste) are all out of whack, a group of international scientists said in Wednesday's journal Science Advances. Only the acidity of the oceans, the health of the air and the ozone layer are within the boundaries considered safe, and both ocean and air pollution are heading in the wrong direction, the study said.
"We are in very bad shape," said study co-author Johan Rockstrom, director of the Potsdam Institute for Climate Impact Research in Germany.
"We show in this analysis that the planet is losing resilience and the patient is sick."
In 2009, Rockstrom and other researchers created nine different broad boundary areas and used scientific measurements to judge Earth's health as a whole. Wednesday's paper was an update from 2015 and it added a sixth factor to the unsafe category. Water went from barely safe to the out-of-bounds category because of worsening river run-off and better measurements and understanding of the problem, Rockstrom said.
Read the full story here.
—The Associated Press
Brazil restores stricter climate goals
Brazil is reinstating stronger greenhouse gas commitments it made in 2015 as part of the Paris Agreement that were weakened under former President Jair Bolsonaro.
The announcement was made Thursday by the country's Committee on Climate Change, a joint body made up of 18 government ministries. "Brazil is a major actor in helping the planet in this challenging moment," Vice President Geraldo Alckmin said during the committee meeting in Brasilia.
The change will be officially transmitted to the United Nations Framework Convention on Climate Change, the international body that works to advance global action on climate change. It tracks each country's Nationally Determined Contribution or commitment to reducing national emissions in accordance with the Paris Agreement.
During the tenure of far-right President Bolsonaro, Brazil backtracked on its Nationally Determined Contribution calculation twice.
The most recent weakening occurred in 2021 and was estimated by the Climate Observatory, a network of numerous environmental and social groups, to increase Brazil's target emissions by 73 million metric tons of CO2 by 2030. Brazil's target under the Paris Agreement is 1.2 billion metric tons of CO2.
Read the full story here.
—The Associated Press
---
SOCIAL MEDIA
Article content
---
A glance at carbon numbers:
B.C.'s gross greenhouse gas (GHG) emissions in 2020 (latest available data) were 64.6 million tonnes of carbon dioxide equivalent (MtCO2e). This is a decrease of 0.9 MtCO2e (one per cent) from 65.5 MtCO2e in 2007, the baseline year for emissions reduction targets.
B.C.'s net greenhouse gas (GHG) emissions in 2020 were 63.5 million tonnes of carbon dioxide equivalent (MtCO2e.) This is a net decrease of 2.0 MtCO2e, or three per cent, since 2007.
B.C.'s net emissions in 2019: 67.2 MtCO2e, an increase of 1.5 MtCO2e, or two per cent, since 2007.
B.C. does not include emissions from wildfire smoke in its calculations.
B.C.'s 2030 target: 40 per cent reduction in net emissions below 2007 levels.
B.C.'s 2040 target: 60 per cent reduction.
B.C.'s 2050 target: 80 per cent reduction.
Canada's greenhouse gas emissions in 2021 were 670 million tonnes, up from 659 million tonnes in 2020.
Canada's 2030 emissions target: Between 40 and 45 per cent reduction.
Canada's 2050 emissions target: Net-zero.
---
GUIDES AND LINKS
It's official: El Niño has started. Here's what that means for B.C.
B.C. Flood: Read all our coverage on the Fraser Valley and beyond
Frequently asked questions about climate change: NASA
Climate change made B.C. heat wave 150 times more likely, study concludes
B.C.'s heat wave: Intense weather event is linked to climate crisis, say scientists
Expert: climate change expected to bring longer wildfire seasons and more area burned
COVID-19 may have halted massive protests, but youth are taking their fight for the future to the courts
Climate displacement a growing concern in B.C. as extreme weather forces residents out of their homes
---
Do you know someone who is doing something positive in the fight against climate change? Please email [email protected] with story ideas and tips.
---
Bookmark our website and support our journalism: Don't miss the news you need to know — add VancouverSun.com and TheProvince.com to your bookmarks and sign up for our newsletters here.
You can also support our journalism by becoming a digital subscriber: For just $14 a month, you can get unlimited, ad-lite get unlimited, ad-lite access to The Vancouver Sun, The Province, National Post and 13 other Canadian news sites. Support us by subscribing today: The Vancouver Sun | The Province.