News
ICBC: Lawsuit filed for rebate of third-party coverage during lockdown
Representative plaintiff is asking for rebate for himself and all insured of portion of premiums that provided third-party coverage for travel outside B.C. during travel restrictions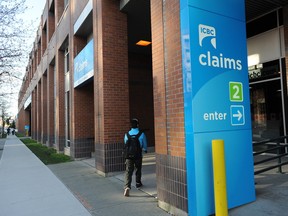 Article content
An ICBC customer has launched a class-action lawsuit for a rebate of third-party liability premiums paid for out-of-province coverage during the period British Columbians couldn't leave the province because of the COVID lockdown.
The Insurance Corp. of B.C. was negligent and "unjustly enriched" itself by collecting those premiums for out-of-province coverage for May 1, 2021, to July 1, 2021, according to the lawsuit filed this week in B.C. Supreme Court. The insurer "caused the plaintiff and the proceeding class to pay to ICBC for an insurance product which did not exist," alleged the lawsuit, filed on behalf of 2.5 million insured drivers.
Article content
The lawsuit has to be certified as a class action by the courts before it can proceed.
ICBC has yet to file its response, but in an emailed statement said it's "simply untrue" there were no liability risks for B.C. drivers during those two months. B.C. law requires drivers to carry third-party liability coverage, it added.
The representative plaintiff, Erik Watson-Hurthig of Vancouver, wants ICBC to return the $40 he paid for third-party premiums for those two months, beginning when ICBC introduced no-fault insurance on May 1, 2021, and ending with the return of non-essential travel, on July 1, 2021.
Under B.C.'s no-fault insurance, B.C. drivers no longer require third-party liability insurance to protect themselves from being sued for causing an accident against another B.C. driver because B.C.-insured drivers can no longer sue one another.
But third-party insurance is still necessary when British Columbians drive in some U.S. states and other parts of Canada where the possibility of lawsuits continue, or for the possibility the driver damages property other than another vehicle in or out of B.C.
Article content
Mandatory basic insurance for B.C. drivers includes a minimum of $200,000 in third-party liability and extended coverage up to $5 million is optional for a higher premium.
Watson-Hurthig paid $220 in 2021 for 12 months of third-party liability coverage, or about $20 a month, his lawyer, Nathan McQuarrie said in an email.
The claim said non-essential travel was restricted in B.C. from March 19, 2020, until June 15, 2021, by ministerial orders and that from June 15, 2021, to July 1, 2021, "recreational travel outside B.C. was not permitted." It said travel restrictions were also imposed by the Canadian and U.S. governments.
"As a result of the travel restrictions during the restricted period, ICBC was charging premiums for third-party liability coverage that could not be used by any ICBC insureds during the restricted period," the claim says.
The claim said Watson-Hurthig expected ICBC to refund that portion of his premiums, but a year later, in May 2022, "no such rebate arrived."
"The plaintiff did not need to pay the premiums as there existed no reason to maintain third-party coverage during the period in which he could not leave the territorial boundaries of British Columbia," it said. "However, ICBC charged the plaintiff premiums for third-party liability coverage for bodily injury and property damage, when it was impossible for the plaintiff to be liable for third-party damages under B.C.'s no-fault regime."
Article content
McQuarrie said there are 2.5 million potential class members based on B.C. residents who paid premiums for those two months and did not operate a vehicle outside of B.C. between May 1, 2021, and July 1, 2021.
The claim said in addition to a rebate for the premiums paid, which would vary for individual drivers depending on their age and driving record and if they opted for extended coverage, it was seeking damages for ICBC's alleged negligence and breach of contract as well as punitive damages. McQuarrie said those amounts can vary.
ICBC said in its email it issued two rebates for a total of $950 million to drivers to offset the reduction of risks caused by the COVID-19 pandemic, including travel restrictions.
And there were times when some B.C. drivers were allowed to leave the province in their vehicles during the pandemic and they would have needed third-party liability coverage for those trips, it said. 
B.C. caregiver convicted in Down syndrome starvation case given new jail sentence

B.C. man who's paraplegic as a result of accident awarded $6 million by court

Surrey balcony barbecue fire: Condo owners who lost all sue neighbour
---
Summer subscription sale: Our in-depth journalism is possible thanks to the support of our subscribers. For a limited time, you can get full online access to the Vancouver Sun and The Province, along with the National Post and 13 other Canadian news sites, for just $40 for one year or $1 a week for 52 weeks. Support our journalism by subscribing today: The Vancouver Sun | The Province.