Business
West Kelowna homeowners brace for long rebuild from loss
'Kelowna rentals are crazily expensive, pretty much anywhere you want to stay,' says Matthew Twyman, who lost his home in the McDougall Creek wildfire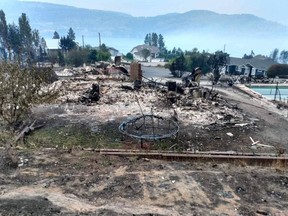 Article content
The first concern for Okanagan Lake residents Matthew and Elizabeth Twyman — who lost their home in the McDougall Creek wildfire — is finding a place to live.
"Kelowna rentals are crazily expensive, pretty much anywhere you want to stay for the kids (to) stay close for school and not to upset them too much," Matthew Twyman said.
Article content
He added they are working with their insurer, who helped line up third-party providers to compile contents lists of what they lost when fire razed their Traders Cove home north of West Kelowna. But they'll need to find a rental residence and line up potential builders because they expect rebuilding is going to be a long process.
Article content
For the next two to three weeks the couple doesn't even expect to be allowed back to the property they left under an evacuation order because authorities first need to make sure the site is safe, Elizabeth said.
"The biggest thing is when can I start rebuilding, because I know a lot of people lost homes," Matthew said.
The scale of loss in the West Kelowna area, where an estimated 200 buildings burned, raises the issue of how homeowners will need to clarify  their insurance policies, said industry expert Shaun Sinclair.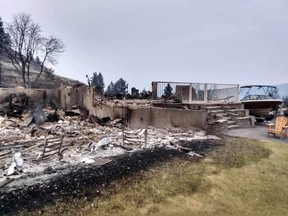 "When a disaster happens in a concentrated area, the local economy just doesn't have the material or the manpower, or people power, to get (rebuilding) up and running," said Sinclair, instructor and head of the general insurance and risk management at the B.C. Institute of Technology.
Sinclair said insurers learned about this phenomenon in the 2003 Kelowna fires that destroyed more than 340 homes. Shortages of materials and construction workers dramatically inflated construction costs, sometimes beyond the limits of replacement-cost clauses in insurance policies.
Article content
"So you have to understand your policy," he said. "(Am I) going to get the $1.2 million to rebuild this $1 million house? Can I even rebuild it for that, can I get close?
"I think it's really important to read your insurance policy and have a good understanding of what potential limitations are and what benefits are," Sinclair said.
He said it's crucial to understand whether "replacement" in "replacement cost" is limited to 125 per cent of insured value, and whether the policy allows for the homeowner to rebuild in another location.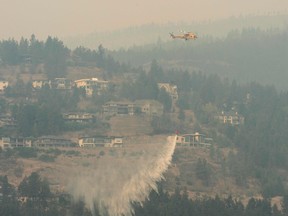 "If you decide 'I want to move to, you know, Vernon, or Nelson,' you might get your full policy limit to rebuild," Sinclair said.
The claims process can move quickly even in a disaster situation such as wildfire, said Aaron Sutherland, vice-president Pacific and Western Canada for the Insurance Bureau of Canada.
"As long as there's coverage, it's not a lot different than other claims," Sutherland said. "The basis of home insurance is fire damage."
Typically, rebuilding can happen in "12 to 18 months, which is certainly a long time for those that have been impacted, but it sort of goes at the speed of reconstruction," Sutherland said.
Article content
That pace of reconstruction is a concern for homebuilders in the Central Okanagan because they already face labour shortages and permit delays, said Dan Winer, CEO of the Canadian Homebuilders Association, Central Okanagan.
"Right now, we're understanding the capacity of our builders to take on work above and beyond what they already have scheduled," Winer said.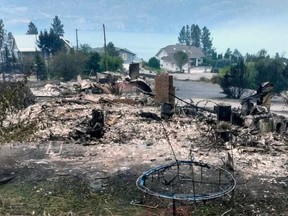 "And then we're also trying to identify gaps and or pain points in the permitting system so that we can ensure homeowners are able to get their homes built in an expeditious manner."
Winer said builders will be looking at geotechnical assessments required for building in rocky terrain, such as on the lakeshore of West Kelowna.
The hope is the province will help expedite the process by allowing neighbourhood-wide assessments rather than requiring each individual homeowner to commission assessments, which would overwhelm municipal permitting.
"One of the other big things for people that might have owned those homes for a long time is all the changes that have come to the building code," Winer said.
Considering the devastation of losing so many homes, architects hope fireproofing will become central to rebuilding, said Daniel Clarke, who specializes in designs to withstand climate change and extreme weather.
Article content
"People — especially the designers and architects — need to wake up to the consequences of some very subtle aspects of their design decisions," Clarke said.
According to the current system, an insurance actuary looks at historical information to determine risk, Clarke said, but that method examines dated information rather than considering new fire-safe materials.
x.com/derrickpenner
— with files from Katie DeRosa, Postmedia
---
Summer subscription sale: Our in-depth journalism is possible thanks to the support of our subscribers. For a limited time, you can get full online access to the Vancouver Sun and The Province, along with the National Post and 13 other Canadian news sites, for just $40 for one year or $1 a week for 52 weeks. Support our journalism by subscribing today: The Vancouver Sun | The Province.
B.C. Forests Minister blames communities for slow progress on clearing wildfire fuel

B.C. wildfires: Fire evacuation defiance threatening fight and must end, minister says