News
Why BC First Nations sought to close Joffre Lakes park from the public
For many First Nations, harvest is a ceremonial practice. With up to 1,000 day passes issued at Joffre Lakes each day, that 'cultural work' can't take place, say experts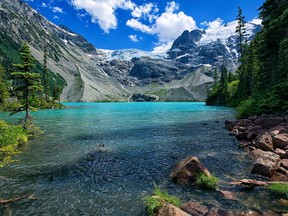 Article content
Jennifer Grenz has been berated for harvesting plants in the traditional territory of her people.
She has also felt frustration with hikers and campers on Nlaka'pamux land during times of harvest and ceremony, comparing it to "traipsing through a church during a service."
Article content
The University of B.C. professor is one of several scholars with expertise in Indigenous cultural practices applauding the recent closure of Joffre Lakes Provincial Park by the Líl̓wat and N'Quatqua First Nations.
Article content
The B.C. Ministry of Environment announced Wednesday the park will reopen over the Labour Day weekend, but close again for another three-day period starting Tuesday, Sept. 5.
The province and First Nations continue to work on a plan that will "provide space and privacy for cultural activities while ensuring public access to the park in a responsible and sustainable manner," Environment Minister George Heyman said in a written statement.
The Líl̓wat and N'Quatqua First Nations announced last Thursday that Joffre Lakes Provincial Park, also known as Pipi7iyekw, would be shut down until Truth and Reconciliation Day on Sept. 30. The closure was to allow the two First Nations — based north of Whistler — to harvest traditional foods and carry out spiritual ceremonies in privacy.
But the closure caught the province off guard, forcing it to cancel pre-booked day passes and overnight camping passes.
Dean Nelson, the Líl̓wat political chief, told Postmedia in an earlier interview there had been long conversations with the province over their desire to have an "equal voice" on closures of the park when they want and need them. However, recent requests to provincial parks officials to talk to the First Nations about their values and needs hadn't been answered, leading to the sudden closure.
Article content
Grenz, a Nlaka'pamux scholar whose family comes from the Lytton First Nation, called the situation "reconciliation in action."
"Land acknowledgements should actually mean something, otherwise they are purely performative," she said. "What it means is giving up control, and that means giving up access sometimes."
Grenz said the park closure was an opportunity for the public to "really recognize that settlers are guests on the land in so-called Canada. Period."
She noted harvesting is a ceremonial practice that is tied to respect and reciprocity for the land.
"It isn't simply harvesting berries or getting fish, it's also a healing practice."
UBC anthropology professor Charles Menzies said the closure was a long time in the making.
"On the few times I have been there myself, I have been taken aback by the crowds and the human impact on an area that I understand to be of high cultural value to both First Nations," he said. "As much as I enjoyed the cultural and natural beauty of the lakes, I found the human uses intrusive and often culturally inappropriate."
With up to 1,000 day passes issued at Joffre Lakes each day, the "cultural work" around harvest can't safely take place, he said. "It seems the provincial government wasn't paying attention and it took a decisive action like this to get their attention."
Article content
A University of the Fraser Valley history instructor, Keith Carlson, said he has heard numerous stories about threats made to First Nations who are practising their rights to foraging and fishing in the Fraser Valley.
"They're heavily intimidated," he said. "At one point, the leaders say no more, we need to be protected."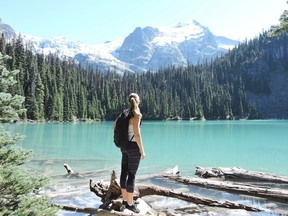 Carlson, who is a Canada Research Chair in Indigenous and community-engaged history, said he understands the desire to see and spend time in natural places, but noted that beautiful places might also have deep spiritual significance to Indigenous people.
Eldon Yellowhorn, chair of the Indigenous studies department at Simon Fraser University, said parks have often been used to "greenwash" colonialism.
"It's a laudable goal to set apart green space with notable vistas, but at the same time, it dispossessed people of their tribal lands," he said.
Yellowhorn said even the name of the provincial park signals its colonial history. Joffre Peak was named by climbers to recognize Joseph Joffre, a French general who served as commander-in-chief of French forces during the First World War.
Article content
"He has no ties to B.C. and Pipi7iyekw," he said.
Joffre Lakes park and the larger Duffey corridor is known by the Líl̓wat Nation and N'Quatqua as the "banquet place", where minerals and plants can be gathered, berries can be harvested, animals such as mountain goat and deer hunted, mammals can be trapped, and fish can be caught, according to a 2021 park management strategy and plan undertaken by the Líl̓wat and N'Quatqua in coordination with the province.
The park is also a major attraction for locals and tourists because of its jagged peaks, icefields, cold-rushing streams and turquoise-blue lakes, as well as its proximity to Highway 99.
To deal with overcrowding at the park, the province implemented a mandatory free day-pass program in 2021. In 2019, there were 196,322 visitors to the park, a more than three-fold increase since 2010.
Nelson said challenges around the number of park visitors has been managed, along with road safety and parking, although there are some continuing concerns. But the closure is about having exclusive use to the park.
Joffre Lakes park to reopen Labour Day weekend while talks with First Nations continue

B.C. First Nations close popular Joffre Lakes park for harvest celebration

Unhappy trails, packed parks, crowded campgrounds: Lower Mainland parks are being overrun

'The original farmers': Interest in First Nations farming revival growing
---
Summer subscription sale: Our in-depth journalism is possible thanks to the support of our subscribers. For a limited time, you can get full online access to the Vancouver Sun and The Province, along with the National Post and 13 other Canadian news sites, for just $40 for one year or $1 a week for 52 weeks. Support our journalism by subscribing today: The Vancouver Sun | The Province.