World
Why West Vancouver's high-end Ambleside Village is hurting (Part 2)
Opinion: The quest is on for ideas to revive this retail hub — as well as others in well-off neighbourhoods.
Get the latest from Douglas Todd straight to your inbox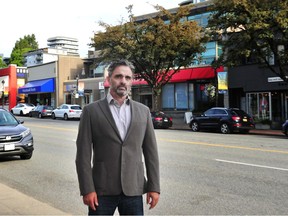 Article content
Read Part 1 of columnist Douglas Todd's look at West Vancouver's Ambleside Village here.
---
Ambleside Village is not the only once-bustling shopping zone in a pricey neighbourhood of Metro Vancouver that seems wounded.
Article content
But the village's six retail blocks on Marine Drive, near the beach in hilly West Vancouver, offer lessons on how things can turn sour for a commercial hub, and perhaps on what to do about it.
Article content
Many of the village's once-practical shops and cosy cafés have been replaced by chic-looking real-estate offices, banks and currency exchanges, plus a plethora of nail and hair salons.
West Vancouver's population of 42,000 has remained stable, unlike most municipalities in major Canadian cities. Significantly, its residents are also older.
There are several layers behind what is happening to Ambleside Village. Here are some of them:
It makes a difference when residents are older
The proportion of West Vancouverites 65 years and above keeps expanding, accounting for 29 per cent of residents. That compares to the Metro Vancouver average of 17 per cent.
At the other end of the spectrum, the proportion of millennials, those aged 25 to 40, is just 11 per cent, which is less than half the rate across Metro.
"Older people don't shop as much or spend as much," says a former West Vancouver city councillor, Craig Cameron, lamenting there are fewer families with children.
What of the missing middle?
The city's wonky age demographics dovetail with the limited range of housing, with detached homes making up almost six in 10 dwellings and apartments accounting for about three in 10.
Article content
As Cameron says, the dominant real-estate trend has seen people buying up older houses and replacing them with bigger ones. The average price of a home for sale is now $3.6 million.
Despite apartment towers west of Ambleside Village, many people maintain the city still lacks enough apartment buildings, duplexes, row houses, laneway houses and secondary suites.
Douglas Todd: The deterioration of wealthy Ambleside Village (Part 1)

Interactive map: Ethnic groups across Metro Vancouver neighbourhoods

Douglas Todd: The crumbling of Vancouver's affluent Point Grey Village

Douglas Todd: Metro Vancouver is the mortgage-helper capital of Canada
And virtually everyone cites how the lack of housing options makes it almost impossible for a retailer or restaurateur to find staff who can afford to live in West Vancouver. Commuting over the Lions Gate Bridge can be a hassle.
Last week, West Vancouver council released another plan for Ambleside Village, which details the need for diversity in housing.
Under-utilized homes
West Vancouver district staff have estimated between 10 to 20 per cent of the city's homes are underutilized, says Cameron.
Article content
It's hard to be more specific about the proportion, say Cameron and Andy Yan, head of Simon Fraser University's City Program, because there are many ways to avoid being targeted by B.C.'s empty-homes tax, including by renting out parts of a property.
In the minds of Cameron and Yan, the bottom-line for Ambleside Village is that underutilized homes leads to fewer local residents, which means fewer local shoppers.
West Vancouver is a 'global suburb'
The fact there are eight real-estate offices and seven foreign currency exchanges in Ambleside Village suggest how much West Vancouver has been affected by wealth from outside the region, says Yan.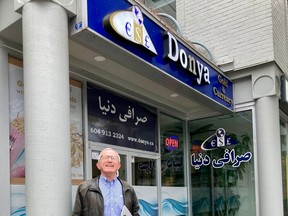 "It's a global suburb. It's a city that's always been shaped by global capital, going back to when people from Britain arrived and bought up its real estate." In recent decades, most offshore wealth has been coming from China, Iran and Europe.
A generation or two ago West Vancouver's residents were predominantly European newcomers and their descendants. The 2021 census shows 23 per cent of residents now have East Asian backgrounds, mostly Chinese, while another 12 per cent have Middle Eastern roots, mostly Iranian. The European-based population now comprises 56 per cent.
Article content
A phenomenon that can occur among wealthy transnational people, said Yan, is many often continue to stay in other dwellings around the globe. They tend not to become regular local patrons. "Retail outlets need a steady pulse of shoppers," Yan says, "not peaks and valleys."
The density debate goes on
The author of Vanishing Vancouver, Michael Kluckner, believes Ambleside Village's troubles are not necessarily to do with low density, since there is a significant hub of older apartment towers in the neighbourhood.
But Cameron and Yan are among those who believe retail districts need a certain level of population density to prosper. Cameron welcomes B.C. Premier David Eby's plan to pressure municipalities, including West Vancouver, to enable more housing construction.
Are commercial owners speculating?
There is concern some property developers are buying up commercial storefronts along Marine Drive and holding onto them as "safe havens," as speculative properties, say Cameron and Yan.
Some developers, local and offshore, can afford to "buy and hold" often-dilapidated buildings while they wait for zoning changes to make their properties more profitable, says Yan.
Article content
Troubled by underused buildings, Cameron would like Ambleside Village's three-storey height restriction hiked to six. Yan joins others in mulling the pros and cons of an "empty storefronts tax."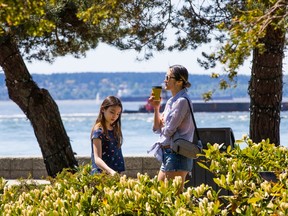 A unique idea for a unique location
While efforts to revitalize Ambleside Village continue — to limit the number of real-estate outlets and currency exchanges, draw in more restaurants and useful shops and increase the variety of housing stock — Cameron adds another enticing possibility.
Don't forget Ambleside Beach.
Since Ambleside Village is only about 150 metres from the beach overlooking English Bay and Stanley Park, Cameron is among those who want to see the shopping district more elegantly integrated into the exceptional recreational expanse.
With creative urban design changes, Cameron dreams of how Ambleside Beach's sandy shores, parks, seawall, fields and amenities could be nicely blended to bring more customers to the shopping outlets and eateries of Ambleside Village.
While the keys to rebirth are elusive, the quest goes on.
Article content
---
Summer subscription sale: Our in-depth journalism is possible thanks to the support of our subscribers. For a limited time, you can get full online access to the Vancouver Sun and The Province, along with the National Post and 13 other Canadian news sites, for just $40 for one year or $1 a week for 52 weeks. Support our journalism by subscribing today: The Vancouver Sun | The Province.
Related