Politics
Winston Churchill comes to Vancouver with his opinions and paint brush
Churchill spent three months in North America in 1929, travelling in a luxury train car across Canada.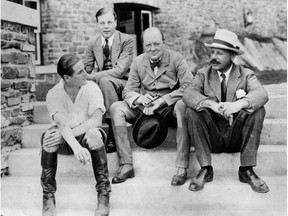 Article content
Winston Churchill was out of office in 1929. But he wasn't out of opinions.
During a three-month North American tour with his son, brother and nephew, Britain's former chancellor of the exchequer and future prime minister gave lectures on the state of the world, the state of the British Empire and the state of anything he set his mind to.
Article content
The legendary orator drew crowds wherever he went, and revelled in the attention, whether it was from elites like newspaper baron William Randolph Hearst or commoners like visitors to the B.C. Provincial Exhibition in New Westminster.
Article content
He didn't hold back.
At the Vancouver Theatre on Sept. 3, for example, he ridiculed the idea that Britain should withdraw its troops from Egypt.
"Evacuation of British troops from Egypt is a cowardly, weak, dog-in-the-manger policy," he stated, "which will not commend itself to the British Empire."
He was a proud imperialist.
"The British people should have confidence in their mission," he said. "Not to enrich themselves from subject peoples, but to bring order and government into countries torn by religious and racial factions."
He arrived in Vancouver on Sept. 1 on a private railway car, which writer Josh Ireland described as "complete with three bedrooms, two bathrooms, four toilets and an observation platform."
Churchill had time to take a three-month break because Ramsay MacDonald's Labour party had upset Stanley Baldwin's Conservatives in the May 30, 1929, British election. He was dismissive of Labour in his Vancouver Theatre speech: "The present Socialist government is gaining popularity, not by putting Socialism forward, but by playing the game with the country."
Article content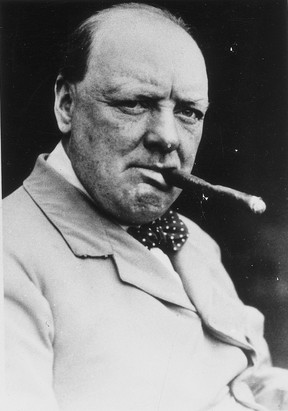 Perhaps his contempt for the Socialists was the reason for his incredible scowl in a portrait photograph that was taken at the Banff Springs Hotel.
Naturally he's got an enormous cigar sticking out of his mouth. He looks ruddy-faced, has a bit of a farmer tan and displayed an unusual dress sense, wearing a light 1920s' suit jacket with high lapels and a polka-dot bow tie.
It could be an ascot, though. His suit was described as "heather-coloured" in the Aug. 24 Calgary Herald.
In Alberta he spent time at a ranch owned by the Prince of Wales (the future King Edward VIII) in Pekisko in the foothills south of Calgary. He also toured the Turner Valley Oil Fields, which he was impressed by.
His greatest moments were still to come, but Churchill was already famous in 1929 as a politician, author and soldier. But his career had some bumps.
As the First Lord of the Admiralty during the First World War, he had pushed the disastrous Dardanelles' naval campaign and the landing on the Gallipoli peninsula in Turkey. It led to 250,000 Allied casualties, and ended in retreat.
Churchill was demoted and resigned. But with his typical verve he joined the army and served at the Western Front. In 1917, he was brought back into the government as munitions minister. The 1930s are known as his wilderness years, because he had no political power. His wilderness years ended with the Second World War; on May 10, 1940, he became Britain's prime minister.
Article content
Churchill really knew how to work an audience. At a speech at the New Westminster armoury, he paid tribute to former B.C. premier Richard McBride, who was from New West.
"It has always been a cherished ambition of mine to visit British Columbia, because of my friendship with Sir Richard McBride, who had always been a staunch champion of British Columbia," he said.
"Sir Richard was not only a staunch champion of British Columbia, but moreover he always held the cause of the British Empire high throughout his life."
Churchill was impressed with the view from Grouse Mountain, which he painted during a visit there Sept. 2. He did many sketch paintings during his Canadian tour, including views of Lake Louise in Alberta and Emerald Lake in B.C.
He stayed at the Hotel Vancouver (the old one) while in town, and sailed for Victoria on Sept. 4. Then it was off to Seattle and down the West Coast, which he seemed to thoroughly enjoy.
In Josh Ireland's book Churchill and Son, he notes that Churchill was taken to Hollywood parties by Charlie Chaplin and was feted at the Hearst Castle in San Simeon by the newspaper baron.
Article content
He may have been out of office in Britain in 1929, but in North America people treated Winston Churchill like he was royalty.
The Archbishop of Canterbury has discovered he is the illegitimate son of Sir Winston Churchill's last private secretary after taking a DNA test to prove his paternity

British historian Andrew Roberts brings Churchill talks to Vancouver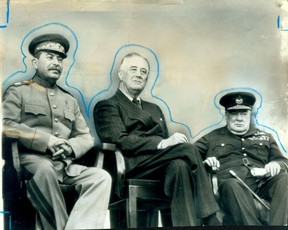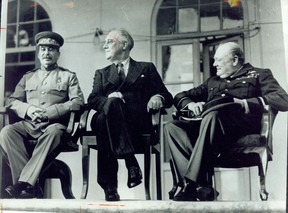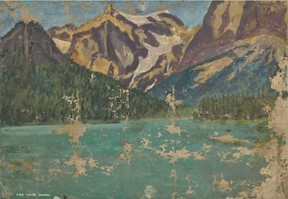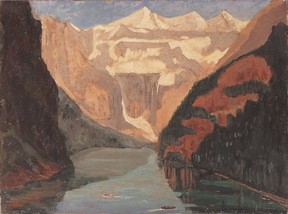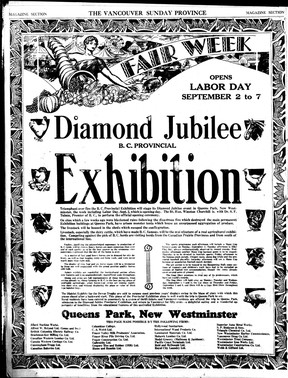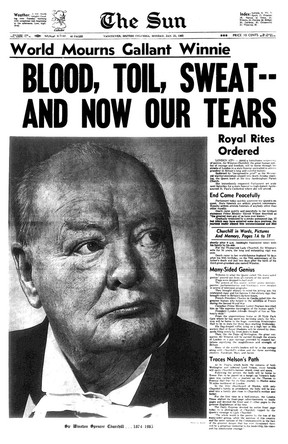 ---
Summer subscription sale: Our in-depth journalism is possible thanks to the support of our subscribers. For a limited time, you can get full online access to the Vancouver Sun and The Province, along with the National Post and 13 other Canadian news sites, for just $40 for one year or $1 a week for 52 weeks. Support our journalism by subscribing today: The Vancouver Sun | The Province.