News
Autopsy delay following B.C. car crash causes family more anguish
A grieving Alberta family was left waiting 12 days for an autopsy to be completed on their son, who was killed in a car accident in B.C.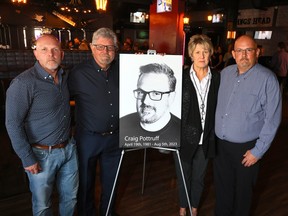 Article content
Lance Pottruff was camping near Fernie over the August long weekend when he got the midnight call no father ever wants to receive.
His son had been killed in a car accident on a stretch of the Trans-Canada Highway between Revelstoke and Golden.
Article content
Craig, 42, was a passenger in the car, and the only fatality.
"Children are not supposed to go first," said Pottruff.
The Alberta resident's voice is heavy with emotion. Craig was the youngest of his three sons.
Article content
Pottruff has dealt with tragedy before. His first wife, Craig's mother, was killed in a car accident when Craig was just 17. He understands the cruel element of chance.
"Accidents are accidents. You leave five seconds earlier or five seconds later, brush your teeth a little longer before you get in the car, it doesn't [happen]."
What he doesn't understand is the bureaucratic nightmare the family endured trying to get his son's body released. It took nearly two weeks for the B.C. Coroners Service to complete a routine autopsy — a delay that compounded the grief and trauma for the family.
"It's just not right," said Pottruff, 70. "An autopsy should be completed within 24 to 48 hours."
A day after learning of their son's death, the family got a call from the coroner's service giving them a file number, and a location: Craig was in the morgue of the Revelstoke hospital. The family was told that under B.C. law an autopsy was required, but due to staffing issues it might not be done for weeks.
"They said they were booked up," said Pottruff. "They said they had a lack of pathologists."
Article content
Pottruff was told he'd get a call the week of Aug. 10 to let him know when the autopsy could be scheduled, that the date could possibly be the week of Aug. 21, and that it might have to be done in Abbotsford.
Because his son had been a resident of Alberta, Pottruff asked if his son's body could be transported to that province for the autopsy.
That request was denied.
"He was lying there in Revelstoke," said Pottruff. "This is where my anger started."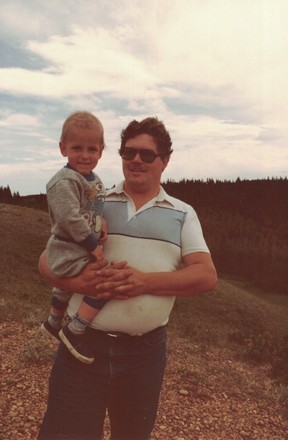 Pottruff was painfully aware that every day of decomposition made a viewing less likely. They wanted to lay Craig to rest with his mother in Moosejaw—shouldn't there be an option that brought his son closer to his final resting place, and sooner?
Pottruff reached out to a regional director with the B.C. Coroners Service to ask again: Could Craig not be autopsied in Alberta?
"She said no, we couldn't do that."
Further complicating matters, without an autopsy, a death certificate couldn't be issued.
"We needed a death certificate to do anything, and to begin to settle his estate," said Pottruff.
Later, Pottruff learned the coroner's service could have provided the family with a medical officer's letter confirming their son's death — standard in such cases — but the letter was never offered, said Pottruff.
Article content
"When I asked why it wasn't, they told me, 'You never asked.'"
Pottruff said the Office of the Chief Medical Officer in Alberta later told him that it would have been possible to have his son transferred to Alberta for a more expedient autopsy.
"They said you just need to fill out a form. He could have been transported to Calgary for the autopsy, and we could have had him transported to High River (Alta.) for the viewing."
(A spokesperson for the Alberta Ministry of Justice, Communications and Engagement told Postmedia that, in general, the province that has jurisdiction of a death investigation is the province where the death occurred, but did not confirm or deny that Pottruff had been told otherwise.)
After 12 days, on Aug. 17 Pottruff got another surprise: A call from a funeral home in Moosejaw, to say the autopsy had been completed in Vernon, and his son's body had been sent to Salmon Arm.
"The coroner didn't call to let me know until an hour later," said Pottruff.
The family got a bill for $3,100 for the transport of Craig's body from Salmon Arm to Alberta. "We are lucky that we could absorb that cost. I wonder about families that couldn't," said Pottruff.
Article content
In B.C., autopsies are required in all deaths that may have medical or legal issues, involve the death of a child, are suspicious, unexpected or accidental, including drug overdoses, or car crashes, like the one that killed Craig Pottruff.
B.C.'s chief medical health officer, Dr. Jatinder Baidwan, expressed his condolences to the Pottruff family: "My heart goes out to any family that is going through something like this."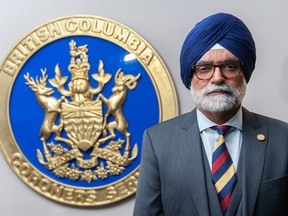 However, said Baidwan, the coroner's service has a mandate to investigate deaths that occur within its jurisdiction: "If a death occurs in B.C., we investigate it."
Baidwan agreed that the family shouldn't have had to wait 12 days to have their son's body released to them.
"The wait time was unacceptable. Within seven days, we'd like to get an autopsy done. Over the last couple of years we are trying to get that down to four or five days.
"At the moment there are shortages," said Baidwan.
He said the B.C. Coroners Service usually has seven pathologists on staff, but recently lost one, leaving a gap in the Kelowna area. He added that timing was another factor contributing to waiting times, due to staff vacations.
Article content
Baidwan said the coroner's service must balance fiscal responsibility with service demands.
"Year on year there seems to be an increased workload that comes our way as well," he said.
Dr. Matthew Orde, a consulting forensic pathologist who practised in B.C. from 2013 to 2021, said the province has been falling short for years.
"B.C. is operating on a bare bones model of death investigation," said Orde.
Orde said pathologist numbers are too low in the province, leaving the coroner's office unable to absorb the spikes in deaths that occur from time-to-time or deal with accidental deaths in an expedient manner.
In 2021, B.C. Chief Coroner Lisa Lapointe admitted the coroner's service was struggling to keep up after the sudden increase in deaths related to 2020's heat dome, and the high numbers of deaths related to the drug-overdose crisis.
Lapointe told Postmedia News that coroners were facing rising workloads, with no immediate end in sight.
From 2017 to 2019, an average of 900 deaths a month were reported to the coroner in B.C. That number has climbed and in 2022, an average of over 1,100 deaths a month were reported, for a total of 13,652, and 2,050 autopsies were performed.
Article content
As of Aug. 28 this year, a total of 9,075 deaths have been reported to the coroner, and 3,223 investigations remain open.
Many reported deaths don't require investigation or autopsy, but are reported because there is no family physician available to certify the death, said Baidwan.
Until 2018, all forensic pathology happened within the provincial hospital system, and most of it in Vancouver. Because of an aging population, hospital pathologists found it harder and harder to do that work, said Baidwan.
Over the last five years the BC Coroner's service has implemented a diagnostic services network, hiring two pathologists in Abbotsford, two in Vancouver, one in Vernon, one in Victoria and one in Kelowna (where there is a vacancy), with rotations to Northern Health.
More needs to be done, said John Butt, a renowned private forensic pathologist in B.C.: "The reason this family had their loved one's autopsy delayed is totally unacceptable."
Butt said B.C. needs a dedicated facility in the Interior suitable for medical legal death investigations, so bodies wouldn't need to be transported to Abbotsford when a pathologist is not available in the region.
Article content
"You can't be taking bodies all over the province," said Butt.
Lance Pottruff and his family were finally able to bid farewell to Craig at an Irish-style wake in Calgary on Tuesday. Hundreds of friends showed up.
"I'd never had so many hugs in my life," said Pottruff.
It simply shouldn't have taken so long.
Vaughn Palmer: NDP ditch election promise on Hwy. 1 widening

Premier David Eby calls banners over Highway 1 'hateful' and 'reprehensible'
---
Summer subscription sale: Our in-depth journalism is possible thanks to the support of our subscribers. For a limited time, you can get full online access to the Vancouver Sun and The Province, along with the National Post and 13 other Canadian news sites, for just $40 for one year or $1 a week for 52 weeks. Support our journalism by subscribing today: The Vancouver Sun | The Province.