News
B.C. extends child-care subsidies to school-aged kids starting Sept. 1
Premier David Eby said a child-care break will be worth up to $145 per child per month for families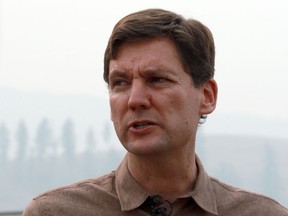 Article content
The B.C. government on Thursday extended subsidies for child-care spaces to parents with preschool and school-aged children while many care providers say they're at risk of closure waiting for the province to approve the renewal of existing programs.
Premier David Eby and Minister of State for Child Care Grace Lore unveiled the government's promise to kick in up to $145 per month per child enrolled in eligible half-day preschool programs or before-and-after school care starting Sept. 1, which is expected to apply to 43,000 kids.
Article content
Payments will go directly to participating child-care centres and will be in addition to the up to $900-per-month-per-child some families with children Kindergarten-age-and-younger already receive in daycare.
Child care is one of the biggest costs in household budgets, "so our government is taking steps to help with some of those costs that families are seeing," Eby said.
"We've already reduced fees for parents with kids in child care by $900 (per child) a month and this announcement today extends those savings to even more families and facilities," Eby said.
Lore credited the province's child-care affordability program, backed by federal funding, as one of the government's measures to help families with inflation and a contributing factor to women playing a bigger role in the workforce. Lore said three-quarters of B.C.'s job growth in the last year was driven by women's employment.
"Affordable, quality child care is life-changing for families," Lore said during the announcement, but critics are also sounding the alarm that delays in program paperwork is threatening the viability of a lot of child-care centres.
Article content
Karin Kirkpatrick, the B.C. United party opposition critic for child care, said she has fielded calls from many child-care operators who applied to extend their participation in the existing program but haven't heard whether they've been approved although it was supposed to kick in Sept. 1.
Their temporary funding also ended Aug. 31, so a lot of them have been left wondering how they'll be able to pay their immediate bills.
Kirkpatrick, MLA for West Vancouver-Capilano, said she has fielded calls from child-care providers telling her they're in the position of telling parents they'll have to pay full fees again or opt out of the government program, which would reduce the number of affordable child-care spaces.
"So, while they're not paying providers, they make an announcement that talks about they're going to have enhanced payments to providers for these additional hours and spaces," Kirkpatrick said. "So (the announcement) means completely nothing to me."
One of those operators, Jennifer Ratcliffe, said the delays have left her Pebble Land Child Care in Surrey without enough money to operate.
Article content
"It has left me and others with the excruciating decision of either dealing with more delays, telling parents with little notice that they will have to pay hundreds more per month or being left with tens-of-thousands-of-dollars in debt," Ratcliffe said.
x.com/derrickpenner
Dan Fumano: Vancouver parents desperate for daycare slam city hall rejection

First Nations mother whose baby was taken away protests at Legislature
---
Summer subscription sale: Our in-depth journalism is possible thanks to the support of our subscribers. For a limited time, you can get full online access to the Vancouver Sun and The Province, along with the National Post and 13 other Canadian news sites, for just $40 for one year or $1 a week for 52 weeks. Support our journalism by subscribing today: The Vancouver Sun | The Province.