News
West Vancouver's 'Party House With a View' goes up in flames
Small house at entrance to Horseshoe Bay was known to generations of ferry passengers, but was derelict and covered in graffiti in recent years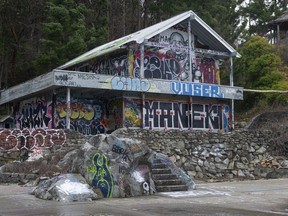 Article content
West Vancouver's infamous "party house with a view" in Horseshoe Bay was destroyed by fire late Thursday night and early Friday morning.
"We received reports shortly after 11 p.m. last night that the property on Tyee Point was on fire," West Vancouver's acting fire chief Gord Howard said on Friday.
Article content
"Our crews responded and when we arrived on scene the structure that's there was fully involved. (There was) a lot of flame, extending into the interface (trees), so they called for the fire boat (from Vancouver).
Article content
"While the boat was responding, our crews were setting up lines to protect the interface and try to get some water on the house. When the fire boat arrived they were able to dump a lot of water on the structure and knock the fire down significantly."
The "interface" is the wild, natural area behind the property. Some trees in the hillside behind the house caught fire but were extinguished. The house was burnt to the ground.
"Our crews remained on scene throughout the night to make sure any spot fires were dealt with and the interface was managed," Howard said Friday afternoon.
"We had the fire boat come back a couple of times to provide some more water suppression on the fire, and the fire is under control. (But it's) still smouldering, last report I had."
Pictures of the small house at 6689 Nelson Ave. went viral earlier this year when photographer Mark Teasdale posted a photo of it covered in graffiti on Twitter, which is now known as X.
The house had one of the most spectacular locations in the Lower Mainland, perched on the rocks at Tyee Point at the entrance to Horseshoe Bay.
Article content
This made it a familiar sight for generations of ferry travellers, many of whom were shocked to see that it was derelict. It had been vacant for about a decade, as the family that owned the property looked at redevelopment opportunities.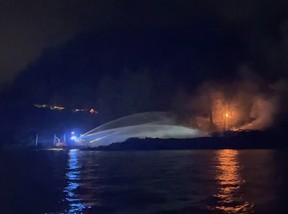 The house was built in 1951 by former B.C. Tel general manager Cyril Diplock as a weekend retreat. It was originally only one-storey and had one bedroom, but Diplock sold the site in the mid-1960s and a second storey was added in the 1980s.
In Diplock's time, you had to walk a kilometre along the shoreline to reach the site, but the new owners blasted a narrow road in. It has been sold several times and is now owned by PAK Construction, which purchased the two-lot parcel, in total about four average city blocks in size, for $2,325,951 in 1992.
Payam Askari's family owns PAK Construction, and earlier this year said his family has discussed doing a land swap with West Vancouver to turn it into a park. But Friday he said West Van had "put a stop" to a land swap, and the family had been preparing to demolish the structure.
"We've been waiting for our permit to demolish that house," said Askari.
Article content
We've been working (on it) for the past six months or so. Another two three weeks to go before the final permit was issued to demolish it and this happens. We were there on Monday with the engineer and contractor."
Howard said the road into the property was too narrow for a conventional fire truck, but crews were able to come in by a four-by-four vehicle. They set up portable pumps in the water off Tyee Point to douse the fire, then the fire boat arrived and the fire was brought under control.
Howard said the cause of the fire is still under investigation.
"We do not suspect a natural cause like lightning," he said. "It could have been caused by people, either a discarded cigarette butt, (or) having some sort of a fire nearby or some other reason. At this point it's a bit early to speculate."
The now graffiti-covered home was 'very nice' and 'quite modern' when it was built in 1951 as a weekend cottage for a B.C. Tel executive.

Taking the ferry in and out of Horseshoe Bay, travellers get a glimpse of one of the Lower Mainland's unique properties: a small West Coast modern home perched on the rocks at Tyee Point.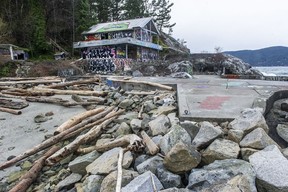 ---
Bookmark our website and support our journalism: Don't miss the news you need to know — add VancouverSun.com and TheProvince.com to your bookmarks and sign up for our newsletters here.
You can also support our journalism by becoming a digital subscriber: For just $14 a month, you can get unlimited ad-lite access to The Vancouver Sun, The Province, National Post and 13 other Canadian news sites. Support us by subscribing today: The Vancouver Sun | The Province.