News
B.C. orders Whistler courier trucks off the road after overpass crash
North Vancouver RCMP issued a violation ticket to the registered owner of the vehicle for failing to remain at the scene after a collision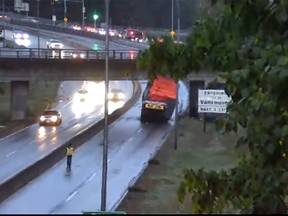 Article content
B.C. has suspended the licence of a Whistler transportation company whose truck driver crashed into a Trans-Canada Highway overpass on Tuesday night in North Vancouver and fled the scene.
The enforcement action will see all 22 of Whistler 99 Courier & Freightways' trucks taken off the road until the conclusion of an investigation by the province's commercial vehicle safety and enforcement division (CVSE) that will span the next few weeks.
Article content
"Pulling a commercial licence really takes away the economic livelihood of drivers and a company. It's the strongest penalty I can think of," B.C. Transportation Minister Rob Fleming said Wednesday.
The trucking company said later Wednesday it is working with the CVSE as it investigates the bridge strike.
"While the investigation into the incident is underway our fleet is not operating," said in a statement. "Two employees are facing disciplinary action. At this point, we expect to learn tomorrow (Thursday) from CVSE when operations will be permitted to resume.
"We're taking steps to deliver cargo currently in our custody and scheduled through this week."
Before the announcement, North Vancouver RCMP issued a violation ticket to the registered owner of the vehicle for failing to remain at the scene after the collision.
Fleming says there will be a safety audit of the company and an examination of all the circumstances that caused another completely "unnecessary, unacceptable" overpass strike. The minister noted that the cost to the public and the economy are huge from these overpass strikes, closing major roads for long periods.
Article content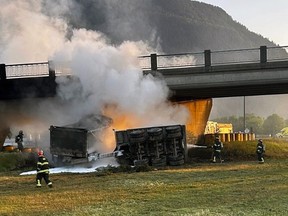 The accident is one of 11 in which trucks have struck B.C. overpasses and snarled traffic on major highways this year, according to provincial data.
Of the 10 earlier overpass crashes listed on the Ministry of Transportation's public database, seven resulted in drivers or companies being ticketed for either failing to have a permit for the oversized load or using an unapproved route. Two of the remaining three are under investigation.
"It's a good first step but there's still more to do," said Dave Earle, president of the B.C. Trucking Association, following the government's announcement. "Until the province gets really serious about exploring more ways to ensure safety and accountability in the transportation industry, I'm worried we're not going to see any progress from small measures like this."
Earle is calling upon the province to publish safety audit records for B.C. trucking firms in an online database.
"This way, companies who decide to cut corners and bootleg their loads down the highway without a necessary permit will be visible to shippers who are considering contracting them, creating a culture of accountability."
Article content
Last year, a total of 13 overpass strikes occurred on B.C. highways, according to the ministry, which has been tracking the cases since late 2021.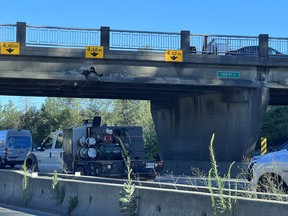 Earlier this year, a Postmedia News story reported on the high number of overpass crashes. Industry experts said the problem underscores the need for better training and more oversight to deal with what has become a chronic problem.
In an effort to curb the issue, B.C. implemented mandatory entry-level training for new drivers beginning in fall 2021. The ICBC-approved course instructs truckers to be aware of the height of their vehicle before travelling under overpasses.
"Before entering an underpass, check all posted clearance signs and ensure there will be proper clearance for you to safely travel under," reads the ICBC entry-level training student guide. "It is very important to be aware of the height and width of the commercial vehicle you are driving to ensure you can safely clear the top of underpasses when travelling below them."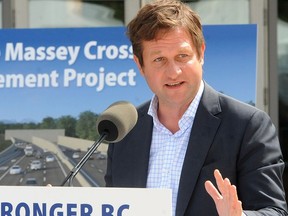 Fleming expects the province will introduce steeper fines and other penalties for drivers and companies who strike overpasses starting this fall, repeating what his communications staff told Postmedia in May.
Article content
But Surrey transport truck operator Vijaydeep Sahasi says the rash of overpass crashes shouldn't fall solely on the shoulders of drivers, but also on the companies whose dispatchers instruct them which route to take.
"The driver is not solely responsible, it's the company, too," said Sahasi, president of the West Coast Trucking Association.
Oversized loads require permits that, when granted through B.C.'s commercial vehicle safety and enforcement branch based on an application that discloses their width and height, dictate the delivery route the transportation company operators need to take.
"Sometimes truckers are not properly informed by dispatchers about the correct route," Sahasi said. "At the end of the day, there needs to be more training and accountability for dispatchers at the company. Truckers are often just carrying out instructions."
— With files from Joseph Ruttle
'A united voice': Metro Vancouver mayors band together for transit funding appea

Vancouver e-mobility company buys Veemo out of bankruptcy
---
Bookmark our website and support our journalism: Don't miss the news you need to know — add VancouverSun.com and TheProvince.com to your bookmarks and sign up for our newsletters here.
You can also support our journalism by becoming a digital subscriber: For just $14 a month, you can get unlimited, ad-lite get unlimited, ad-lite access to The Vancouver Sun, The Province, National Post and 13 other Canadian news sites. Support us by subscribing today: The Vancouver Sun | The Province.