Business
Barista alleges dismissal was related to organizing workers
Fired Starbucks employee alleges her dismissal was in retaliation for union organizing work.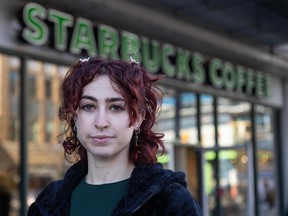 Article content
Frederique Martineau was just 20 years old when she organized her first union, at a Starbucks in Vancouver's Dunbar neighbourhood, in February.
Months after certifying with the United Steel Workers, the location closed. In October, Martineau was moved to a non-unionized Starbucks' store at West 16th Avenue and Macdonald Street.
Article content
Although her pay remained the same, Martineau, a shift supervisor, was demoted.
Article content
"They didn't give me the keys to the store," she said.
On Nov. 5, just weeks after starting her new job, a manager sat her down at a high-top next to the toilets, in full view of customers and "partners" — Starbucks-speak for employees — and informed her she was being investigated.
Allegedly, unnamed partners were complaining about her use of profanity, and were uncomfortable with her chatting about unionizing Dunbar, but no specifics were given.
Martineau said she had management's permission to talk about her union experience, and denied using profanity.
Three days later, after arriving early, doing homework at a table, donning her work shoes and apron and charging the iPads, she was called into a side room, and fired.
"It was retaliation for unionizing," said Martineau, who is now weighing her options and seeking advice.
Martineau is adamant that she didn't breach any company policies — she's a five-year employee with no previous complaints.
"Since I unionized Dunbar, I knew there was a target on me. Why would I do anything to draw attention to myself?"
To the contrary, said Martineau, she was making new friends among the partners, and reconnecting with regular customers displaced from the Dunbar location.
Article content

A Starbucks' spokesperson denied that Martineau was terminated in retaliation for her union organizing, and said in a statement to Postmedia News: "All partners (employees) receive training on our policies governing appropriate workplace conduct, and they are aware that failing to uphold them can result in corrective action, up to and including separation."
The statement added that "no Starbucks partner has been or will be disciplined or separated for supporting, organizing or otherwise engaging in lawful union activity."
Martineau, who grew up in the San Francisco Bay Area, liked Starbucks. She was attracted to its culture of inclusivity, the benefits (if you can work enough hours to get them), store discounts, free drinks while on shift, wages a couple bucks higher than minimum wage and the free pound of coffee each week.
"That's one less expense," said Martineau, a nursing student at BCIT.
But behind the green apron, there is a darker side to the culture, Martineau says. She wanted to change that.
Benefits — dental, extended health and tuition reimbursement — are only available to those who work more than 20 hours a week or 40 hours combined over two weeks.
Article content
"They kept most of us at 19 hours a week," said Martineau.
The benefits are always just out of reach.
Understaffing was a chronic issue.
"A bad shift is three partners working five stations, a lineup out the door, customers lashing out," said Martineau. "We need someone on cash, someone on ovens, someone on hot bar, someone on cold bar and a supervisor floating."
Try telling a regular picking up a triple venti with caramel and whip on the school/soccer run that they have to wait.
"That's an $8 coffee, a $10 coffee," said Martineau. "They are expecting better service."
There were also safety issues, said Martineau: broken equipment, a pace so frantic partners would get burned and live wires sparking from light fixtures in unrepaired fridges.
"The only reason I unionized is because I care about partners, I care about customers, and I care about Starbucks. We wanted better staffing for the workload, safer equipment and better wages," said Martineau.
After a store in Victoria unionized with the United Steelworkers in 2020, the move to unionize has grown to include 360 locations across North America. On Thursday, workers at more than 200 U.S. Starbucks locations walked off the job in what organizers said was the largest strike yet in the two-year-old effort to unionize the company's stores.
Article content
Throughout the process, Starbucks has come under increasing scrutiny over allegations of anti-union activity. In March, a U.S National Labor Relations Board judge ruled that Starbucks illegally fired six workers who were organizing a union, and similar rulings were made in Buffalo, New York and Memphis, Tenn.
Starbucks denies closing stores or firing employees over union activities.
As soon as the workers at the Dunbar location were certified, things improved, but it was short-lived.
"Starbucks came in and fixed the broken machinery," said Martineau.
Then they closed the store. Staff were told the lease was expired, and offered relocation.
Martineau's stint at the non-unionized store at MacDonald and 16th lasted just a month. The termination came "out of the blue," she said.
After she was fired, Martineau said she was ushered out the back door.
"I was crying on the street."
The first call she made was to the union.
In a statement, Scott Lunny, United Steel Workers district director for Western Canada, said it's "imperative that workers feel empowered to advocate for fair wages, benefits and working conditions without fear of retaliation."
Article content
"The union is actively working to fight this dismissal and stands in full support of Frederique," added union spokesman Brett Barden.
— With files from The Associated Press 
Related Stories
None

Thousands of Starbucks workers go on a one-day strike, one of busiest days of year for the chain

Starbucks to exit Russia after nearly 15 years
---
Bookmark our website and support our journalism: Don't miss the news you need to know — add VancouverSun.com and TheProvince.com to your bookmarks and sign up for our newsletters here.
You can also support our journalism by becoming a digital subscriber: For just $14 a month, you can get unlimited, ad-lite access to The Vancouver Sun, The Province, National Post and 13 other Canadian news sites. Support us by subscribing today: The Vancouver Sun | The Province.