Business
Coquitlam homeowner left with 'orphan' lot after city changes road
Ian Dowdall, his wife and three sons will be living in the only detached home on their block after city rejigs road, leaves home out of land assembly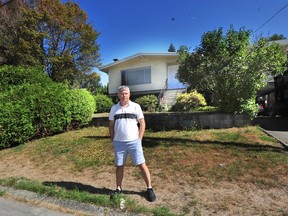 Article content
In Coquitlam's Oakdale neighbourhood, 45 detached homes spanning two blocks are at various stages of being demolished to make way for six-storey apartment buildings and a 35-storey residential tower that will bring hundreds of new homes.
One homeowner, however, who was more than eager to sell and make way for the change, has found himself in the situation of being left with an orphaned lot.
Article content
It means Ian Dowdall, his wife and three sons, will be living in the only detached home on their block. So far, most of the 25 homes on an adjacent block have already been torn down and the 20 homes on his block will be taken down in the next year or two.
"We will be living on our own in development hell," he says. "It's most unusual. Most councils prevent developers from creating orphaned lots, especially when that would leave one property standing out of two entire blocks of 45 homes."
It's an unusual case that illustrates how decisions by city planning can snarl plans for homeowners.
The transformation of the area, next to Burquitlam SkyTrain station, comes as many other streets of single-family homes are likely to undergo similar transformations across B.C. as pressure to build more housing grows.
The Dowdalls' home, a beige-coloured bungalow they bought two decades ago, was originally under contract as part of a land assembly of nine houses on their block.
But, according to Dowdall, the city realized the homes across the street face Harmony Creek and any future development there would need to accommodate an environmental set back, requiring more space.
Article content
To allow for this, the city planned a new road, one that would cut Dowdalls' house from the rest of the eight houses on his block.
He sent many letters to council opposing it.
Two days before Dowdall was expecting a non-refundable deposit from the developer in July 2021, his home was dropped from the sale.
He then tried to pursue a different land assembly with some of the creekside homes as a Plan B.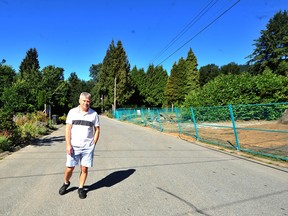 One owner there, however, didn't want to sell and the deal fell apart after city staff said the three other homeowners could not proceed because it would leave behind an orphaned lot.
In a statement replying to queries, the city of Coquitlam essentially said the Dowdalls' home can be a part of an assembly of the creekside homes across the street when that happens in the future.
"The city of Coquitlam has a policy that ensures lot consolidations for development follow a logical pattern to achieve planned road connections and leave no remnant parcels that would be undevelopable under their designated land use. This is a critical consideration in the review of any development application," it said.
Article content
In an email to Dowdall in May 2022, Don Luymes, general manager planning and development for Coquitlam, wrote that: "You are correct that the new road network approved by council separated your lot from an active assembly of lots to the east. At the same time, this placed your lot in an area of lots to the west that is also large enough to assemble into a high-density development site."
"He's not an orphan. He was orphaned from one assembly, but not left from the other one," says Councillor Craig Hodge.
But waiting with no defined timeline or parameters is of little comfort to Dowdall, especially as dump trucks have been moving in and around his home at all hours of the day to take down homes around his. Next, there will be soil removal and then the beginning of digging and construction.
He was one of the first residents on his block to promote the idea of joining together to sell their homes in a land assembly. He doesn't have much beef with the developers, but he is irate with city planners and says there are policies in place they could have used such as banking the land from his property or exchanging it instead of leaving his family hanging.
Article content
"I don't want to complain about having my beautiful home, but I think people would agree that we have been poorly served by city planning and the council members on a few occasions here," he said. "We really do feel abandoned."
Vancouver land assemblies pose a range of difficulties

Does missing middle housing spell the death of the single family home in B.C. cities?
---
Summer subscription sale: Our in-depth journalism is possible thanks to the support of our subscribers. For a limited time, you can get full online access to the Vancouver Sun and The Province, along with the National Post and 13 other Canadian news sites, for just $40 for one year or $1 a week for 52 weeks. Support our journalism by subscribing today: The Vancouver Sun | The Province.