Business
'Left in lurch:' Crofton crew faces extended mill shutdown
The union representing workers says the mill has only been operating for about two and half months since January, and the spotty schedule has left many struggling to pay their bills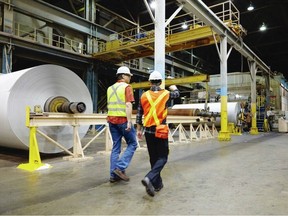 Article content
A union representing workers at the Catalyst Crofton pulp and paper mill says they're being "left in the lurch" after a startup was delayed by another month.
The 60 workers represented by Unifor Local 1132 and the nearly 400 from Public and Private Workers of Canada Local 2 received notice a planned startup this week wasn't going to happen due to continuing poor market conditions for the mill's paper products.
Article content
It's the third time Paper Excellence has announced 30-day curtailments in as many months. Paper Excellence said in May it was temporarily ­curtailing the mill from June 30 to July 31. Then a second shutdown was announced to the end of August. With this week's ­announcement, the next possible day the w­orkers could return is Sept. 30, but it's not a guarantee.
Tanner McQuarrie, president of Unifor Local 1132, said the mill has only been operating for about two and half months since January, and the spotty schedule has left many workers struggling to pay the bills and wondering about their long-term future in the industry.
He said some on the two unions are collecting ­employment insurance, some are burning vacation days while ­others have been making ends meet through side businesses like hauling trash. The kicker, he said, is that the company is giving ­workers only a few days' notice before ­shutting down each month.
Only one Unifor member and 15 from PPWCL Local 2 are left to monitor the mill during ­curtailments.
Blair Dickerson, vice-­president of public affairs for Paper Excellence Canada, said in a statement the ­curtailments have been in response to "extraordinarily weak pulp and paper prices related to the global economy."
Article content
China is considered the major market for Crofton's paper ­products, but the company says that market has been particularly weak.
Dickerson said it's ­premature to discuss restarting the Crofton mill, "as there are many unknowns related to market pricing at this time."
Union representatives said another delay is "beyond ­disappointing," in light of the $70 million in combined funding from the company, province and federal government announced in January to upgrade paper operations and get the mill ­operating.
"I urge the company to set a reasonable timeline for a restart and commit to it for the sake of the workers and their ­families," said Lana Payne, Unifor's national president.
She said the recovery of ­market prices has not been clearly defined by the company.
Gavin McGarrigle, Unifor western regional director, said forestry workers need to know when they'll be back on the job. "Workers don't have the luxury of curtailing their bills."
McGarrigle said he attended the $70-million funding announcement in January. The funding included $14.3 ­million from Natural Resources Canada's Investments in F­orest Industry Transformation ­program and $4.5 million in ­provincial funds.
Article content
The company said at the time the money would be used to transform one of its paper machines to produce stronger, water-resistant paper grades to replace single-use plastics for the food industry, and to reduce natural gas consumption through more efficient use of waste bark fuel in the mill's boiler.
McQuarrie said the Crofton mill has the infrastructure and potential to be a successful plant for decades to come, "so we want to see young families stay in the community knowing that their futures can start now.
"We want to put food on the table and we want to support our communities, but it's pretty hard to do that when you don't know if you're going to be working one month to the next."
Dickerson said the company is aware of the hardships faced by employees.
"We take this situation extremely seriously and are mindful of and concerned about the impact on employees who have worked so hard to improve the facility's performance," he said. "We commit to keeping employees and the community informed as more information becomes available."
North Cowichan Mayor Rob Douglas said the Crofton mill is the municipality's largest employer and taxpayer, and steady operation and employment is essential for the region.
Article content
"Unionized jobs buy homes here and support businesses here," said Douglas, who also has a personal connection to the mill: His father was a pipefitter there and his grandfather helped build it.
Douglas also worked there in the summers to help pay for his university education.
The mayor said he was at the funding announcement in January, and, like everyone else, was excited about the long-term future of the mill. "I think we've all been taken by surprise [by these curtailments], especially when they are on such short notice," said Douglas. "It's a disappointment. Hopefully, we can see these markets turn around."
Last month, Paper Excellence announced the permanent closure of the Catalyst paper mill in Powell River.
The company said a restart of a pulp or paper business was not feasible, and the company plans to redevelop the site.
Paper Excellence said over the past 18 months in curtailment, the majority of employees took voluntary severance, and a small number transferred to other Paper Excellence mills. When fully operating, the Powell River mill employed about 200 people.
Article content
All chemicals, fibre and fuels have been removed from the mill, the company said, adding long-term environmental assessments are underway.
Paper Excellence said it is in discussions with potential buyers for the site.
Western Forest Products' Port Alberni mill closes as company seeks viable path

Canfor closes Chetwynd sawmill and pellet plant

B.C. announces $90 million fund aimed at protecting jobs in faltering forestry industry
---
Summer subscription sale: Our in-depth journalism is possible thanks to the support of our subscribers. For a limited time, you can get full online access to the Vancouver Sun and The Province, along with the National Post and 13 other Canadian news sites, for just $40 for one year or $1 a week for 52 weeks. Support our journalism by subscribing today: The Vancouver Sun | The Province.