Business
Man bequeathed expensive Vancouver property sues realtor for profits
Childless woman's will gifted long-time family friend right to buy horse farm for 50 per cent of appraised value.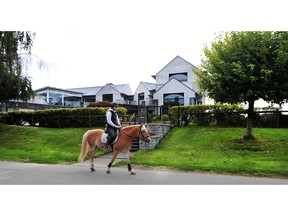 Article content
When the sale of a waterfront Southlands acreage that was partly willed to a Vancouver man eventually sold, he got $7.5 million, about half of the listed value.
Byron Stanley put the blame on his realtor's negligence, for what he said was overpricing of $13.8 million of the four-acre property with equestrian stables and paddocks in one of the most exclusive areas of Vancouver, according to recent decision in B.C. Supreme Court.
Article content
Stanley claimed that realtor Derek Grech was also negligent for not advising him of strata restrictions on development, which Stanley said affected the sale timeline and price, and for not suggesting he seek legal advice, or seek that advice himself during the sale.
Stanley has filed a lawsuit in B.C. Supreme Court, asking for about $1.6 million in damages from the realtor and his company Angell Hasman and Associates.
The suit said that by the time the property was sold, "Mr. Stanley was in financial distress, resulting in his selling (the property) at a discount," and as a result was seeking $1,150,000, the difference between the fair market value and what he sold for, according to the lawsuit.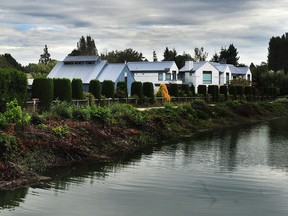 Stanley was also seeking damages to compensate him for the $45,000 a month in interest charges he paid on his loan for the estimated 10 extra months the property took to sell because of delays he said were caused by the realtor.
Many years and much litigation later, first in Supreme Court, where he lost his lawsuit against realtor Grech, and in the B.C. Court of Appeal, where his appeal was dismissed and the Supreme Court decision upheld, Stanley was left with a fraction of the $12 million he had hoped to make on the sale, according to court documents.
Article content
"Mr. Stanley alleges that as a result of those (three) negligent acts, the property took longer to sell than it should have," wrote Appeal Court Justice Ronald A. Skolrood in his summary of the decision that two other judges agreed with.
Skolrood noted the Supreme Court judge found that Grech had breached his duty by failing to get legal advice or to recommend Stanley do so, but he held the "breach did not cause Mr. Stanley's damages."
The Supreme Court judge said there was no evidence to show that Stanley lost money because of that breach. And the earlier judgment found Stanley had collaborated with Grech on the asking price.
Skolrood dismissed the appeal on the grounds that Stanley failed to identify a legal error in the lower court decision and that he said he lost money from the high listing price but didn't appeal the judge's finding that Grech wasn't negligent in recommending the list price.
And Skolrood wrote that if Stanley had received legal advice about development limitations on the land and assumed as a result wouldn't have lost the money is "mere speculation" presented without evidence.
Article content
Stanley bought the land for $4.5 million in 2017, half its value at the time after the previous owner, Irina Reid, included in her will that Stanley could purchase the property for 50 per cent of its worth, according to the judgment.
Stanley had grown up in Southlands and his mother had been a friend of Reid's and her husband, who predeceased her. For 35 years Stanley was like a son to her and called her his aunt, according to the Supreme Court judgment.
Stanley had lived at the property during her last years, caring for her while she lived with dementia and caretaking the property.
After Reid died in 2016, Stanley couldn't afford to buy the property even at half its $9 million value, so he borrowed $4.5 million plus $1 million for other expenses, including interest payments on the loan that he obtained from a private lender because he didn't qualify for a conventional bank loan.
He hired Grech and the property was listed the day Stanley's purchase of the home completed on Feb. 27, 2017, and the house was listed at $13.8 million.
The property was part of a two-lot strata after Reid created one to accommodate the sale of a second house, which meant any development on the property needed unanimous consent from all strata owners. The existing first house was a modest 2,000 square feet and a house up to 7,000 square feet was permitted but it would require using the limited common property.
Article content
Such strata restrictions make sales more difficult and the owners and others flagged this to Grech, who told Stanley during the sale period, according to the judgment.
Grech, who primarily worked on the North Shore, wasn't familiar with strata restrictions and Stanley assured him several times his property could be developed without consent of the other strata owners, Skolrood wrote.
The asking price was dropped as offers were made and countered, and then dropped by the buyers, and eventually it was the owner of the other strata unit who bought the property on April 21, 2018. As owners of both strata lots, they could build the 7,000 square foot house that now exists on the property.
Coquitlam homeowner braces for construction around his 'orphan' lot after city changes road

Coquitlam homeowner braces for construction around his 'orphan' lot after city changes road
---
Bookmark our website and support our journalism: Don't miss the news you need to know — add VancouverSun.com and TheProvince.com to your bookmarks and sign up for our newsletters here.
You can also support our journalism by becoming a digital subscriber: For just $14 a month, you can get unlimited, ad-lite get unlimited, ad-lite access to The Vancouver Sun, The Province, National Post and 13 other Canadian news sites. Support us by subscribing today: The Vancouver Sun | The Province.