News
Vancouver Art Gallery hits 85 per cent of fundraising target
Article content
After more than a decade, construction on the long-anticipated new home for the Vancouver Art Gallery is expected to start in the fall.
On Friday, a "ground awakening" ceremony was held at the gallery's future site at 181 West Georgia St., between Cambie and Beatty streets.
Article content
Shovels will be on the ground this fall for site remediation with construction slated to begin early in 2024, said Vancouver Art Gallery CEO Anthony Kiendl. "I feel like today is a new beginning and that actually gives me a lot of energy."
Article content
The new gallery, slated to open to the public in 2028, is "probably the most ambitious cultural capital project in the country right now," he said.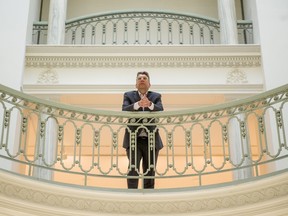 But more than the 300,000-square-foot building — which will be designed by Swiss architects Herzog & de Meuron and Vancouver firm Perkins + Wills with collaboration from Indigenous artists — it's what will be housed inside it that's important.
"This project will bring creativity and joy into the lives of millions of British Columbians and visitors from far away," he said. "The gallery will allow us to have the capacity to share art with so many people. It's not just the bricks-and-mortar."
The groundbreaking ceremony marked a significant milestone for the project which has raised $340 million, or 85 per cent, of its $400-million fundraising target.
The project has received donations from the federal, provincial and municipal governments. It has also received sizeable private donations, including a $100 million from the Audain Foundation and $40 million from the Chan Family Foundation.
On Friday, the art gallery announced it has received a $5-million donation from the Djavad Mowafaghian Foundation.