Entertainment
Vancouver band the History of Gunpowder aims for success
Blues/Noise groove band the History of Gunpowder releases new film and music.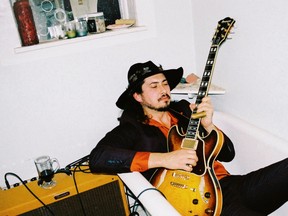 Reviews and recommendations are unbiased and products are independently selected. Postmedia may earn an affiliate commission from purchases made through links on this page.
Article content
The History of Gunpowder: Swallows film premiere + Music Event
When: Sept. 1, 6 p.m.
Article content
Where: Rio Theatre, 1660 E. Broadway, Vancouver
Tickets/info: From $35 at Riotheatretickets.ca
---
The History of Gunpowder self-describes its sound as "a six-piece freak out orchestra that tightropes the delicate balance between order and chaos." 
Anyone lucky enough to catch one of the band's recent shows, such as the blastoff at the Vancouver Art Gallery at the 2023 Vancouver International Jazz Festival, knows the band takes on prisoners in concert.
Founder/leader/lead vocalist and guitarist Alex James (Axmo) Morrison is a study in focused intensity on stage, delivering the band's gritty grooves with a Tom Waits-like intensity and theatrical flair on songs such as Bliss. So it doesn't really come as a surprise that the band's latest recording is also a film.
Article content
Titled Swallows, the film captures a seven-day residency in the Weird Church, a progressive space for prayer, reflection, conversation and arts and creativity in Cumberland on Vancouver Island. Shifting away from the loud cacophonic sonics that the previously Montreal-based group put to great effect in that city's active burlesque scene, Swallows aims for a more acoustic presentation that takes advantage of the church's construction.
Morrison talked about the project prior to the film screening and followup performances with the History of Gunpowder and the Egyptian/jazz project Gordon Grdina's Haram. Jazz whiz Grdina was a huge influence and mentor for Morrison at a young age and he is amazed that he will share a stage with one of the guitarist's acclaimed groups.
Q: What is the history of the History of Gunpowder?
A: It's my project to do anything I want to do, I guess, and dates back to the first album, which came out in 2012. There are a total of six band albums and something like 36 past band members to the project. But it wasn't really until the fourth release, titled The Epileptic, that things really came together the way I wanted. Things have really been on the up since.
Article content
Q: What changed in your music making to support that rise in popularity?
A: I'd been listening to Howlin' Wolf, Tom Waits, Blind Willie Johnson and others who all probably have dysfunctional vocal cords and trying to emulate them. When I finally found my vocal style somewhere in that, it started to click, and the six-piece formation grew out of that.
Q: Most bands move from Vancouver to Montreal and never return. What brought you back to B.C.?
A: Montreal is a much, much easier place to be a musician or artist of any kind in every way. But I also have a master's degree in Indigenous issues and have a whole other career, which is important and beautiful, and working with Indigenous communities across the province brought me back to B.C. Fortunately, I knew I had a band of incredible players in town I could throw anything at and they would do a brilliant job with it.
We've got a great core group of 10 that tours Europe, plays specific festival gigs and have gotten very good at writing grants.
Q: So how did this version of the band wind up making the musical documentary Swallows?
A: Swallows came out of seeking a solution to the hard time that the full-time musicians I knew and worked with were having during COVID. I thought we could apply for a Canada Council grant to explore some of the other musical directions I had wanted to pursue in an experimental fashion. I've always wanted to work in film and soundtrack and Adam Amir, the multimedia director for the Tahltan Nation, was on board to work with me on something. Another musician friend offered up some of her residency at the Weird Church and we had a project.
Article content
Q: What will the audience experience at the screening?
A: We were going into each day making new music on the spot, taking a dinner break, and then completing the track in the evening. Halfway through, I realized that the footage of those sessions, plus other short films made around that process, amounted to a film that took two years to make. The format doesn't make much sense in a world where video content is usually 15 seconds online and albums hardly still exist, but I'm so happy with it.
Vancouver International Jazz Festival returns in 2023

Canadian jazz supergroup The Ostara Project swings far above the ordinary
---
Summer subscription sale: Our in-depth journalism is possible thanks to the support of our subscribers. For a limited time, you can get full online access to the Vancouver Sun and The Province, along with the National Post and 13 other Canadian news sites, for just $40 for one year or $1 a week for 52 weeks. Support our journalism by subscribing today: The Vancouver Sun | The Province.