We have musical shows, we have standup, we have magic shows. We have visual theatre, we have dance." — Duncan Watts-Grant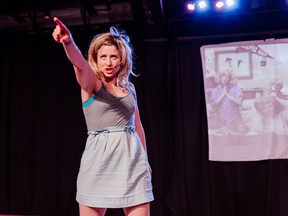 Reviews and recommendations are unbiased and products are independently selected. Postmedia may earn an affiliate commission from purchases made through links on this page.
Article content
Vancouver Fringe Festival
When: Sept. 7-17
Article content
Where: Various venues
Tickets: From $15 at vancouverfringe.com
For Megan Phillips, Grease, Too is a chance to give her 11-year-old self the party she never had.
In the show, Phillips plays a version of her younger self in love with Grease and Grease 2 and all they represent.
"Eleven-year-old Megz — with a zed — is your narrator and she is holding a viewing party of Grease and Grease 2 for her friends," says the Vancouver performer.
Article content
"I show clips as well as some snippets of songs. We have one full singalong in Summer Nights. And I go through the plot a little bit but a lot of it is just mainly Megz' commentary on the movie combined with little stories of what's going on in her life."
Grease, Too is one of more than 85 acts for this year's Vancouver Fringe Festival. With over 500 performances on 10 stages over 10 days, the annual event has almost fully recovered from its truncated COVID and post-COVID seasons. (Last year, the festival welcomed over 70 acts; in 2021, it hosted only 15 in-person and 17 digital shows. In 2019, 100 shows played the festival.)
"The beautiful thing about the Fringe is that it allows you to leave preconceptions at the door," said Duncan Watts-Grant. After years of attending and helping out behind the scenes, Watts-Grant assumed the role of executive director this year.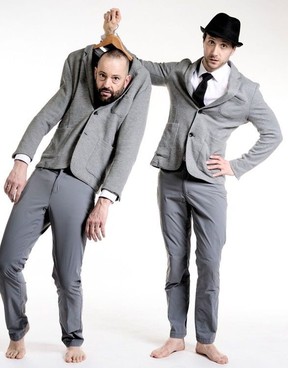 "The longest show we have is 90 minutes and all our tickets are between $15 and $18, so you're never taking that much of a risk on a single experience. I have felt this so many times coming to the festival — and I've heard this from patrons so many times — that people are willing to walk into a theatre knowing nothing. And I think about how rare that is in our environment and in our industry now. As presenters, we are so stuck in the space of patrons really wanting and craving reviews and all this knowledge. No one watches the movie without reading six reviews these days. And there's a real beauty in this acceptance by patrons and artists to be put in spaces where they know almost nothing."
Article content
Special events include Fringe4All, a preview showcasing many of the artists at Performance Works Sept. 6; a screening of the documentary On the Fringe at Arts Umbrella Sept. 10; and the closing party, the Cabaret of Bulls#!t, at Performance Works Sept. 16. The Fringe Bar, at 1535 Johnston St., presents acts such as Balkan Shmalkan, DJ O Show and The Wavebirds, along with food trucks.
"There is the usual smattering of genres in so many different directions," Watts-Grant said. "We have musical shows, we have standup, we have magic shows. We have visual theatre, we have dance. In some ways it feels like a return to a really broad festival. Regardless of what you're interested in, you're going to find something that you'll have a wonderful time watching."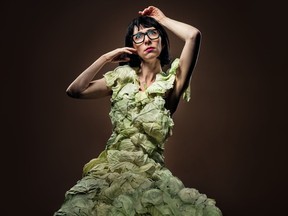 The Fringe is back to welcoming international artists, including creative teams from Germany, Japan, the U.K., Ireland, and  Burundi.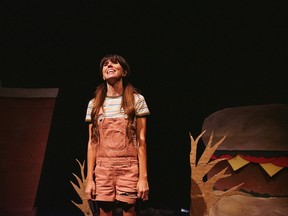 A sampling of this year's offerings includes Fake 'n' Bake, a critically acclaimed show about addiction and mental health from Edmonton's Ellie Heath; Generic Male: Just What We Need, Another Show About Men, an award-winning piece from Rochester, New York's PUSH Physical Theatre; Emilio's A Million Chameleons, a puppet musical for kids from Toronto's Adam Francis Proulx; Anne Geddes: The Unauthorized, Untrue Biography, a satirical take on the eponymous baby photographer, from Vancouver sketch comedians Stacey McLachlan and Jordan Potter; The Holy O, an interactive solo comedy from Houston's Lauren Hance in which a woman contemplates nun-hood; and Long Live Lexi Bezos.
Article content
The latter is a one-woman show from Sophia Saugstad, a 2022 Langara Studio 58 grad.
"I was interested in the ideas of climate change and billionaires doing ridiculous stuff with their money, and then I had this idea about this character who is the last person alive," Saugstad said. "Who would that be? I figured it would probably be a descendant of Jeff Bezos."
Lexi is the Amazon CEO's great, great, great, great granddaughter, living in space after Earth has been destroyed, a party girl and influencer with only robots for companions.
"She is very into the things that she owns, like her clothes and her money and her spaceship," said Saugstad. "But she also has this underlying loneliness and anxiety."
There's pathos at the heart of the show, as there is in Megan Phillips' Grease, Two.
"It has moments of truth and gravitas, as it were, as Megz touches on growing up in a broken home and being bullied and having body dysmorphia," Phillips said.
"It touches on real issues but in a gentle way. In that sense, it's been actually extremely healing for me. Truly it is me giving my 11-year-old the Grease viewing party with pals that she never got to have.
Article content
"And that's one of the main themes of the show. We get to reclaim our childhoods. No matter how grubby they were."
Vancouver Symphony Orchestra kicks off season with Yo-Yo Ma, Mahler's Sixth Symphony

Q&A: From Montreal to Vancouver, the History of Gunpowder captures explosive blues
---
Summer subscription sale: Our in-depth journalism is possible thanks to the support of our subscribers. For a limited time, you can get full online access to the Vancouver Sun and The Province, along with the National Post and 13 other Canadian news sites, for just $40 for one year or $1 a week for 52 weeks. Support our journalism by subscribing today: The Vancouver Sun | The Province.