Business
Vancouver's scenic views could be obstructed in favour of new housing
View-corridor protectors on high alert as city council eyes reviewing decades-old protection policy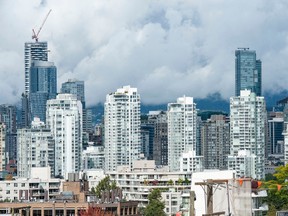 Article content
Vancouver council is set to debate whether some of the city's most protected views should be scrapped to make room for much-needed housing and job space.
But past city planners who worked to protect the long-standing view corridors worry that any changes to the policy could permanently degrade the scenic landscape of the city.
Article content
Next week, Councillor Peter Meiszner will propose reviewing the policy, which has been preserving ocean and mountain views from obstruction from 26 specific locations since the late 1980s.
Article content
One of them, the Queen Elizabeth Park viewpoint, allows visitors to take in the peaks of the North Shore. Another preserves the sight of Vancouver's 1936-built heritage City Hall building from False Creek and the downtown peninsula.
"But is it really worth preserving a second or two of those views for vehicle drivers when it's impeding the delivery of rental housing or any kind of housing in a major housing crisis?" asked Meiszner.
The councillor believes there are "lower priority" view cones, along with building height limits, that are getting in the way of affordable housing developments. He also believes some view corridors are already obstructed.
"There are several view cones where trees are blocking the view, and there's one on the seawall in False Creek where there's a sail mast blocking the view," said Meiszner.
He said one view cone was the reason a 39-storey social housing building at 508 Drake St. is being built as a triangle. "A third of the building got sliced off, causing the loss of scores of potential square footage."
The policy is one that Vancouver Mayor Ken Sim said, during a January speech, would be reviewed by his administration.
Article content
"Vancouver is in a housing crisis with one-bedroom rent at an unaffordable average of $3,000," said Meiszner. "We as a city need to do what we can to make the construction of new housing less difficult for developers and address the backlog in supply."
Larry Beasley, who was the chief planner of Vancouver until 2007, does not believe removing any view cones will result in the creation of more affordable housing.
"Whenever there was an intrusion of the corridor, the city established a policy that allowed developers to transfer that density elsewhere," said Beasley, noting that view cones limit the potential height and shape of buildings.
"Of hundreds of the buildings we approved near the view cones during my time as a planner, there were only one or two that were really tricky. The rest made their buildings a different shape to accommodate the lost square footage, or sold their density to a developer down the street."
Beasley is among other former city planners who are concerned about a future change to the policy.
People in the heart of downtown can look out and see the oceans and mountains because of the view-preservation efforts, he said. "We're known to give people living in an urban centre a better quality of life."
Article content
Patricia French, who also worked as a city planner, worries city council could be making a rash decision if it decides to make adjustments to the policy.
"When the view cones are gone, they are gone forever," said French, who drafted the policy following advocacy from residents who were witness to the first towers pop up beside the Burrard and Granville Street bridges.
"Back then, the public was concerned what they loved most about Vancouver — the sight of its surrounding geography — would be lost with future development."
When the policy was publicly reviewed in 2010 over similar concerns, the city found most Vancouver residents who were surveyed were in favour of preserving the vast majority of view cones.
French said if Meiszner's motion is approved, an "extensive" level of public consultation should be carried out before the city approves any changes.
"The view cones are not just physical, they are a value of a city's character. You have to be sure that if you are to give some of them up for the immediate benefit of more housing, it will be worth it in the long term."
Sandy James, who was also a planner with the city, thinks Vancouver should not bend to the will of developers who are seeking to construct bigger buildings downtown.
Article content
"Why is there not an impetus by this council to move developers to existing commercial areas and schools that desperately need new housing?" asked James.
"I believe the view cones are a public amenity the city needs to keep for future generations."
Related Stories
Dan Fumano: Vancouver council eyes loosening rent limits to boost construction

Anguish comes flooding back as Stó:lō unveil residential school findings

Revival of passenger railway between Chilliwack and Surrey? Langley Township thinks so
---
Bookmark our website and support our journalism: Don't miss the news you need to know — add VancouverSun.com and TheProvince.com to your bookmarks and sign up for our newsletters here.
You can also support our journalism by becoming a digital subscriber: For just $14 a month, you can get unlimited ad-lite access to The Vancouver Sun, The Province, National Post and 13 other Canadian news sites. Support us by subscribing today: The Vancouver Sun | The Province.