News
B.C. hasn't mandated building requirements in wildfire hazard zones
B.C.'s approach to wildfire hazards is out-of-step with its counterparts on the U.S. West Coast that have enacted state-wide building code requirements.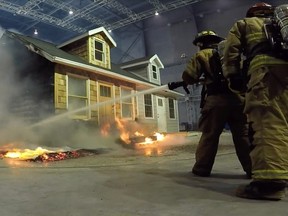 Article content
Against the advice in its own reviews of catastrophic fire seasons stretching back two decades, the B.C. government hasn't mandated the construction of buildings using fire-resistant materials and landscaping in wildfire hazard zones.
Instead, the province says it's more appropriate to leave decisions to implement building requirements to individual communities through local bylaws. However, at least two regional districts in high-risk areas haven't done so.
Article content
The B.C. government's approach is out-of-step with its counterparts on the U.S. West Coast, which have also experienced catastrophic fires over the past two decades.
California introduced amendments to its statewide building code more than a decade ago that require fire resistant materials in fire hazard zones. Properties considered most at risk are in the so-called wildland urban interface, where properties are in or adjacent to forested areas, and grass and shrub lands.
Colorado introduced statewide wildfire resilient building code changes in May, and Oregon and Washington state are doing so this fall.
Bruce Blackwell, a longtime forestry consultant who has produced dozens of wildfire protection plans for local governments in B.C., said he believes the province has to take charge and not leave it to individual communities. Even where communities implement bylaws, some are done rigorously and some not, and they're not held to a uniform standard, he said.
"The province has to direct high-hazard communities, and mandate building codes that are consistent with FireSmart," said Blackwell, referring to a program that outlines fire resiliency for properties.
Article content
Blackwell was a contributor to the seminal Firestorm 2003 report headed by former Manitoba premier Gary Filmon on a fire season that destroyed 334 homes, including nearly 240 in Kelowna from the Okanagan Mountain Park Fire.
The report said that after that devastating wildfire year, the B.C. government "has an opportunity to mandate long-term community fireproofing programs which will build upon local zoning and building codes."
A similar recommendation was made in a more recent 2018 report led by former B.C. cabinet minister George Abbott and Skawahlook First Nation Chief Maureen Chapman, titled Addressing the New Normal: 21st Century Disaster Management in British Columbia. The government-commissioned report called for "within wildland urban interface areas, mandate building code and/or development permit requirements for use of fireproof building materials and promote expanded use of sprinkler technology."
B.C. Housing Minister Ravi Kahlon said Thursday that local governments are best positioned to assess their wildfire risk and mitigate that risk with development permit areas that can require strengthening wildfire resilience in buildings. He suggested the permit areas were a measure unique to B.C.
Article content
Kahlon said the province wasn't currently considering a provincewide building code approach.
However, he said a dedicated team reviews the code to ensure more climate-resilient housing is being built: "So, I'm not committing to anything at this stage or ruling it out."
Kahlon didn't know if the province tracked which local governments have taken action through local bylaws. Asked if the province had any power to force those that didn't act to do so, he said he would be surprised if any hadn't.
The Okanagan Similkameen Regional District hasn't and has said housing wildfire resilience measures should be addressed by the province through the building code. The Columbia Shuswap Regional District also doesn't mandate specific building finishes or landscaping but only encourages compliance with FireSmart principles.
Mandating provincewide building code requirements to increase wildfire resilience is one of several key issues successive provincial governments haven't acted on. As Postmedia News previously reported, the B.C. government also doesn't have a comprehensive wildfire and forest resilience plan, unlike California and Washington state, whose plans have helped produce faster and more significant results.
Article content
These issues are significant because, according to scientists, wildfires are expected to become more frequent and intense, fuelled in part by climate change.
Glenn McGillivray, managing director of the Institute for Catastrophic Loss Reduction, a disaster-prevention research centre established by Canada's insurance industry, says they're in favour of provincewide building codes to mandate fire resistant building materials and landscaping.
"That's a cop out," said McGillivray of the B.C. government's determination to make this a local government responsibility.
Studies have shown that fire resistant building materials, and requirements such as fine-mesh screening on openings and keeping clear all flammable materials in the area around a house, is important because it's often embers that ignite houses in wildfires.
That is the case for wildfires in the Okanagan this summer, where embers are believed to have blown across the lake from West Kelowna to ignite areas in Kelowna, an area with a population of 235,000. This summer, about 200 homes and structures were destroyed or damaged in the area.
Article content
Studies have showed that fire resistant structures are more likely to survive a wildfire, by as much as 40 per cent. A 2019 wildfire demo carried out by the Insurance Institute for Business & Home Safety in the U.S. showed that a structure built with fire resistant materials didn't ignite beside a wood-clad structure that ignited in 10 minutes after both were bombarded with embers.
McGillivray says it isn't expensive to increase fire resiliency in a home. His institute has pegged the costs at an additional $5,000 in a new construction. He noted the federal government has estimated the cost to increase fire resiliency in homes in Lytton, where a wildfire in 2021 destroyed most of the village, at $10,000.
A 2022 U.S. study found making a home fire resilient increased costs by two to 13 per cent.
The Regional District of Okanagan-Similkameen, where this summer fires again threatened communities, rejected a 2021 move to take on responsibility for requiring fire resilient building materials and landscaping in wildfire hazard zones.
In a written response this week, regional district staff said that creating a local bylaw is potentially ineffective and a costly regulatory regime for mitigating wildfire risk in the region.
Article content
"Regional district staff are hopeful the province will implement amendments to the B.C. Building Code to better address wildfire risk to structures across the province," Erick Thompson, a regional district communications supervisor, said in an email.
The Columbia Shuswap Regional District, which was hit by devastating fires that destroyed 176 homes and buildings this summer, doesn't have bylaws requiring the use of fire-resistant materials and landscaping. In a written response, district staff noted that building regulation services aren't provided in all areas and so there is no building inspection permitting.
"It would be more appropriate for the province to mandate such requirements through the B.C. Building Code so that there is consistency in its implementation between all local governments and would still apply to those homes to be constructed in areas where no building regulation service is provided," the district's manager of development services Gerald Christie said in an email.
Abbott, who helped lead the review of the 2017 wildfire and flood season, said he does understand the B.C. government's reluctance to prescribe a provincewide building code as communities may want to take different approaches and what makes sense in one area may not make sense everywhere.
Article content
Abbott, who served in several cabinet posts with the previous B.C. Liberal government, said "sensible" local governments should be looking at making some changes to try to protect themselves as best they can.
He said there should be further discussion on the subject between the province and local governments.
In Washington state, a new wildland-urban interface code to come into effect in October is meant to create a defensible space around homes by removing or reducing vegetation and flammable materials.
It also mandates the use of fire-resistant materials in construction including siding, roofing, vents and windows — and requires unimpeded access to a property and sufficient clearance for emergency vehicles.
The state has mapped the wildfire hazard areas where the new code applies.
B.C.'s southern neighbours have wildfire risk reduction plans; B.C. doesn't

20 years after devastating Kelowna wildfires, what have we learned?
---
Bookmark our website and support our journalism: Don't miss the news you need to know — add VancouverSun.com and TheProvince.com to your bookmarks and sign up for our newsletters here.
You can also support our journalism by becoming a digital subscriber: For just $14 a month, you can get unlimited, ad-lite get unlimited, ad-lite access to The Vancouver Sun, The Province, National Post and 13 other Canadian news sites. Support us by subscribing today: The Vancouver Sun | The Province.