News
B.C. weather: What the heck is a bomb cyclone?
A look at the meteorological terms atmospheric river and bomb cyclone and why we rarely used to hear them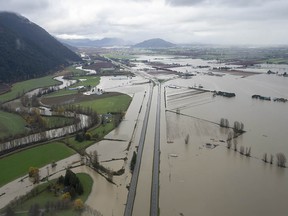 Article content
With the first big fall storm hitting B.C. this week, folks might wonder why they're hearing the term "bomb cyclone" to describe it.
Here's what to know about winter weather on the coast, what atmospheric rivers and bomb cyclones are, and why weather experts keep a close eye on them.
Article content
What are atmospheric rivers?
The fall and winter weather pattern for British Columbia's coastal regions is typically wet and frequently windy, marked by a steady flow of storms that usually form over the Pacific Ocean.
Article content
These storms most commonly come in the form of an atmospheric river — what meteorologists colloquially referred to as a Pineapple Express, says Alyssa Charbonneau of Environment and Climate Change Canada.
The more scientific term "atmospheric river" was first coined by researchers at MIT in the 1990s.
Atmospheric rivers — significant storms packed with lots of subtropical moisture and usually accompanied by strong, potentially damaging winds — are very common on the west coast from the end of summer until spring.
Parts of B.C. usually see upwards of 30 or 40 atmospheric rivers each fall and winter of varying intensity.
"They can range from a net positive, recharging rivers and reservoirs, and they can be very devastating as well," says Charbonneau. "They come in different flavours," all the way from regular old rainy days to major wind and flooding events.
Given our typically dry summers, the series of atmospheric rivers is key to maintaining the robust water supply B.C. enjoys. They provide more than half of the province's annual drinking water.
But every now and then, as was the case in November 2021, an atmospheric river hits that causes widespread flooding and damage. Charbonneau says that storm was the biggest and most impactful she's seen in her lifetime.
Article content
The extent of the negative effects of an atmospheric river depends on its sheer scale, where it hits land and how long it lasts, says Charbonneau.
What about bomb cyclones?
Like atmospheric rivers, bomb cyclones are nothing new. Both terms are commonly bandied about among meteorologists for decades, but the media and public rarely heard them described that way until recently.
A bomb cyclone, also known as bombogenesis, describes a rapid drop in atmospheric pressure at the centre of a storm system.
If the barometer at the eye of the storm drops quickly enough — roughly 24 millibars over the course of 24 hours — it is called a bomb cyclone.
"It's a way of describing a storm system that's rapidly intensifying," explains Charbonneau, noting that's exactly what happened at the centre of this first fall storm over the weekend.
The atmospheric pressure at the centre of the current storm is no longer dropping precipitously, however, and the kind of winds we're seeing Monday might not be a big concern if they came later in the season.
That's because it comes while the trees have lots of foliage on them and are more susceptible to weakening and breaking because they haven't had to weather strong winds for a long time. "In November (this storm) wouldn't be as concerning."
Article content
Just to confuse things, a bomb cyclone can sometimes be part of an atmospheric river, though they're not nearly as common, says Charbonneau.
Is climate change making these storms worse?
"Some of the literature does show that there has been a slight increase" in the frequency and intensity of atmospheric rivers and bomb cyclones, says Charbonneau, though some seasonal storms have always been big and damaging.
We've had some "major, impactful atmospheric rivers" in recent years, she says, and it's important to prepare for the possibility they could get worse as the climate evolves.
"There are some signals and indicators that we will be seeing more extreme events in the future," says Charbonneau.
But it's also important to remember that, despite the novelty of the words being used in recent years, they're "not new and not unusual."
Wind warning issued for B.C. south coast with first fall storm

Fall begins: Here's a look at the seasonal forecast
---
Bookmark our website and support our journalism: Don't miss the news you need to know — add VancouverSun.com and TheProvince.com to your bookmarks and sign up for our newsletters here.
You can also support our journalism by becoming a digital subscriber: For just $14 a month, you can get unlimited, ad-lite get unlimited, ad-lite access to The Vancouver Sun, The Province, National Post and 13 other Canadian news sites. Support us by subscribing today: The Vancouver Sun | The Province.