News
Chinese professor alleges discrimination at Langara after classes cut
Chinese language program at Langara College that suffered during COVID-19 is at risk due to cuts that faculty say are unfair and inequitable.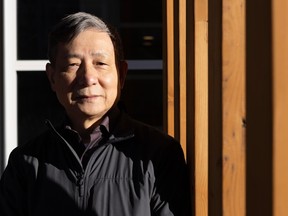 Article content
Chinese-language instructors at Langara College say a decision to slash programming and lay off two instructors was inequitable and discriminatory.
Tianming Li, an instructor in the modern languages department for 21 years, said he received notice Sept. 9 that five Chinese-language class sections would be cut due to low enrolment. He said he was told his employment would end permanently in May 2024, at the end of the spring term.
Article content
In 2021, another Chinese-language instructor was laid off, and since 2021 at least 10 course sections have been cut, he said. Only two instructors will remain.
During COVID-19, enrolment numbers in other modern languages, such as French, Spanish and Japanese, also went down, but none of those departments received permanent cuts, Li said.
"This is employment discrimination, racial discrimination and cultural discrimination," said Li. "A different standard is being applied to Chinese-language instructors."
Enrolment in higher-level Chinese language literature courses dropped during the pandemic, in part because Chinese international students couldn't travel, the time difference made it too difficult for them to attend virtually, and quarantining and visa issues further slowed enrolment.
The numbers have been steadily increasing again, said Li, who teaches a 300 level Chinese literature course. Li believes the department needs time and support to continue to recover from the pandemic.
"The college is supporting other language groups to do this, but not Chinese-language courses."
Article content
"It's hard to understand the real intention behind these cuts, but the fact is that the Chinese program is not treated in an equal manner," said Wei Xia, associate chair and Chinese convener in Langara's modern language department.
Xia said what should have been a temporary cancellation of class sections during COVID has become permanent.
"Data across all indices in 2022 show that Chinese-language courses are not at the lowest end of the spectrum. We can't figure out why the courses are cut permanently," said Xia.
A 2021 mandate letter from the B.C. government to Langara included the promotion of equity, justice, diversity and inclusion, said Xia.
"This decision is not in line with the government's mandate for the college," said Xia.
Darren Bernaerdt, dean, regular studies Faculty of Arts, said enrolment numbers were to blame.
"Similar to other program areas, the department responds to enrolment patterns and adjusts course offerings accordingly. Over the last five years, enrolment in languages has fluctuated significantly. This has especially affected the upper-level courses," he said.
Article content
The number of Chinese students in Canada with study permits fell by 22 per cent to 33,355 during the pandemic, according to Immigration Refugees and Citizenship Canada. Both Xia and Li say they expect the enrolment to go up as recovery from COVID continues, and international students return.
While many non-native Chinese speakers take the language classes, the higher level sections are largely filled by Canadian-born Chinese speakers, as well as international students from China, Taiwan and Hong Kong, said Xia.
"In Vancouver and Canada the Chinese language and culture is very important, so cutting Chinese courses will disadvantage our students," Xia said.
According to international data published in the Economist, interest in Mandarin, once touted as a language that could help open doors in the international job market, has been declining steadily over the last 10 years, and enrolment in university level courses reflects that decline, in part because students are turning away from humanities in favour of programs like STEM.
According to data provided by Xia, enrolment in Chinese subjects fell by 53 per cent at Langara over the last five years, with Spanish down 41 per cent, French down by 27 per cent and Japanese down by 21 per cent, but Xia says the cancellation of two class sections in 2021-22 is partly to blame for the lower enrolment.
Article content
"I can understand it's necessary to cut because of budget, but since 2021 we've experienced permanent cuts to sections that have influenced enrolment," said Xia.
Li said Langara's faculty association declined to hear a grievance on his behalf, so he's considering other options including a human rights complaint.
Xia is hoping that Langara will review its decision.
"We want our concerns and voices to be heard."
Related Stories
None

How public comments made outside of the workplace can become 'off-duty misconduct'

Arrest made in Langara College flasher investigation
---
Bookmark our website and support our journalism: Don't miss the news you need to know — add VancouverSun.com and TheProvince.com to your bookmarks and sign up for our newsletters here.
You can also support our journalism by becoming a digital subscriber: For just $14 a month, you can get unlimited, ad-lite access to The Vancouver Sun, The Province, National Post and 13 other Canadian news sites. Support us by subscribing today: The Vancouver Sun | The Province.