Entertainment
Lobe Gallery in Vancouver showcases Mac DeMarco instrumental work
Lo-fi pop artist Mac DeMarco from Duncan mounts installation at sound gallery.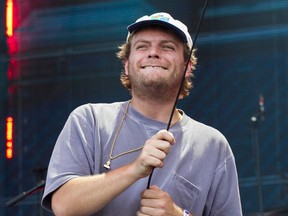 Reviews and recommendations are unbiased and products are independently selected. Postmedia may earn an affiliate commission from purchases made through links on this page.
Article content
Mac DeMarco Five Easy Hot Dogs in 4DSOUND
When: Sept. 5-10, various times
Article content
Where: Lobe, 713 E. Hastings St., Vancouver
Tickets and info: From $23.76 at eventbrite.ca
---
Five Easy Hot Dogs is the title of Mac DeMarco's instrumental road-trip record.
The fifth studio album from the Canadian musician born in Duncan marked a departure from his usual lo-fi pop song craft. Recorded during a road trip from Los Angeles to New York, the 14-track album clocked in at a mere 34.48 minutes of songs mostly titled after cities visited on the journey, including Portland, Victoria, Vancouver and Edmonton. The now Brooklyn-based DeMarco was raised in the Alberta capital.
Article content
In June of this year, the former Vancouver resident took up residency at Lobe, a local studio/gallery that has been outfitted with a 36 channel spatial sound system powered by 4DSOUND. The integrated software/hardware system from the Netherlands is designed to create spatial and immersive experiences. It has been showcased everywhere from the Venice Biennale to MONOM in Berlin.
Lobe is the first North American studio dedicated to 4DSOUND's spatial sound model.
For the Five Easy Hot Dogs spatial mix, DeMarco collaborated with Lobe co-founder and musician Edo Van Breeman. Using an Ableton Live patch, DeMarco could give each instrument in the album mix a separate place in the space and pathways for them to take. The final result is an entirely personal mix from DeMarco.
He discussed it over the phone from Paris, where his recent European tour had wrapped-up:
Q: How long did it take to reinterpret Five Easy Hot Dogs into this new format?
A: I had gone to see Lobe when I was in Vancouver recording the segment for the album. Edo is an old friend, and when he asked me if I would like to try to spatialize the album, it was an immediate "yes."
Article content
Q: It seems hard to imagine that this is your first sound installation. Doesn't every trendy gallery in Brooklyn have them on a weekly basis?
A: Honestly, I get invited to them all the time to this sound bath or that site-specific installation. But I think of myself as making music for the garbage man, working class and straight-ahead. Getting asked to come be all artistic was a different thing for me. I enjoyed becoming competent with the software and I like experimenting with sound, so why not? I don't think I flexed the Lobe muscle to its full extent, but the music I brought in there was something different from the typical fare you hear in the space.
Q: Did taking your 'concept' of a road album into that space mean you could let listeners experience the travel aspect more?
A: Usually, the engineer is there working with people on different ways to use the software to the extent their vision requires. For me, I learned it in rudimentary form and then went for it with the engineer on hand if I needed help. The program is incredibly meticulous and prone to glitch pretty easily. I do all the recording, engineering, mixing and producing on my own albums already, so the pathways were already there.
Article content
Q: A lot of us have been to surround-sound experiences and they can be predictable. How do you take that and reflect your ideas and render them differently?
A: First off, the fidelity in Lobe is incredible and instantly imparts a conceptual spatial element. I'm mostly a 2D artist fitting everything in stereo, which has a pretty clear parameter. With 4DSOUND, you can decide to put the drummer over in the corner and have them move across the roof. I wanted to get the weird and wonderful elements of the space into a form where the intent of the album wasn't lost either.
Q: Now that you've made something just for the sake of it, do you want to do it more?
A: I think it's important to do art just to do it, and I have wondered about getting together a system and trying to recreate this in some way in L.A. or somewhere. Who knows?
PuSh Festival: Singh presents multi-voice exploration in Lobe Studios' 4DSOUND

Just announced: Vancouver Public Library hosts Is Capitalism Working For Us? installation event
---
Summer subscription sale: Our in-depth journalism is possible thanks to the support of our subscribers. For a limited time, you can get full online access to the Vancouver Sun and The Province, along with the National Post and 13 other Canadian news sites, for just $40 for one year or $1 a week for 52 weeks. Support our journalism by subscribing today: The Vancouver Sun | The Province.