Pat Benatar & Neil Giraldo bring their Funtastic Tour to the PNE Amphitheatre in Vancouver on Aug. 31.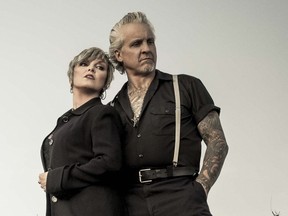 Reviews and recommendations are unbiased and products are independently selected. Postmedia may earn an affiliate commission from purchases made through links on this page.
Article content
Pat Benatar & Neil Giraldo
When: Aug. 31
Where: PNE Amphitheatre, 2901 E. Hastings St., Vancouver
Tickets: $25-$85 at ticketleader.evenue.net
Article content
Fresh off opening a handful of shows on P!NK's Summer Carnival Tour, Pat Benatar and Neil Giraldo are bringing their own Funtastic Tour to the PNE.
The singer and guitarist met during the recording of Benatar's first album, 1979's In the Heat of the Night, and have been together ever since, enjoying a career that has produced four platinum albums in the U.S. — and eight in Canada.
Article content
Recent accomplishments include induction into the Rock 'n' Roll Hall of Fame last year and recording their first hit, Heartbreaker, with Dolly Parton for the latter's upcoming album Rockstar.
We talked to Benatar about being the first woman on MTV, her early success in Canada and the thrill of still kicking out the jams at 70:
Q: It's common knowledge that Video Killed the Radio Star was the first video to air on MTV. But the video for your song You Better Run was the second. Did you have any inkling what that would lead to?
A: I don't think that we even knew about this until almost 25 years later. No one ever mentioned it and we never looked at it and thought about it. And the most incredible part about it is it made Neil the first guitar player to be on MTV and it made me the first female to be singing on MTV.
Q: Canada really embraced you with your first album and after, as much if not more so than the U.S.
A: Yeah, Canada was hugely instrumental in breaking that first record. Portland, Seattle and you guys — that was where the single Heartbreaker really broke.
Q: One of the great things about streaming services is being able to find things like the Synchronistic Wanderings' collection of rarities and B-sides that you released in 1999.
Article content
A: Lots of times the record company puts out compilations but that was one that we participated in. It was a lot of fun doing that, putting all the anecdotes and stories and everything in there and choosing the songs and the deep cuts.
Q: Speaking of which, from reviews of the current tour it looks like there are one or two deep cuts in the set. Is that the case?
A: Yeah. We weren't able to do that kind of thing on the stadium shows (with P!NK). Our time was limited, but on our regular shows, which you will be seeing in Vancouver, we do our 105-minute show, and that has a bunch of deep cuts in it.
Q: You and Neil have been together for 44 years. How did that musical connection form, since you two came from such different backgrounds?
A: Yeah. We are from absolute opposite sides in our musical backgrounds. I studied classical music and opera all my life and then Spyder — that's Neil's nickname — began playing guitar at six and was playing in clubs and doing rock 'n' roll music starting at like 12 and 14. I didn't come to it until much later, even though I was a huge fan. My path was a different path. But we met in '79 and we put the band together and we formed that whole sound. Heartbreaker was the first song we recorded, and the minute we played it together, we knew that we had this connection. And we made In the Heat of the Night just as players. We were not romantically involved until after that record. So that whole record was done just as comrades.
Article content
Q: How much time do you and Neil spend in the recording studio these days or writing together?
A: We write quite a bit, pretty much daily. We're in the recording studio not that much. We haven't made a record per se since I think 1999. It's an intense amount of work and commitment, and not a lot of return. We're working on a musical, Invincible, that we've been working on for the last six years. But we write a lot and have a backlog of songs. When we feel like the time is right, we'll record them. But not right now.
Q: Where does the thrill come from playing live these days?
A: This is the way to still stay connected. We want to play and we want to still do what we do. And since recording is not really functional for us, we premiere new songs live and do things like that. And playing, thankfully, is still the s–t. It just is better than ever. Who would have thought that, at 70 years old, after being around for 44 years, that we'd be playing stadiums again?
Monstercat Compound brings global beats to Vancouver block party

Burnaby city councillor Joe Keithley releases new video
---
Summer subscription sale: Our in-depth journalism is possible thanks to the support of our subscribers. For a limited time, you can get full online access to the Vancouver Sun and The Province, along with the National Post and 13 other Canadian news sites, for just $40 for one year or $1 a week for 52 weeks. Support our journalism by subscribing today: The Vancouver Sun | The Province.